Configuring IP pools is easy. IP pools were first introduced with vSphere 4, but they're not necessarily used by everyone. IP pools are necessary if you want create or deploy a vApp. They provide a network identity to vApps. IP pool gives a network config to VMs that run in the vApp. So you'll also need to have an IP pool configured if you want to test vCloud Automation Center (VCAC) or Horizon Workspace.
When you configure an IP Pool you specify a range of either IPv4 or IPv6 addresses, DNS and proxy settings, and select which vSwitch port groups that the pool will be available to. Usually you'll want to do a static IP for server VMs, but you might want to have a test VLAN for developments and you need DHCP there.
If you don't like having DHCP server activated on your network, why not use vCenter's built in IP pools to handle that? IP pool can handle DHCP for particular VLAN and VMs that runs on that particular VLAN.  IP pools can not only be used for your vApps but also for any other VMs.
If you create new VMs and put them on VLAN which is associated with an IP pool, those VMs will automatically get an IP address via the IP pools. There is many scenarios or use cases for IP pools.
Definition:
IP pools provide a network identity to vApps. An IP pool is a network configuration that is assigned to a network used by a vApp. The vApp can then leverage vCenter Server to automatically provide an IP configuration to its virtual machines.
Where to find IP pools configuration?
The IP pools are created at the Datacenter level, so after selecting the datacenter, the tab will appear in your vSphere client (windows).

If you're using new vSphere Web client, the approach is quite different, because you must go Home > Networking > Manage > Network Protocol Profiles. The options you get there are the same.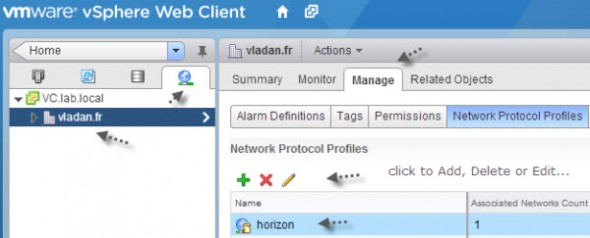 How to setup IP pools and what are the options there?
You can define the IP informations,on the different tabs there. Like DNS, DHCP or Proxy tabs are present. It's easy process if you know basic DHCP administration. In my example an IP pool used for Horizon Workspace vApp. Next to the checkbox to enable the IP pool, there is a link which brings up a small window showing how many IP address will be used by that pool.
1. Add new IP pool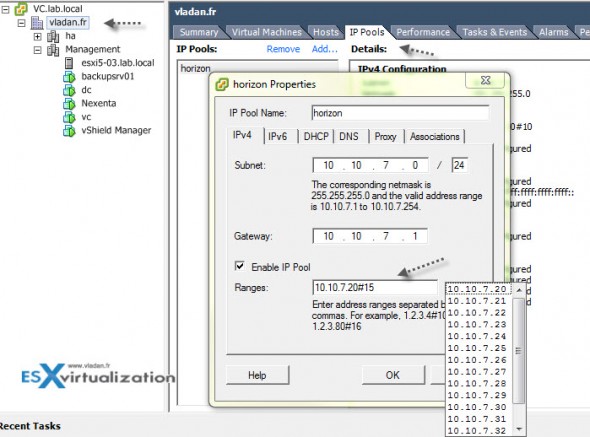 2.The DNS Tab.
The DNS tab allows you to specify a DNS domain name informations and also DNS servers IP address. Watch out when you want to enter several DNS servers, to make  sure that you separate your DNS servers with a comma, a semicolon, or a space. Otherwise it's nothing new here.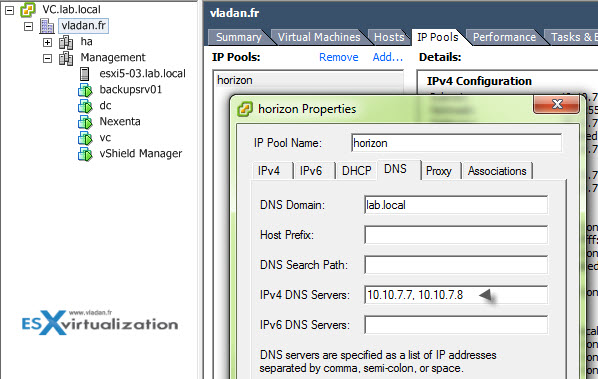 3. Port groups association
Last, you'll need to associate the IP pool to one of your port groups.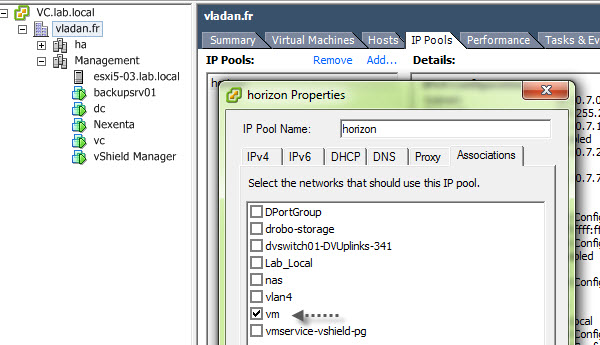 Wrap Up
IP pools provides easy to use network configuration built-in vCenter server. This function is not necessary if you don't run any vApps,  but it's a very convenient way to provide a dynamic IP address to your VMs running on different VLANs by associating IP pools to particular port group.