VMware Workstation and Fusion – Earth Day Sale 20% Discount!!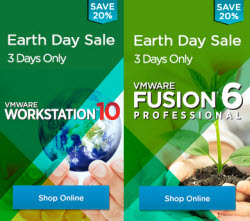 You can buy the full product here.
Product Upgrade -  You can upgrade your existing VMware Workstation here.
Vmware Workstation 10 Academic – Save Big – For Faculty Staff, Students and Teachers.
VMware Workstation 10 Volume Licensing – for 10 and more copies.
VMware Workstation 10 with Support  no code needed
You can upgrade your existing VMware Workstation here.
VMware Accademic Store
VMware Upgrades - vSphere, Workstation, Fusion, ESXi, & vCenter Server…
VMware Fusion 5 with Support - Coupon Code: no code needed.
Volume Discounts - You can get some discount when you buy 10 or more copies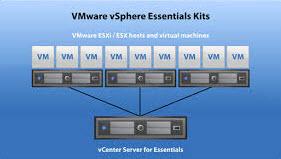 VMware vSphere Essential & VMware vSphere Essentials Plus - are all-inclusive packages that enable you to virtualize and consolidate many application workloads onto three physical servers running vSphere and centrally manage them with vCenter Server for Essentials.
When you buy The vSphere Essentials Kit,  keep in mind that The essential Kit is limited to 3 physical servers with 2 CPU each and the vCenter server can only manage 3 physical hosts. So you can have 3 physical servers max. with this kind of package. Also the essentials (not essentials Plus) comes with no HA (High Availability) and VDP (VMware vSphere Data Protectiony). If you want to have a look or buy the Essentials Plus version have a look at this link where you'll see all the features of the Essentials Plus.
 Acronis Products
Get 5% off Acronis Backup for VMware with the coupon AVMP5OFFQ1. Till March 31.
Acronis Backup for VMware FREE trail!
ESX Virtualization site has started as a simple bookmarking site, but quickly found itself a lot of readers and subscribers.
Vladan
is as an Independent consultant, professional blogger, vExpert 2009 - 2014, VCAP5-DCA/DCD, VCP 4/5 and owner of this website.
Latest posts by Vladan SEGET (see all)