Assuring Performance in VDI Deployments -  The paper focuses on VDI projects, and especially on performance and how to assure that the end users gets a correct performance to his desktop or how to make sure that the existing infrastructure delivers the best performance.
VDI projects are often complex with unpredictable performance results. With a recent survey reporting that 46% of VDI projects are being stalled due to cost and performance issues. 
Aligning Virtualization and Storage Management.   One of the topics discussed (in addition of the different sources of bottlenecks) is efficiency and how to make storage systems more efficient, to deliver higher IOPS. The latest release of VMturbo Operations Manager 4.0 includes a storage extension, which allows tracking of storage performance and problems. The new storage extension allows to drill more to the back end storage and control the decisions on workload placements.
Memory Management Metrics for VMware Environment - This paper teaches not only about the host memory, but also guest (VM) memory. If the memory allocated to your VMs is not correct, either the performance of your applications will suffer or there will be unnecessary memory overhead.   Memory is one of the capacity constraints in virtualized environments. VMware vSphere uses several memory optimization techniques to manage memory. Transparent Page sharing (TPS), Ballooning, Compression, Swap. The understanding of those metrics is essential to understand how host and guest memory works in VMware environments. Large memory pages as a topic is also discussed.
Measuring the Infrastructure Efficiency of Virtual Environments – with this PDF you'll learn on Improving efficiency of virtual infrastructure. Maybe higher density VM, or larger cluster size. There are some guidelines to follow and calculations to do.
First you'll learn about which va
lues to look for and then how to make your infrastructure more efficient. Numbers like total infrastructure utilization, where the higher utilization numbers are better than lower, with values very low would mean that you should add more VMs, can help, but those aren't crucial.

Best Practices for Oversubscribing of CPU, Memory and Storage, you'll learn how is the best way to size your virtual machines and which metrics to watch. How to size the vCPUs and what's the metrics to watch on the host, but also inside of the VM. There are some good guidelines, which you can follow, in this paper.
Oversubscription, it can be done without much risk. But there are metrics to watch otherwise when a particular resource is finally exhausted, the performances will drop significantly. If of course, that particular resource, has been oversubscribed and all VMs are affected which runs on that particular host.

Reducing the Cost of Delivering Compute Services in vCloud Environments. vCD adds an additional layer of complexity when it comes to managing VMs and vApps belonging to vCD.  Those VMs and resources to be cost effective, must be right sized, placed on the right tier of storage to match business needs and SLAs, and at the same time achieve this with least administrative effort. Why not offload those decisions, to maintain the usage of resources at optimal level, and to be sure that the application get just the resources they need to operate at the correct performance level. VMturbo Enables 20-30% or more gains in hardware efficiency and densities.
Top 10 Ways that Foglight for Virtualization, Free Edition Can Help You – shows you in 10 small chapters on how to check and tweak your virtual infrastructure. Each of the free tools included in the free version of vFoglight suite can do something different. There is a tool to detect if your VMs are right sized, do they have the right amount of memory or the correct number of vCPUs. If there is high latency on datastore signaling a VM which is the "noisy neighbour" – generating too many IOPS.

Reducing the Cost of Delivering Compute Services in vCloud Environments. VMturbo Enables 20-30% or more gains in hardware efficiency and densities above and beyond native hypervisor tools.
Enables more cost-effective and timely hardware and software purchase decisions. Reduces man hours and skills required for incidents and problem management. Increases customer satisfaction and reduces churn.
Top Seven Networking Concepts Every Virtualization Administrator Should Know – which teaches the ins and outs of networking. It's only 7 pages but covers the essentials.If you are working with virtualization technologies, you need to know networking, together with storage, Microsoft and VMware technologies. You need to be polyvalent. But the networking concepts are the base of all. To build a house, the foundations are one of the most important things that you should care about.

Using Lifecycle Management to Optimize VMware & Hyper-V - recorded webcast. How-to reclaim wasted, orphaned or sprawled resources in your VM environment? See how in a live webcast discussing methods to minimize one of your most challenging problems: Virtual machine sprawl.

To fully realize the cost savings of virtualization technology, you need policy controls and governance to prevent VM sprawl—and the right technology to enforce those controls. This white paper explains the steps to design and implement the governance you need, and what to look for in a toolset to help enforce it.  Private Cloud, Self-Service, and VM Sprawl - a PDF.

Top 6 Tips for Configuring vSphere Resource Pools  -  aggregating hardware into logical pools of resources for easier management. But how do you really configure resource pools? This paper is written by Greg Shields, MVP, vExpert.  Greg gives some good tips on managing resource pools in VMware vSphere.

The Ins and outs of IOPS - not an easy topic, but you'll get some good tips. Highly technical paper. The discussion in this document focus on IOPS, and how storage I/O is an often over-simplified topic. The author is Brad Bonn from Dell and he explains what are IOPS, where to look at the storage performance degradations, and also how to plan your storage architecture.

Mythbusters goes virtual - Four Myths which all will get uncovered by Eric Sloof and Mattias Sundling.  It was in in the top 3 of the most popular VMworld  sessions. Both professionals uncovers those myths which are still present in many minds. Not only they explain why, but they also shows the details through graphs and schemas. A must have.

VM Memory Sizing Considerations - What are applications which are "memory hogs"? In fact those applications are designed to reserve (cache) all available memory when they start. In a virtual environment it's not a behavior which one would prefer though… How to find the way out? You'll need to take into account the Reservations and Limits as well.

Applying an Economic Model to IT Management - these technologies need to replace manual partitioned management with ROI-centric, proactive, scalable, automated, and unified resource and performance management. In this whitepaper, we describe how VMTurbo's supply-chain economy uniquely addresses these requirements by combining monitoring (Observe), analytics(Advise), and actions (Automate) to enable proactive, ROI-centric virtualization management.

 vCPU Sizing Considerations - The number of vCPUs is one of the most important considerations when sizing virtual machines. But getting the right balance — neither over-allocating nor under-allocating is a challenge. 100 percent CPU usage for short periods isn't cause for changing CPU configuration…    Get this PDF here.

Successfully Managing Performance and Capacity in Cloud Environments -  Managing Virtual Infrastructure instead of just physical servers one by one is challenging. One must make some decisions on where to best place the workloads or how much physical server and storage capacity to provision for new VMs…  What's the best sizing for new VMs so they're not oversubscribed with memory, disk or CPU…?  Identify the "sleeping VMs" which do nothing, orphaned VMDKs, Snapshots, logfiles…


Utilizing Automation and Control to Improve TCO in Cloud Infrastructures - This eBook explores the key challenges facing service providers as they scale out "Cloud Infrastructure as a Service" and how these can be addressed by leveraging next-generation infrastructure operations management solutions that provide the intelligence, automation and orchestration capabilities to automate service delivery processes and deliver greater financial returns. The business model of Service Providers is founded on the basis of being able to remove cost from IT service delivery processes whilst providing the same or better quality of service, thus enabling their customers to focus on their core business activities.  here.

Microsoft Hyper-V 3.0 Technical Hands on Guide
Introduction to Hyper-V 3.0
Failover Clustering
Migrations
Managing Virtual Machine Failover
PowerShell Management
The authors, Brian Posey, with Pete Zerger and Chris Henley goes quite deep in the topics and provides many screenshots through the document, which is btw 142 pages long.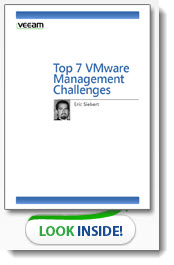 Top 7 VMware management challenges – Virtual Infrastructure brings new challenges that does not exists in physical world. If you ignore them, you might soon be facing a serious nightmare and disorder. Your neat and clean Virtual environment after 6 month of use might look like a mess.
Some might think that VMs are free. They are not. The actually cost money, because you need to have a host with real CPU, real Memory, you need shared storage to implement HA (High Availability) etc….. You know, there are ways on how to prevent VM sprawl….
The Free E-book is Written by Eric Siebert.
A quick quote from the E-book
"Veeam ONE provides tools that can help you identify and stop VM sprawl so your virtual environment doesn't become a virtual junkyard. This can be done via reports and dashboards that track resource usage and idle virtual machines, as well as mechanisms for categorizing virtual machines and documenting the virtual infrastructure."