Assuring Performance in VDI Deployments –  The paper focuses on VDI projects, and especially on performance and how to assure that the end users gets a correct performance to his desktop or how to make sure that the existing infrastructure delivers the best performance.
VDI projects are often complex with unpredictable performance results. With a recent survey reporting that 46% of VDI projects are being stalled due to cost and performance issues. 
Aligning Virtualization and Storage Management.   One of the topics discussed (in addition of the different sources of bottlenecks) is efficiency and how to make storage systems more efficient, to deliver higher IOPS. The latest release of VMturbo Operations Manager 4.5 includes a storage extension, which allows tracking of storage performance and problems. The new storage extension allows to drill more to the back end storage and control the decisions on workload placements.

Reducing the Cost of Delivering Compute Services in vCloud Environments. vCD adds an additional layer of complexity when it comes to managing VMs and vApps belonging to vCD.  Those VMs and resources to be cost effective, must be right sized, placed on the right tier of storage to match business needs and SLAs, and at the same time achieve this with least administrative effort. Why not offload those decisions, to maintain the usage of resources at optimal level, and to be sure that the application get just the resources they need to operate at the correct performance level. VMturbo Enables 20-30% or more gains in hardware efficiency and densities.

Reducing the Cost of Delivering Compute Services in vCloud Environments. VMturbo Enables 20-30% or more gains in hardware efficiency and densities above and beyond native hypervisor tools.
Enables more cost-effective and timely hardware and software purchase decisions. Reduces man hours and skills required for incidents and problem management. Increases customer satisfaction and reduces churn.

Applying an Economic Model to IT Management – these technologies need to replace manual partitioned management with ROI-centric, proactive, scalable, automated, and unified resource and performance management. In this whitepaper, we describe how VMTurbo's supply-chain economy uniquely addresses these requirements by combining monitoring (Observe), analytics(Advise), and actions (Automate) to enable proactive, ROI-centric virtualization management.

Successfully Managing Performance and Capacity in Cloud Environments –  Managing Virtual Infrastructure instead of just physical servers one by one is challenging. One must make some decisions on where to best place the workloads or how much physical server and storage capacity to provision for new VMs…  What's the best sizing for new VMs so they're not oversubscribed with memory, disk or CPU…?  Identify the "sleeping VMs" which do nothing, orphaned VMDKs, Snapshots, logfiles…


Utilizing Automation and Control to Improve TCO in Cloud Infrastructures – This eBook explores the key challenges facing service providers as they scale out "Cloud Infrastructure as a Service" and how these can be addressed by leveraging next-generation infrastructure operations management solutions that provide the intelligence, automation and orchestration capabilities to automate service delivery processes and deliver greater financial returns. The business model of Service Providers is founded on the basis of being able to remove cost from IT service delivery processes whilst providing the same or better quality of service, thus enabling their customers to focus on their core business activities.  here.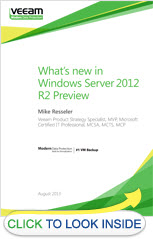 Windows Server 2012 R2 preview continues on that path and adds many more improvements and features to the cloud OS vision.
Mike Resseler – Veeam Product Strategy Specialist, MVP, Microsoft Certified IT Professional, MCSA, MCTS, MCP.
What you'll learn – There is 10 chapters in this book, which only one is mentioning Hyper-V. That does not mean that Hyper-V is not covered, but rather All the other features of Windows 2012 R2 are discussed together with Hyper-V.
Download this ebook to quickly learn about the new and enhanced features of Windows Server 2012 R2 preview!

Microsoft Hyper-V 3.0 Technical Hands on Guide
Introduction to Hyper-V 3.0
Failover Clustering
Migrations
Managing Virtual Machine Failover
PowerShell Management
The authors, Brian Posey, with Pete Zerger and Chris Henley goes quite deep in the topics and provides many screenshots through the document, which is btw 142 pages long.