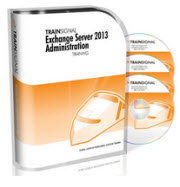 New Training – Microsoft Exchange Server 2013 Administration - has been released by TrainSignal. You'll learn the best practices to Install and configure Microsoft Exchange 2013. The course has 22 lessons where you'll be able to learn not only how to install but also what's the best way to migrate from previous versions of Exchange.
Exchange 2013 which went recently RTM (read what's new), has reduced the number of internal server roles from five to two – client access and mailbox.  The Client Access server role (CAS) is the front-end, while the Mailbox server is the back-end. Outlook clients (or clients using the Outlook Web App, ActiveSync) connect to the CAS server to access to mailboxes. The CAS server authenticates, and redirects those requests to the appropriate Mailbox server(s) – in multiple mailbox server architecture.
The latest Microsoft Exchange Server 2013 Training from TrainSignal is done by:
J. Peter Bruzzese, which is Microsoft MVP for Exchange, Triple-MCSE, MCT, MCSA, MCTS: SharePoint 2010, Configuration, MCITP: Messaging.
Chris Johnson – technical trainer and consultant.
I have previously used the Exchange 2010 training for my own educational purposes. I have done a detailed review here. The training has helped me to understand what's best for a design, migration or installation phase of any Exchange projects I've done.
What you gonna get in the Microsoft Exchange Server 2013 Administration training:
Nearly 11 Hours (10 Hours, 30 Minutes, 0 Seconds) of Exchange Server 2013 Administration Training Videos Jam Packed on 3 DVDs!
Multiple File Formats Make it convenient for you to learn anywhere you go! iPod Video, Mp3 Audio, .WMV & high quality .AVI video
PDF of Instructor Notes allow you to follow along with the videos and take more organized notes
Instant Access Online to the entire training course
Microsoft Exchange Server 2013 Administration The Outline:
Lesson 01 - Course Scenario and Lab Setup
Lesson 02 - An Overview of Exchange 2013
Lesson 03 - An Understanding of Exchange 2013 Architecture and Server Roles
Lesson 04 - Exchange 2013 Deployment Decisions and Prerequisites
Lesson 05 - Installation of Exchange 2013
Lesson 06 - Exchange 2013 Management Tools
Lesson 07 - Exchange 2013 Organization Features
Lesson 08 - Creating Recipients
Lesson 09 - Managing Databases
Lesson 10 - Mailbox Configuration
Lesson 11 - Mail Flow Configuration
Lesson 12 - Exchange 2013 Certificates
Lesson 13 - Exchange 2013 Clients and Mobile Device Management
Lesson 14 - Collaboration Mailbox Types
Lesson 15 - Exchange 2013 Permissions
Lesson 16 - Compliance Management within Exchange 2013
Lesson 17 - Working with Transport Rules and Data Loss Prevention
Lesson 18 - Exchange 2013 Anti-Spam and Anti-Malware Protection
Lesson 19 - Exchange 2013 Unified Messaging
Lesson 20 - Exchange 2013 High Availability and Site Resilience
Lesson 21 - Exchange 2013 Disaster Recovery
Lesson 22 - Exchange 2013 Monitoring and Troubleshooting
Here is a quick 8 minutes video from the training course:
Get more details about the training at the product page: Microsoft Exchange Server 2013 Administration Training
Feel free to subscribe via 
RSS
 or by e-mail to get the latest news to be delivered via weekly newsletter. We respect your privacy.
The last update was on .