During VMworld 2012 in Barcelona I had the chance to see the Nutanix hardware and technology. At first, it looks like there is nothing really spectacular. 2U rack server with Fusion-IO card, 2 CPU system and lots of memory, all in one block. It's really when you take a closer look at the distributed architecture inspired by Google, Amazon, Twitter or Facebook. All those big guys uses distribute file systems.  Nutanix uses distributed file system designed for virtual infrastructure, which is not only distributed file system, but also computing power and network.
Nutanix has been founded in 2009 by a team that worked at Google on the design of the Google File System. The Nutanix Distributed File System got inspired by Google's technology, but has been adapted for virtual environments, as Google don't use virtualization.
"No SAN" solution means that the system has all the features that a SAN device offers already built-in (VAAI, array-side snapshots…) and so the VMware vSphere features like HA, DRS, vMotion, can be leveraged. As an advantage over classic SAN based sytems is that it's easily extensible and scales up in linear fashion.
Nutanix – The Distributed File System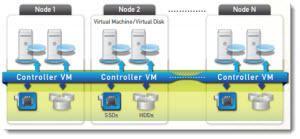 The Nutanix Distributed File System (NDFS) is the core of the of Nutanix converged infrastructure. The file system uses metadata which are stored on a controller VM, which sits on each host. The controller VM communicates with other controller VMs through the distributed storage. This controller VM provides a direct access to the local storage (via VMdirectPath), to the hypervisor. iSCSI or NFS are the protocols used.
Nutanix ha also full sets of SAN features includes striping, replication, auto-tiering, error detection, fail-over and automatic recovery (auto-healing). Also two kind of compression has been added recently. But I'll blog on those features in another post and today I'll try to focus on the Nutanix distributed file system (NTFS). More and more I read about Nutanix, more and more I get hooked by the design, by the technology and by the simplicity for the end user – the Administrator.
Nutanix definition of the NDFS:
NDFS acts like an advanced NAS that uses local SSDs and disks from all nodes to store virtual machine data. Virtual machines running on the cluster write data to NDFS as if they were writing to a NAS. NDFS is VM aware and provides advanced data management features. It brings data closer to virtual machines by storing the data locally on the system, resulting in higher performance at a
lower cost.
To see how it's architecture and the direct attached storage is used, I'd recommend to watch this quick 3 min video from Nutanix. It's an introduction to the NDFS.
Controler VM which presents iSCSI or NFS to the hypervisor

NFS optimized for speed
Writes done to the distribution operation log which is copied to another node's SSD
Read more about local storage and storage tiering on next page –>