Microsoft RDP 8.0 free update for Windows 7 SP1 and Server 2008R2 SP1. With the recent release of Windows 8 and Windows Server 2012, Microsoft has introduced Remote Desktop Protocol 8.0 in those products. If you want to take advantage of using RDP 8.0 on Windows 7SP1 and Windows Server 2008 R2 SP1, you can do so by downloading the RDP 8.0 client software.
You can use Remote Desktop Protocol 8.0 to connect to Windows Server 2012 RDP session only. RDP 8.0 won't allow you to benefit from the enhancements while connecting to Windows Server 2008 R2.
What's new in Remote Desktop Protocol (RDP) 8.0?
RemoteFX for WAN – supports UDP and makes sure for best performance on Wifi and WAN network configurations. Different techniques are used to improve the WAN transport, like intelligent and adaptive UDP transports, network loss tolerance, and recovery.
RemoteFX Network Auto Detect – autodetect the network configuration.
RemoteFX Adaptive Graphics – renders graphics progressively, while text stays clear and sharp.
RemoteFX USB Redirection for non-RemoteFX vGPU virtual desktops
Support for Nested Sessions – running RDP session within another Remote Desktop Connection session.
Prerequisites:
To install the RDP 8.0 update, you must have hotfix 2574819 installed. If not, you'll get a message saying that the RDP 8.0 is not destined for your system.
For more information about hotfix 2574819, click the following article number to view the article in the Microsoft Knowledge Base:
2574819 An update is available that adds support for DTLS in Windows 7 SP1 and Windows Server 2008 R2 SP1
The RDP 8.0 client software can be downloaded from this page: http://support.microsoft.com/kb/2592687
IN case you're managing Microsoft domain and you want to enable a GPO for the mass activation of remote managed computers, there is a possibility to do it through a GPO.
Here is where:  Computer configuration > Administrative Templates > Windows Components > Remote Desktop Services >Remote Desktop Session Host > Remote Session Environment > Enable Remote Desktop Protocol 8.0 = Enabled.
You can check the RDP 8.0 , if enabled, you will notice the change in the remote desktop client title bar (in full screen). There is a new Quality button. The presence of the connection quality button and of the connection quality dialog box confirms the availability of RDP 8.0 for the remote connection.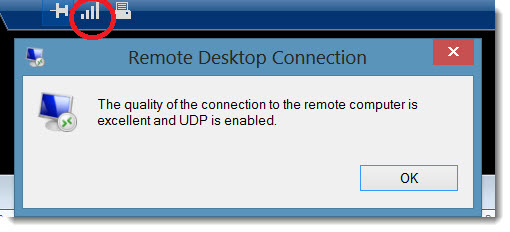 Remote Desktop Protocol 8.0 client software has been released for 3 platforms:
- Windows 7 SP1 32-bit versions
- Windows 7 SP1 64-bit versions
- Windows Server 2008 R2 SP1 64-bit versions (there is no 32-bit version anyway…)
Source: http://support.microsoft.com/kb/2592687
This post - Remote Desktop Protocol 8.0 update for Win 7 SP1 and Server 2008 R2 SP1 – was published on ESX Virtualization at www.vladan.fr