Thinapp Updated to 4.7.2 – brings relink –h command for Horizon and more. This is not an usual maintenance release of VMware Thinapp, but more closer integration with Horizon application manager. You could probably follow my 2 articles on installing Horizon Application manager in a Lab.  Those articles will grow up soon, when I found more time to continue the setup in my lab.
Recently released fling called Thinapp Factory can also be interesting as it creates the Thinapp packages automatically. You can read my post about the release of Thinapp Factory here.
The new release of Thinap has brought some more integration features with Horizon and Horizon Connector virtual appliance. Let's look at those features.
What's new in thinapp 4.7.2?
Streaming – ThinApp agent is now able to stream the virtualized application blocks to stateless View desktops without deploying the entire package. For more information, see Knowledge Base article 2030247
Update Support – With this feature ThinApp can now enable Horizon Connector to recognize multiple versions of an application package and then communicate that change to the Agent through the Horizon Service. For more information, see Knowledge Base article 2030248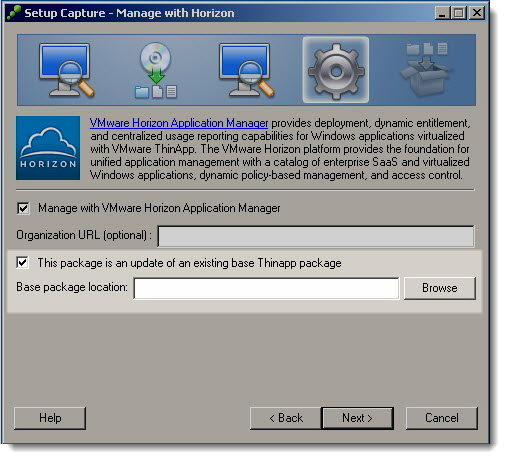 Relink Support – This feature allows ThinApp users to enable Horizon support for packages which are created prior to ThinApp 4.7 without a rebuild. It means that you can simply update previous builds of Thinapp, without creating them from the start. For more information, see Knowledge Base article 2021928

New Sandbox Parameter – A new Package.ini parameter, RemoveSandBoxOnStart, is now available. You can set RemoveSandBoxOnStart=1 to clear the sandbox on each launch of an application.
Interested in Horizon? Read more here:
http://www.vmware.com/products/desktop_virtualization/horizon-application-manager/overview.html
You can have a look at the full release notes of Thinapp Here.
For those of you who don't know what is VMware Thinapp:
Thinapp is a software enabling to package an application. It's an application packager. It basically scan the system before the application is installed – and also after the application is installed. Like this VMware Thinapp detects what has changed. And those changes are recorded and stored in a special sandbox environment.
After the application is packaged, it's executed in a "bubble" without the necessity to be installed on the system. You can place Thinapp application on a network share or copy paste to a local disk drive.
Source: Thinapp Blog