VMworld 2012
VMworld 2012 is aproaching quickly. The fever is slowly rising up. Even though I'm not planning to attend San Francisco show, I'll be at Barcelona. I thought it would be a good idea to embed few teaser videos from VMware. For those of you who are going , it might give you the possibility to make change  (or not) to your schedule, if you have already build yours.
Because it's like last year, first come is first served. Some highly visited sessions might be fully booked and you won't be able to get in if you don't book now.
Few fellow bloggers has already posted their schedule, and some advice on how to best build your schedule. For example Maish on his blog published a post where he uses the schedule builder for VMworld to build the schedule the easy way.
VMworld San Francisco starts in 17 days, hurry up to secure your place now – Register here.
Let's start with some videos presenting some interesting sessions.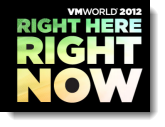 STO1198 – VMware vSphere Storage Features & Enhancements.
I'll start with this teaser video done by Cormac Hogan, who is regulary posting great technical articles on the VMware Storage Blog. Cormac is doing a session STO1198 which is storage oriented. BTW, recently VMware uploaded to Youtube the sessions from last year. You can find some the VMworld 2011 Session videos in this list.
For those of you who already registered for VMworld and didn't build the schedule yet, here is the link to the Online Scheduler.
VMworld 2012: VSP1168 – Architecting a Cloud Infrastructure
This session will be presented by Chriss Colotti - Architecting a Cloud Infrastructure. I think that if you're ever thinking or already tested vCD, to deploy, to do the design.. this session is a must.  vCD 5.1 (curently in beta – if you're advanced power user, you might be interested in to Step in the Stratogen's beta program – read my post about it) will probably bring new features and enhancements.
I would guess that VMware folks will try to make our life a bit easier on when it comes to deploying vCD, but that's only my guess.
Watch the teaser video:
You can find all those videos on this page on YouTube.
TEX1278 – Jumpstart VMware vSphere Web Client Plugin
In this session, learn how Developer Center lowers the barrier to VMware development, Developer Center is a "one-stop" shop for all things IT-developer-related, and Development in the cloud is cost-effective, straight-forward, quick to set up and powerful.
Feel free to subscribe to our RSS Feed.