Akasia provides cost planning and optimization SaaS solutions for enterprises that are embarking on On-Prem VMware to Cloud Migration projects.  Akasia Infrastructure Manager allows users to quickly inventory their on-premises servers and perform scenario analysis to determine which cloud platform is the most cost-effective for their data center.
Millions of dollars per year in cost savings have been realized through the use of Akasia's sophisticated cloud modeling solutions.
Auto-discovery – Agentless and non-invasive inventory of all VMware on-premises assets.
Major Clouds Supported – Compare between all major clouds:  AWS, Azure, GCP, IBM Cloud, and Oracle Cloud
VMware on Cloud or Cloud Native targets – Optimally place VMs on the most appropriate cloud host VMs on VMware on Cloud or Cloud Native VMs
Auto Map VMs to all clouds – Discover all scenarios and cost variations with our "What if" modeling and further consolidate on the most appropriate cloud machine hosts
Bill of Materials – Find out exactly what your final on-cloud bill of materials should be – easy presentation material for presentation to decision makers.
Unbiased – Akasia determines all cloud costs and determines the best cloud for the customer
Save up to 40% on Cloud Costs – Customers have saved up to 40% on cloud costs using Akasia on their migration projects.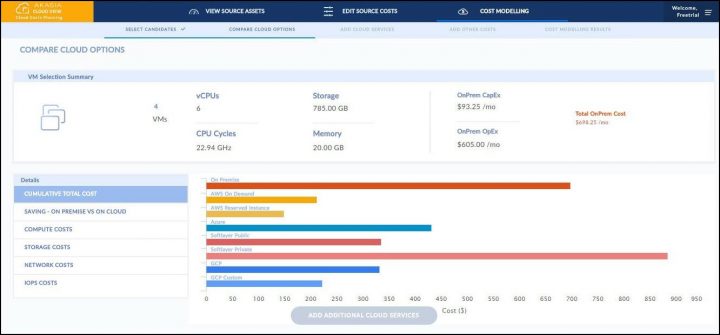 Learn More
Get in Touch
On-Prem to Cloud Migration Planning with Akasia
Headquartered in Silicon Valley, Akasia Inc. is a privately-held company founded in 2014.  Akasia has modeled over 1,000,000 VMs and saved up to 40% in cloud costs for its customers.  Akasia was founded in 2014 by entrepreneurs who have deep experience in the enterprise and cloud space with experience from VMware, Sun Microsystems, CommVault and Unisys. Akasia is based out of Santa Clara, CA, and is funded by TiE LaunchPad.
In a market where every enterprise is planning for the public cloud Akasia is quickly becoming the most popular cloud planning solution because of its unique ability to discover infrastructure and utilization and provide equivalent and right-sized cloud resources in minutes. Akasia highlights hidden costs as well as savings in the cloud – allowing enterprises to make migration decisions based on factual cost data.