vCenter Integration with Acronis Backup and recovery Advanced Server.
In one of my previous videos I showed you the utilization of Acronis for Exchange. This backup solution is suitable for backing up and restoring e-mail servers running Microsoft Exchange. And the restore individual e-mail feature of this solution is just great.
The e-mail backup/recovery solution from Acronis can integrate itself into backup/recovery server solution which you use to backup your physical (or virtual) infrastructure. The same way, the integration of vCenter into the Acronis backup console is possible (if licensed) as you can see on the image below.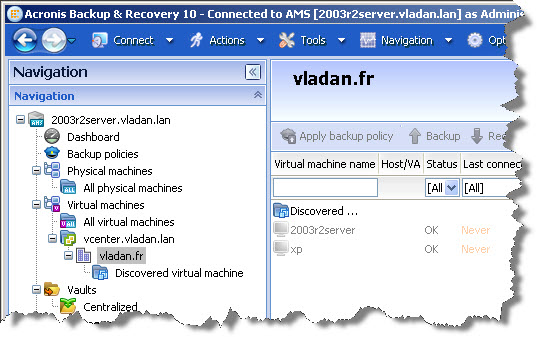 Acronis Backup Recovery Advanced Server which you're able to install on Windows server, and you're able to backup the local system and also remote machines, VMs, Exchange Servers (if licensed). The idea is having one backup console providing the access to backup/restore operations for the whole infrastructure in your enterprise.
You're able to backup/restore  virtual infrastructure running under VMware , Microsoft Hyper-V, Citrix XenServer and Parallels through traditional agent-based approach. You must deploy an agent to your ESX/ESXi hosts in case you want to use Acronis to backup your VMs.  There is a possibility to add deduplication, but at additional cost.
You can download 15 days trial here.

In case you want to use agent-less backups at Acronis there is another product called Acronis Backup and Recovery Advanced Server Virtual. This edition provides the possibility to backup/restore virtual environments without installing individual agents on every virtual machine.  The product is available for ESX or Hyper-V-based servers, complete agent-less backups of volumes, virtual disks and entire virtual machines, all from the centralized management console.
Image-based backup/recoveries provides you with the possibility to recover individual files, folder, or an entire system.
You can download 15 days trial here.

Some Promos from Acronis.
Acronis True Image Home 2012 Trial Download
Acronis True Image Home 2012 Full product – $59.49
Acronis True Image Home 2012 Upgrade – $35.69
Acronis True Image Home 2012 Family Pack(3) – $178 | $95.19
Bundle Acronis True Image Home 2012 + Acronis Disk Director 11 Home  – $59.49 + $59.49 | $17.85
TOTAL:  $118.98 | $77.34