Sometimes there might be some reasons to edit VMX files. Usually in lab testing, you might be editing VMX files more often than the VMX files you have for production VMs. Right? That does not mean that you would not want to learn about some guidelines or good practices on editing those VMX files.
The VMX files is the core of the VM and it contains the whole VMs configuration, virtual hardware version number etc. The VMX file is located in the directory where you created the Virtual machine.
Some guidelines for Editing VMX files:
I think this one is pretty obvious, but still. Shut down the VM first and then edit the VMX. If you don't, you might might be surprised that the change will not be picked up until power-off then power-on (not reboot). Chances are high that the change will be removed when you do power down the system.
To edit VMX file if you're running VMware vSphere environment with vCenter, remember that you should unregister the VM from vCenter first and then edit the VMX only. To edit VMX file that
If you want to edit a VMX file for a production VM or any other important VM, just create a backup copy first!
Which Tools to use for Editing VMX files?
There is no specific tools to edit VMX files. Any text editor does the job. In case you're using Veeam Backup Free Edition, you can edit the VMX file directly on the datastore without copying the file first to your desktop and opening it in for example in, notepad or Notepad ++ . Just open the datacenter view and browse your datastore to locate the VMX file that you want to edit.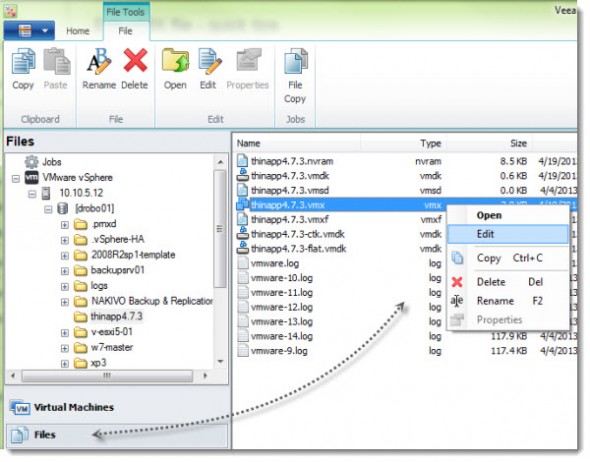 Just note that editing VMX files can make your VM unbootable, so as said above, backup the VMX first and then you can play with it… -:). You can download the Veeam Free Edition Here.
Wrap Up:
Good resource site is a site from Ulli Hankeln at http://sanbarrow.com/, or you might want to checkout an online generator tools at vmxbuilder or easyvmx. Ulli has also some good tools which replaces VMware Coldclone CD which is not supported any longer AFAIK.
Source: Veeam's Blog