Nakivo 4.0 GA version has been released today bringing a feature that not every backup product offers out of the box – Exchange Objects recovery. Where some backup products needs agents in an Exchange Sever VM and others simply do not offer individual Exchange Objects recovery, Nakivo brings this feature to the backup market today.
I have reported with more details during the beta stage about different other features that made it into the beta like a log truncation feature or backup verification, but let's have a look closer.
What's New in Nakivo 4.0 backup and replication:
Exchange Objects Recovery – recovers individual items directly from within backup file. Completely agent-less approach without the need of creation of special lab or restoring backup to test VM first. Recovery possible even from previous backups as well.

Exchange Log Truncation – Truncation of Exchange logs allows cleaning up the Exchange DB, which would otherwise grow and grow to fill up disk completely. 

When an Exchange Server database is backed up by a proper application-aware backup product, after the backup is finished the backup program will issue a command to VSS (Volume Shadow-copy Service) on the server that the backup was successful and then truncate the transaction logs.

Backup verification – Backups are checked bloc-by-block to compare the data written to the backup repository are the same as the data from the source VM.
Nakivo Deployment options
The product is available as OVF file (virtual appliance – linux) or as an executable. For distributed deployments there are other deployment options with Transporter VM- a helper VM which compress the data traveling across the WAN.
You can find different types of deployment scenarios in my post here – "Dynamik licensing and Multi Tenancy", depending of your needs and if you're service provider or end user .Service providers can offer to their clients DR plans with personalized backup/recovery portals which allows the end user to schedule backups and recover files or VMs from the service provider's backup repository. Service providers can chose from two types of licensing:
Purchase perpetual license
Rent montly VM licenses
Service providers offer DR-as-a-service by protecting client's VMs and workloads on site (backing up to onsite repository) or off site with backup to the cloud provider's backup repository..
You can also check out the PDF called Multi-Tenant Deployment Virtual Appliance Deployment Guide from the documentation page at Nakivo or also a PDF destined for cloud providers – Cloud Provider Program.
Nakivo Licensing and pricing
Nakivo product has 4 editions where VMware customers currently on Essentials or Essentials Plus packages do benefit lower pricing than customers on standard or higher versions. When used for replication the licensing works the way that you only need to purchase license for the source server.
*********************************************************************
Shop for vSphere licenses at VMware Store:
*********************************************************************
It's per physical socket licensing model where each physical CPU where the backup server VM runs needs to be licensed. Here is a detailed view of the product licensing from Nakivo's website: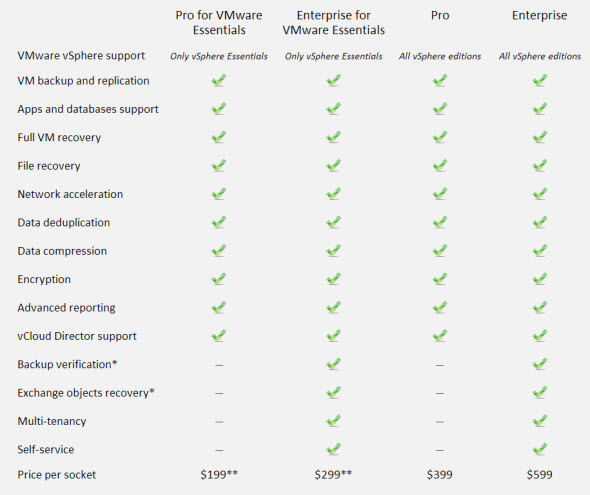 Nakivo continues to add more and more features to their product. There is also Free edition of Nakivo as well or you can download a fully functional trial.
Nakivo also provides GFS backup rotation (Grandfather-father-son) which is a standard backup scheme for keeping backups for legal purposes and allows to schedule rotation of backups in order to keep yearly, monthly, weekly and daily recovery points.
Source: Nakivo