Nakivo is new company, based in Silicon Valley, California. Nakivo has entered the already crowdy VMware vSphere backup eco-system at the end of October 2012. The company came up from stealth mode since few months, but has already achieved VMware Ready status and has it's product listed at VMware Exchange. Nakivo is also VMware Technology alliance partner – Elite.
Their backup product called Nakivo Backup and Replication for VMware can be used on Standalone (licensed) ESX(i) hosts – 4.1, 5.0, 5.1 , but also combined with VMware vCenter when a virtual infrastructure is managed from single central location.
The lowest based licensing at VMware is the vSphere Essentials version, and this package lucks backup product. So it's a good opportunity for Nakivo to provide low priced product packed with enterprise class features. In those small environments, Nakivo can be used not only for backing up VMs, but also for their replication. But apparently the product can scale up, supporting environments with 1000 VMs, by using backup proxies (
Changed Blocks Tracking – Nakivo leverages changed block tracking (CBT), introduced in VMware vSphere 4.0, which enables to backup only blocks that are different since the last backup. CDP is leveraged also for the WAN replication.
Deduplication and compression – Backups are automatically deduplicated and compressed. To store the backups, Nakivo can use local DAS storage, NAS, iSCSI or other with also direct SAN support for fast transfer speeds.
Cloud Based Backups – Nakivo can backup VMs directly to Dropbox or Amazon EC2, where the costs for this offsite solutions starts from 10 cents per gigabyte per month. (Amazon) or Dropbox pricing … roughly … 1TB under $100 per month.
Replication Capabilities – Concerning replication, the product supports seeding of the first backups, so the full VMs backup don't have to travel over the WAN to be replicated, but a USB drive can be used to physically transport the backups to the remote site for seeding, before the first replica takes place. The same way as Veeam or PHD Virtual does.
Easy Install and management – Nakivo installation takes 2 clicks and 60 sec. Together with easy configuration, you can be up and running your first backups in less than 10 min. Nakivo Backup and Replication 1.0 provides Web based interface to manage the product. Apache Tomcat is used as web server.
Near CDP – Nakivo has also near CDP (continuous data protection), with 5 min as a minimum for an RPO. There are up to 99 recent recovery points which enables fast recovery of VMs.  Individual files within the VM can be recovered from within the last 30 days.
The product leverages Microsoft VSS to backup database based systems like Exchange or SQL, but also Oracle DBs. It provides easy management, requiring no specific IT skills for operating the backups.
Nakivo can be deployed on Windows 7, 8, Windows Server 2008R2 Standard , Server 2012 Standard or on Ubuntu Linux Server.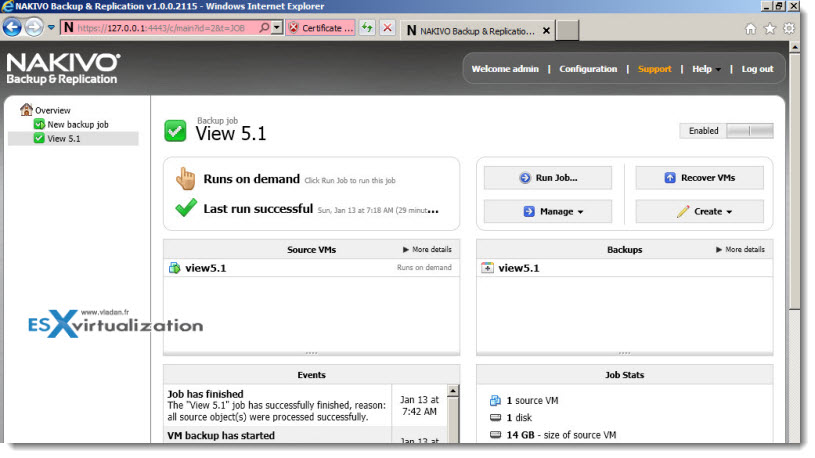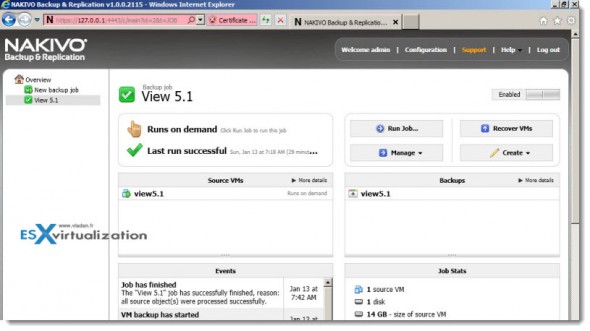 International support:
NAKIVO Backup & Replication comes in English, French, German and Spanish languages.
The specs, features and overall, the product looks promising for very small shops which can benefit from lowest price for product of this kind on the market today.
Nakivo Backup and Replication is destined for very small businesses and the company targets those very small shops for which the costs are the principal break. The company enters the market with quite a unique business model, which is based on what customer has (or want to buy) as a VMware solution. The licensing model is based on physical CPU socket, but also on version of VMware vSphere:
$199/socket – Essential Edition
$399/socket – Pro Edition
$0 cost – Free Edition
Example: Customer is using vSphere Essentials or Essentials Plus, then Nakivo sells Essential edition, which can be used to cover up to 6 CPU sockets. Nakivo can protect up to 3 backup and/or replication source servers with up to 2 processors each.
If a customer is on vSphere Standard, then Pro Edition of Nakivo has to be used and a Per CPU socket license is used with Nakivo Pro License. There is no difference between the Nakivo Essential and Pro Edition, technically. It's the same product.
It's true that usually vendors charge Per physical CPU Socket (The vast majority of them), or per-site (Trilead), or Per-VM (Idera). But Nakivo brought another, different licensing model, as you can see in the above example.
In addition, Nakivo just announced a Free version which does full backups, but this basic edition is not suitable for production environment, but can be used the same way as Free version of Veeam B&R. No multiple VM backups, no incremental backups or encryption.
See the details between the free and the paid version bellow.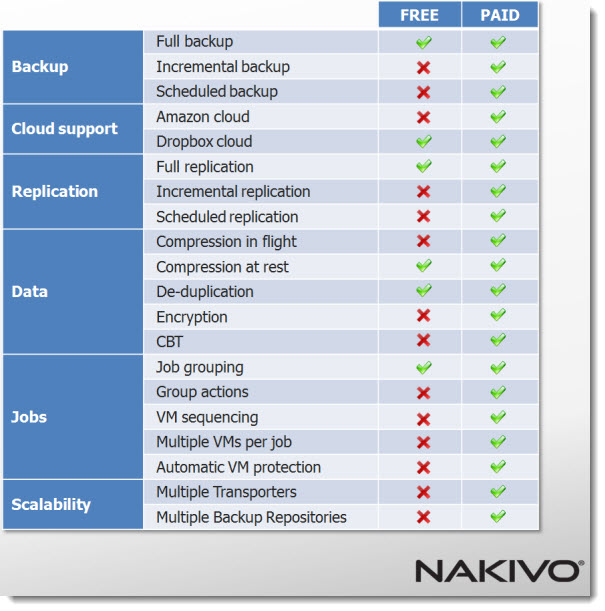 Bellow here you'll find two videos from Vimeo. The first one is just an introductory video on the features that Nakivo provides, but the second one shows a step-by-step for creating backup repository on Amazon Cloud and configuring backup job which back up directly to Amazon Cloud. It's 7 min video and I really liked the second one, since I can see the possibilities there.
Quick Introduction video from Vimeo:
Nakivo has many (if not all) the features that Veeam, PHD, VDP or other backup vendors provides. Together with aggressive pricing which is suitable for very small businesses, can bring very good value for small shops. Nakivo targets the very small business, with the possibility to scale up to 1000 VMs.
Nakivo verifies backups too. Quick quote from the product feature set:
Automatic verification of each backup and replica confirming the integrity of each replication or backup
I'm not sure which technology is used for backup verification. If similar process like Veeam's SureBackup is used, than certainly a very interesting product was born.
Nakivo, like Veeam, cannot backup physical servers running Windows or linux OS. Those products are specialized for virtual environments running VMware or Microsoft. Other vendors like vRanger or  AppAssure (read my review of Dell/Appasure backup and Replication here) do provide backups of physical servers in addition to backup of VMs, from within the same UI, but not Nakivo.  Nakivo is small company, with only about 20 people, and where the RD team is based in Kiev.
Nakivo provides free 30 days trial of the full product. You can download it here.