Ravello is an overlay cloud that enables enterprises to run their VMware and KVM workloads with DC-like (L2) networking 'as-is' on public cloud without any modifications. With Ravello, enterprises don't need to convert their VMs or change networking. This empowers the business to rapidly develop and deploy existing DC applications on the public cloud without the associated infrastructure and migration cost and overhead.
Cloud Journey Made Easy
Ravello's nested virtualization & networking overlay technology enables deploying the data-center based VMware & KVM workloads on Oracle Cloud Infrastructure, AWS and Google with a couple of clicks, offering following benefits:
Lift and Shift. Ravello's cloud enabled hypervisor – HVX – enables rapid deployment of virtualized VMware & KVM workloads to public clouds without any network or storage re-configuration work. Ravello fully encapsulates the DC based virtualized application which can be moved from on-premises data center to public cloud using an intuitive UI with point-and-click simplicity
Increased Agility. Business needs are ever-changing, so too are the requirements – multiple copies of production applications are needed for development testing, staging, UAT etc. With Ravello, enterprises can run their DC based apps on public cloud 'as-is', and rapidly deploy multiple high-fidelity clones of this environment on cloud using Ravello's innovative blueprinting capability
Reduced Cost. Enterprises can save on CapEx and OpEx costs associated with running and managing on-premise infrastructure. Re-testing costs can be significantly reduced by using Ravello when migrating them from on-premises to the Cloud as the environment remains exactly as it was on-premise.
To learn more about Ravello, visit here
If you are a vExpert, you can also sign up for a free Ravello lab service account here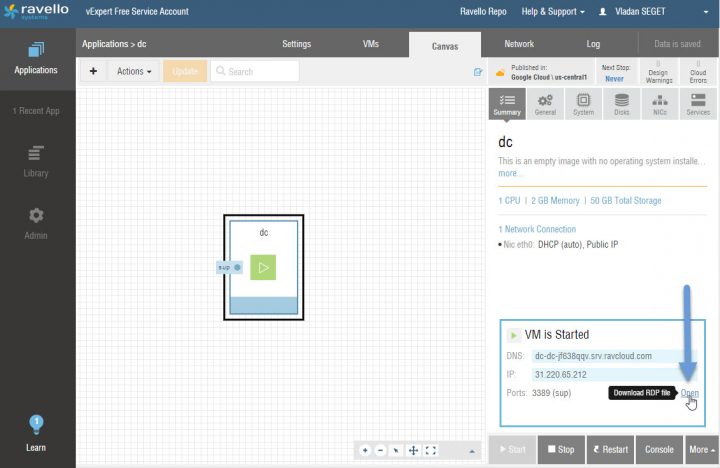 Check some the posts on ESX Virtualization: