This is a short post detailing Three Simple Steps to Install Turbonomic Operations Manager. As you know, Turbonomic (previously VMturbo) and their flagship product for multi-hypervisor environments and physical too, continuously enhances their product and provides updates on regular basis. Operations Manager from Turbonomic is a multi-purpose product which allows administrators to use their infrastructure to maximum potential.
The product has quite some hardware requirements. The virtual appliance will be configured with 16 GB memory; 4 vCPUs; 150 GB disk storage (150 GB storage + 16 GB swap space to match RAM).
Operations manager has different modules which can be activated (deactivated) by applying for different license. There is the main product which is extensible through different control modules like Application, Network, Container, Storage, Fabric or Hybrid control modules. For example, the storage control module gives Operations Manager visibility into the storage pools/aggregates and disk arrays in the SAN.
You can configure VMware vCenter server, RHEV-M, Hyper-V, XenServer or IBM PowerVM as a target for on-prem options. For cloud environments, you can chose from vCloud Director, CloudStack, openStack, VMM, AWS, Azure or SoftLayer.
There are Four licensing options to chose from and you'll see it when we'll go through the deployment steps, but basically, you can choose from:
Free trial
Full product
Free Virtual health monitor ( The Virtual Health Monitor is Free Download and use product.)
Free Operations manager lite (Free for 4 hosts)
Step 1: After downloading the trial, just open your vSphere client and deploy the OVF file. Chose some meaningful name for the VM, specify storage, network. By default, a DHCP is proposed. If you want static IP, it can be configured through the console. I'll detail it at the end of the post.
The default credentials for the appliance are:
Username: administrator
Password: vmturbo
the form changes and offers you to change the administrator's password straight away.
Remember your password. If for some reason you forget this password, you can still recover it.
Step 2: After setting up the password, continue with the wizard which will ask you to enter the license. From the text file received as an attachment of your e-mail simply copy paste the code to the window provided for this.
Step 3: Continue with the wizard, add a target. A target, it means vCenter or Hyper-V or other supported hypervisors mentioned above.
Continue with the wizard and on the next screen, you can click the check box to receive emails for critical Operations manager notifications. You're done. This is it. That was an installation of the product. You can follow detailed steps on my Review article I've done in the past. there is also a cool way to enter an "expert" mode for upgrade options. Check it out – VMturbo Operations Manager Review [Sponsored].
TIP: To setup static IP address. Open the console window.
Steps: login as root (password: vmturbo) via the console/SSH and type "ipsetup".  Note that the console root login and password are different from the web UI login…. address.

Done.
Worth to note that Turbonomic is moving from Flash-based UI to pure HTML 5 UI which will allow managing the system from any device. The HTML 5 UI is under works, but the demos I saw looks very very promising…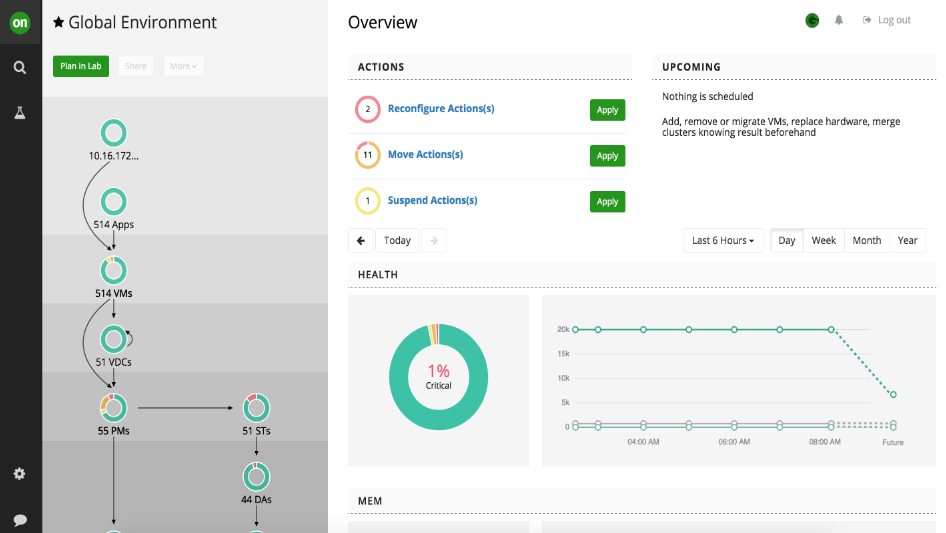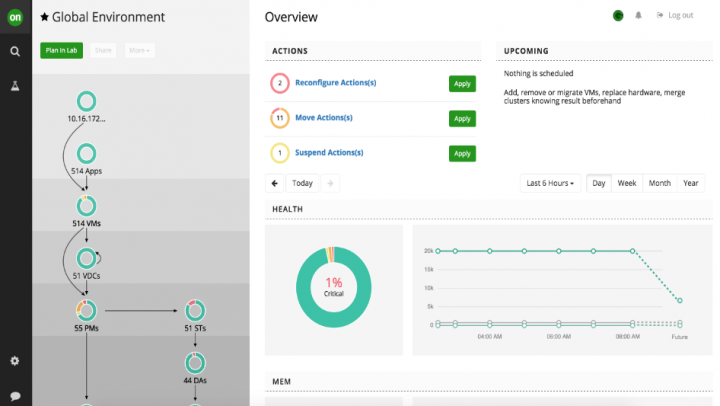 Below another screenshot showing all the VMs in the infrastructure, with details and pending actions.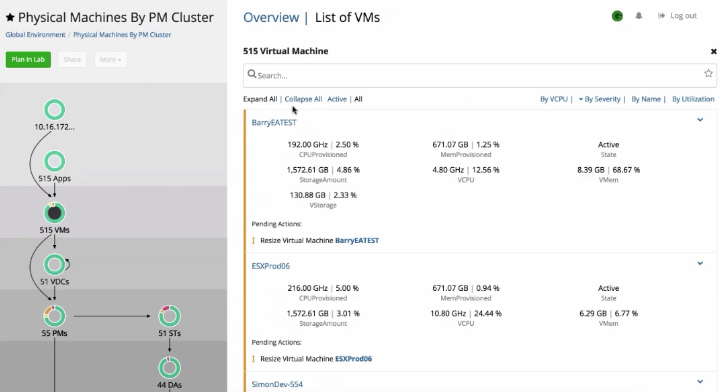 Check out more posts about Turbonomic on ESX Virtualization:
Stay tuned through RSS, and social media channels (Twitter, FB, YouTube)