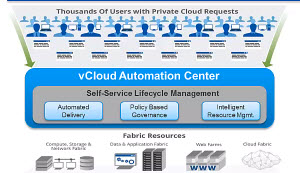 vCloud Automation center (vCAC) is a new product that has been announced during VMworld Barcelona. vCAC enables you to automate provisioning and management if IT services across multi-vendor deployment technologies, tools and processes.
This product is quite complex but automation provided can reduce complexity and risk, speed of deployments. It's an automation toolkit. I have reported on details what exactly the product does in my detailed post here: vCloud Automation Center Introduced by VMware. If you want to know the details I highly recommend to read this post which vCAC Capabilities, The Architecture and Policy Management.
There has been a series of videos published by VMware TV, which does provide you with detailed information about this tool, what it does, but also how to configure the product etc. That's why I found it useful to share those highly educational videos through my blog.
There are two users case invoked as well, where for example a client successively using vCAC to automate desktop VMs to the users…
After the first overview video there are videos about how the end user can request services or manage existing services. There are also videos from the Administrator's site where you'll be able to see how to discover resources and assign costs, create groups and assign users, reserve computing resources, configure single machine blueprint or configuring multi-machine blueprint. There are also some videos explaining reporting and reclamation.
vCloud Automation Center Capabilities
Intuitive, consumerized and customizable cloud portal.
User and Organization Awareness (each user or group works in different context).
Multi Vendor Support.
Its a dynamically generated RESTful API which provides complete programmatic access and control.
Intelligent Resource Management (discovers exciting environment)
Built-in Automation (PowerShell, Bash)
Video 1 – VMware vCAC Overview (Lenght: 12:21)
Video 2 – Requesting New Cloud Services (lenght: 5:13)
You'll be able to learn about how the user can use the self-service available for them. Really informative!
Video 3 – Managing Existing Cloud Services (length: 6:48)
In this video you'll see the management from the usr's side (not administrator). You'll see how the user can manage his existing resources. Who can do what etc…(reconfiguring VMs, managing snapshots etc).
Video 4 – Discovering Resources and Assigning Costs (length: 5:35)
You'll see how the Administrator configures the policies for endpoints which manages the infrastructure which lays underneath.

Video 5 – Creating Business Groups and Assigning Users (length: 7:23)
Overview of grouping policies and how to configure enterprise group and provisioning group.
There are more videos from the Admin's side on the next page –>