VM Explorer Backup And Replication For VMware And Hyper-V environments is the title of our post today. We follow VM Explorer developments and improvements since quite a long time. The software gets regular updates and improvements, even though, the latest version (7.1.1 during the write up) does not support yet VMware vSphere 6.7 U1 or Windows Server 2019 just yet. But it is to be supported in a very near future and we'll definitely report on that.
What we like it it's tiny size (about 50 Mb only) and the overall good user experience. The UI is multi-language so if you don't speak good English and you are from one of the countries which language is supported, you can simply switch to your language (via Settings > Language ) and
VM Explorer can be used for backup and replication of VMware or Hyper-V environments. You can backup/replicate workloads to any local storage or to the cloud (Amazon, Azure, Openstack, Rackspace…). You can also create backup copy jobs allowing you to copy your backups to a secondary storage location.
The user interface has been translated into many different languages. English, Italian, Spanish, German, Chinese (Simplified), French, Japanese, Portuguese (Brazilian), and Russian, are currently languages which you can set for the web UI.
You can do Full or Incremental VM backups and (or) Replication of VMs to the remote site. You can also do an Instant recovery of your VM which is interesting when you need to recover your VM as fast as possible. Basically can power On VM directly from the backup location, and then, do a migration back to the production storage.
You can backup to directly attached storage (DAS), network attached storage (NAS), Storage Area Network (SAN), ESX/vSphere, Windows, Linux and FreeBSD based storage platforms, and HPE StoreOnce backup appliances (NAS and VTL interfaces).
Backup Encryption
We'll talk about security little bit. Nowadays, it's not only important to protect production workloads, but also backup files. Anybody who would steal your backups could possibly gain access to your data if your backups were not encrypted.
With VM Explorer, you can encrypt the backups to increase the security of your Virtual Machines using AES algorithm, a standard sector-based data encryption method defined by IEEE P1619.
Note: The password is stored encrypted and is not retrievable, so make sure to remember it or write it down in a safe place in order to be able to decrypt the backup.
This is kind of logical as the attacker who gains access to your backup server, could easily recover this password and use it. You can see the option below.
When you need to get support, you are usually asked by the support team, to provide the Debug report. This can be easily done via the General Settings > Support > Generate New Debug Report option.
As you can see, you have also a link to the main program's log vile. This is really convenient and easy to find.
All those settings are accessible via the Admin menu on the right-hand side. There you'll Find the Settings options.
How to Add a Network drive?
If you're experienced VMware admin, just skip that. This section is meant to be for folks who need some help.
This one is probably one of the first options to configure before you can backup your VMs. A storage location. One of the options is a Network drive. Within the Settings view, click Network Drives. Click Refresh to update the list of available network drives.
In the Network Drives view, click Add and then, in the Location screen of the Add a network drive wizard, select a letter for your network drive and write your network drive's path. When
finished, click Next.
In the Credentials screen, type your access credentials, if necessary, and then click Next.
Note: Make sure that you enter the credentials with this domain name format. ([email protected] format did not work for me).
See below…
In the Test Connection screen, you can verify if your connection is valid. If not, you can go back and reconfigure your newly added network drive. If yes, click Next.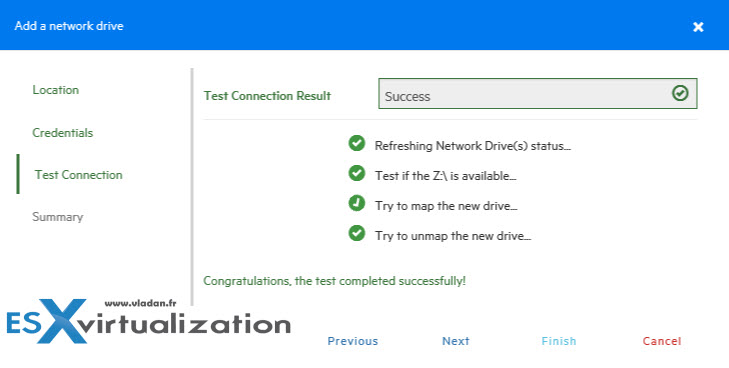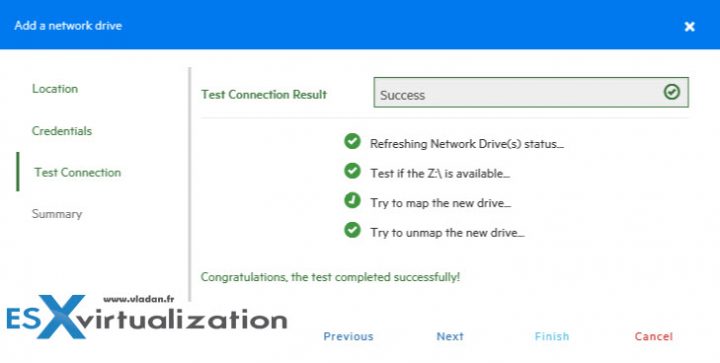 The Summary screen displays the details of your newly added network drive. At this stage, you can go back and make any necessary changes. When finished, click Finish. You'll end up with this screen showing the details like the path login user name and status.
We're done and we have a backup target. This can be a NAS device, a file server on another physical server or other.
Wrap Up:
VM Explorer is easy to use software and if in any case, you need a help, you can access it within the product and open as a PDF. The installation is fast and easy (the installer has only about 50 Mb in size). You can install it in a Virtual machine too, but I'd recommend going physical (installation on physical server) as if anything goes wrong with production storage (where the backup server reside when running as a VM) you might need first reinstall your backup server and then only start recovering your VMs, so you most likely lose some time if you lose access to your backup server VM.
After installation, you have a 15 days trial period of the Enterprise version with 1000 sockets. If you do not install a license within this time, the product will fall back to the free (limited) version. You can get a trial from at Micro Focus Website Here.
More posts about Micro Focus VM Explorer on ESX Virtualization:
More from ESX Virtualization:
Stay tuned through RSS, and social media channels (Twitter, FB, YouTube)