VMturbo 5.6 released recently brings further options to Cisco UCS, integrates Private cloud control module, Adds more visibility into CloudStack or extends control for any generic Java VMs. The previous release of VMturbo (v5.5) did extend its capabilities to VMware VRA, IBM PowerVM and Public Cross-platform Migration.
VMturbo product consists of the main product which is extensible through different control modules like Application, Network, Container, Storage, Fabric or Hybrid control modules. For example, the storage control module gives Operations Manager visibility into the storage pools/aggregates and disk arrays in the SAN. It then identifies, remedies, and maintains performance across all storage contention points.
We'll get through the options in detail, but you may look first at
What's new in VMturbo 5.6?
New Integration
Private Cloud Control: Turn-key Integration with ServiceNow
Real-time placement decisions for your ServiceNow environment and workload provisioning enable you to guarantee application performance and accelerate your private cloud initiatives
Extended Control for any generic Java Virtual Machine
Assure generic JVM application performance throughout your business, by gaining application level visibility to any generic Java application like Apache Storm, Jetty, Tomcat
UCS Improved Performance
Enhanced fabric market abstraction leads to improved system performance and reduced fabric utilization. Enabling enhanced management of your port throughput and blade usage
Deeper visibility into CloudStack
Reach your desired system state faster, by managing your CloudStack environment with improved data consistency and compliance control
Customized Storage & Host Profiles
More accurate plan results with your individual storage and host profiles; create, modify and share your custom profiles and in the Green Circle community
VMturbo integrates Cisco UCS which has many components (management GUI, Fabric interconnect [switch], IOModule, Blade chassis, Individual blade). The definition of Green datacenter mean that the footprint gets reduced by utilizing more the existing hardware.
New actions based on port channel utilization allows Resize up port channel (Add a new port)  or Resize down port channel (remove port). Those are recommended actions.
Assure Java Virtual Machine Performance – Gives you more visibility into metrics like heap utilization within your Java applications. These metrics are the basis for automatable decisions that will increase your environment's utilization and application performance.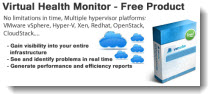 Note: Virtual Health Monitor from VMturbo – Multi-Hypervisor, can span multiple data centers or hosts. There is no number of hosts limitations or VMs limitation.  The Virtual Health Monitor is Free Download and use product. Packaged as single Virtual Appliance. Completely agent-less solution. It uses the "same engine" as the full product VMturbo Operations Manager, When you download the product, it automatically downloads the full 30 days trial where you can test all the features.
Source: VMturbo