Yesterday there was an online live announcement of VMware Virtual SAN (VSAN) launch. The official GA shall be out next week and there is very interesting information concerning scalability. During the beta we were told that VSAN will be limited to 8 nodes at first, then during VMware PEX last month VMware announced that VSAN will scale up to 16 hosts in the v 1.0 of VSAN. But what a surprise to see that during the announce that VSAN 1.0 will have maximum cluster size 32 hosts! And the speaker was pretty sure that this will be increased in future releases of VSAN…
You'll find the configuration maximums bellow. One year ago, who would have thought of having storage "baked" into a hypervizor where the scalability of capacity and performance is linear. 
Awesome news. I had a slight problems with my Internet connection last night so I'll be looking for the recording (if being recorded). If you have missed yesterday's online event you can can re-watch the event at the same URL: https://www.vmware.com/now. Definitely awesome.
You'll see some good demos too. One of them is to simulate of failure. You'll see what's happen when the host gets down. As you might be thinking – HA will kicks in. Yes sure, but the data was stored on that particular host (there is no physical SAN, the cluster is the SAN) …. Yes, but with 2 additional copies of the data on other hosts, defined by a policy which you choose. Interesting.
Need more power? Simple – more servers to the VSAN cluster! Through the assistant simply add another host.
The Pricing and licensing shall be announced during GA next week. The VSAN is actually delivered ahead of schedule. The online event is presented by Pat Gelsinger (CEO), Ben Fathi, CTO and John Gilmartin (GM & VP). Here are the facts from the event.
Virtual SAN (VSAN) Special Online Event
Linear scalability for performance and capacity when adding new nodes
vSphere 5.5 Update 1 – VSAN GA in v 1.0
2 Million IOPS – on 32 node cluster
Maximums:
32 hosts – The maximum cluster size for v 1.0 of VSAN
VSAN maximum scalability  4.4 PB (35 disks x 32 hosts)
VSAN 1.0 supports 3200 Virtual Machines (but only 2400 2048 can be protected by HA due to HA restrictions – datastore limit per cluster. If you have more than 2400 VMs then you'll have to create another datastore)
VSAN 1.0 supports VMware Horizon View  
VSAN 1.0 supports vSphere Replication (VR)
VSAN 1.0 supports vSphere Data Protection (VDP)
VSAN Nodes will be announced from HP, IBM, Dell, Fujitsu and Cisco – certified for VSAN. Shall be announced with GA next week as well. VSAN nodes are certified servers which can run VSAN without any hardware modifications. You can also adapt your existing hardware which is on the HCL, by checking the HCL for VSAN components (SSDs, HBA, HDDs …) and add those components into your servers.
All this is certainly very exciting, as there is only one more week to wait until GA.
Some more notes about VSAN: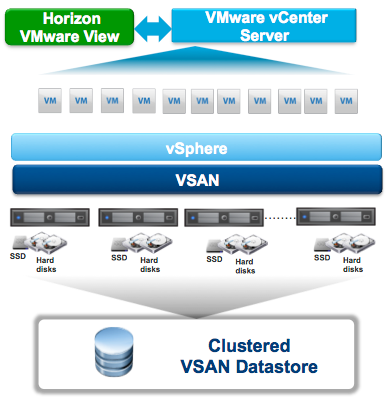 Minimum cluster size:
Three hosts (But better with four as you might want to have some maintenance time without sacrificing performance..)
Recommended SSD capacity: 5 10 percent of HDD capacity
Check the vSphere 5.5 page where VSAN has the TOP place.
Certainly exciting times ahead. Another good news I would like to share is that @CormacJHogan and @DuncanYB are preparing a new book on VSAN called Essential Virtual SAN – Rough Cuts. The book shall be out for VMworld 2014. Stay Tuned!
Source: VMware Now