VMware vSphere Essentials Plus Kit (Term License) provides an all-in-one solution for small businesses to virtualize their physical servers and reduce hardware costs while ensuring superior high application availability and data protection.
Term license offers an additional option for customers with smaller IT budgets. The price includes the product license and Basic (or Production) support & subscription for 1 year.
The license expires after one year. For which use case someone would buy this licensing?
Time limited virtualization project – it might fit for some time-limited projects where you have a deadline, and after 12 months the hardware is decommissioned. It may be a case when you rent hardware via contract. So you have a choice to pick the Essentials Term or the Essentials Plus Term (vMotion, HA, etc….). Fair enough.
A Project which is low on a budget – projects low on a budget which doesn't have a visibility over their business. The folks do not know if their business will work or not. They have 12 months to try, then they must buy another license (or stop their business). Fair enough too.
Shop for Essentials Term Kit at VMware Store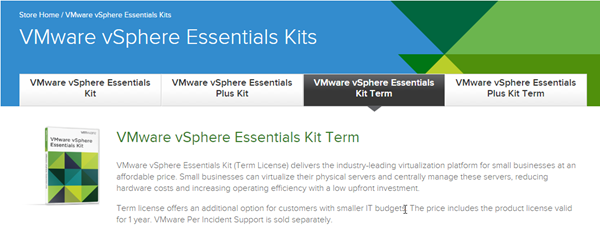 This kit includes 6 CPU licenses of vSphere Essentials Plus (for 3 servers with up to 2 processors each) and 1 license for vCenter Server Essentials.
The licenses are valid for the length of the term (1 Year).
The vSphere Essentials Plus Kit consists of the following:
vSphere Hypervisor (ESXi)
vCenter Server Essentials
vSphere Data Protection
vSphere High Availability (HA)
vSphere vMotion
Cross-Switch vMotion
vSphere vShield Endpoint
vSphere Replication
VMware ESXi™ hypervisor architecture provides a robust, production-proven, high-performance virtualization layer that enables multiple virtual machines to share hardware resources with performance that can match or exceed native throughput.
VMware vCenter Server for Essentials provides centralized management and performance monitoring for all virtual machines and vSphere hosts with built-in physical-to-virtual (P2V) machine conversion and rapid provisioning, using virtual-machine templates.
VMware vSphere VMFS enables virtual machines to access shared storage devices (Fibre Channel, iSCSI, etc.) and is a key enabling technology for other components such as VMware vSphere Storage vMotion®.
VMware vSphere Thin Provisioning provides dynamic allocation of shared storage capacity, enabling IT organizations to implement a tiered storage strategy while reducing storage spending by up to 50 percent.

More from ESX Virtualization: