It's been quite a while since I've been hooked with such a technology and speed. The fact that running VMs in the RAM gets you the best ever performance isn't new. Some bloggers even used Starwinds iSCSI to create a RAM disk and test the speed…. /CC @esloof. Faster even than an SSD. Running VMs out of RAM is the fastest, but how about persistency? It seems that, Atlantis computing found the sauce. Atlantis Ilio 4.0 can leverage RAM in order to run virtual desktops and make the changes persistent. Atlantis ILIO Persistent VDI 4.0 has been announced during VMware PEX in Las vegas. Press Release can be found here.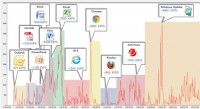 How it works? The product runs as a Virtual appliance in each ESXi. Every VDI desktop running on that host is storing the disc blocs , which are also deduplicated and compressed, in a RAMdisk created by Atlantis Ilio. The deduplication of the disk blocs makes the usage of RAM quite minimal, and only the blocs of C: drive are used to run in the RAM.
The version 4.0 introduced the possibility to use this technology in VDI deployments for persistent desktops (a desktops which can be personalized by users… desktop background, theme etc…). It's because the blocs changed by each user are stored in another appliance. This is new in v 4.0 and wasn't possible in previous release.
Brian Madden has great write up about this technology. Here is a quick quote:
Atlantis's ILIO Persistent VDI product has a VM on each VDI server that they call a "Session Host." That's really no different than their previous non-persistent product. The new part is that they now also have a "Replication Host" which is a central VM that maintains the master copy of each user's blocks. (And of course this can be replicated, synced, backed up, etc.) So when a user wants to connect to their desktop, the VDI software (View, XenDesktop, etc.) routes them to some random VDI server, and that server's Atlantis ILIO Session Host VM gets all that user's blocks it doesn't already have (from other VMs) copied down to its memory from the central Replication Host.

The beauty of this is that the long-term permanent storage of each user's unique blocks is outside of the dekstop VM's IO data path. The desktop VM on the VDI host reads and writes its blocks from the RAM of the ILIO Session Host VM at full RAM speed, and the Session Host just replicates any unique compressed blocks over to the Replication Host out-of-band, taking its own sweet time.
In this excellent demonstration video you'll see the performance that you would certainly want to have on your user's desktops. The video shows test where 9 applications starts on a VDI desktop which was limited in vSphere to 50 IOPS. This takes 4.5 minutes. Then Atlantis ILIO did the same test without limitation and the 9 applications has started almost immediately. No wonder, the desktop runs in memory. In a PassMark test the result was an amazing 5049 score, which is the 3rd place overall world wide.
Read the full product details on next page –>