ZertoCON 2017
Boston, MA. The 22-24th of May, 2017.
Get 30% off list price tickets with registration code ZBLOG17. 

Registration Link:  (If you register from our link, put our blog in the "How did you hear about ZertoCON" field)

Why be at ZertoCON?
Breakout sessions
Keynotes
Labs, Certification and training options
Awards recognitions
Hall crawl & party.
ZertoCON is:
Focused Content: for CIOs, system admins, cloud strategists – anyone and everyone in IT looking for a simple, secure on-ramp to the cloud.
Thought Leadership: gain insight from Zerto's leadership and industry experts on leveraging the cloud to help you build a more resilient IT infrastructure
Hands-on Learning: get up close and personal with Zerto's revolutionary, award-winning product in labs, demos and Q&A sessions
Expanded Zerto Certifications: now including Zerto Professional Certification advanced-level, Azure, AWS, Cloud and Sales
Unparalleled Networking: meet, greet, and collaborate with the most advanced IT/Cloud audiences in the industry
Epic Zerto Parties: everyone knows there ain't no party like a Zerto party — and this year's will be one for the history books!
Check out highlights from ZertoCON 2016: https://vimeo.com/174691837
When and where?
Boston, MA
May 22-24
——————————————————————————
Get Latest ISO from Veeam with ALL patches INCLUDED
Veeam released new ISO. This new ISO from Veeam that has been announced by Anton Gostev includes the latest unannounced feature – Integrated Updates.
From now on, you no longer have to download and install the latest update separately – it is included on the ISO and is installed automatically as a part of the product installation.
Check it out Veeam Backup & Replication 9.5 ISO With Update 1  – Get Your Copy!

More from ESX Virtualization, about Veeam:
—————————————————————————————
Win a trip to VeeamON New Orleans!
Round-trip Flight to New Orleans + Full Pass to VeeamON 2017 + Stay in a Deluxe Hotel Room.
Become a VMCE, or if you are already a VMCE, attend the brand new VMCE-Advanced: Design & Optimization v1 (VMCE-ADO).
Challenge your technical knowledge by taking this quiz by March 31 and get a chance to win the ultimate trip to New Orleans for VeeamON 2017.
Click Here to participate.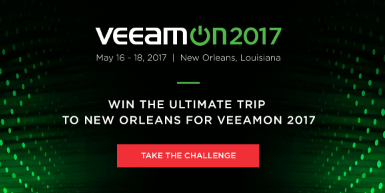 —————————————————————————————
vExpert 2017
I'm in! Yes. I'm again part of the amazing vExpert community. Check out the announcement.
—————————————————————————————
Veeam Vanguard 2017
Again this year I'm Veeam Vanguard. Pretty exciting!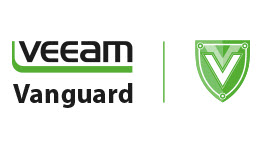 ---
Turbonomic's 25th consecutive quarter of record growth !!!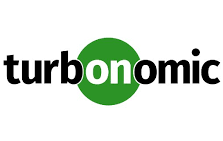 Turbonomic's recent quarter not only was the largest in its history in terms of revenue, but it was also its 25th consecutive quarter of record growth – over six years of uninterrupted revenue growth. Turbonomic surpassed 1600 customers, adding enterprises such as Convergys, Morningstar, Macy's, and Ticketmaster to its customer family, along with repeat customers such as Fifth Third, KPMG, and Swisscom. Turbonomic was recognized as one of Inc. magazine's 500 fastest-growing companies for the second year running and was named to Forbes Cloud100 list. Today, Turbonomic is hosting its first annual Vision Summit in New York at the American Museum of Natural History, with CIO speakers from companies such as First Data and Verizon. You can read the 
Full PR here>>
Bill Veghte, former HP COO and Senior Microsoft Executive, has joined Turbonomic as Full Time Executive Chairman. Full Post here >>
Bill Veghte is Executive Chairman of the Board of Turbonomic. Bill brings over 25 years of experience in technology & business leadership to Turbonomic as former HP COO and Senior Microsoft Executive.
Turbonomic, an eight-year-old company with nearly 400 employees, is led by chief executive Ben Nye, who works out of its Boston headquarters with Shmuel Kliger, founder, and president, based in New York. Veghte himself will remain in Northern California and anchor the Silicon Valley effort. Turbonomic on Fortune.com here >>
———————————————————————————-
There is a new Atlantis Expert community that I'm part of! And I wanted to share the news with our readers. Check my detailed blog post about it here or, you can find the link here.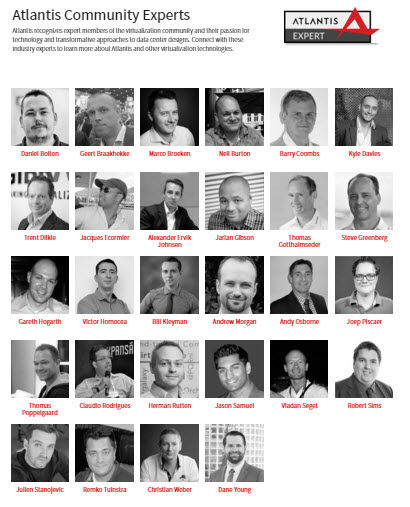 Atlantis Community Program recognizes exceptional community leadership
The Atlantis Community Program provides a great opportunity for the Atlantis Community Expert (ACE) to connect Atlantis colleagues, fellow community peers and more. Atlantis Community Experts (ACE) receive insights into Atlantis products while they engage with Atlantis colleagues to provide feedback, share their notes from the field and present as advocates in the community. ACEs help shape the modern workspace and programmable Datacenter by providing valuable feedback on product strategy and future roadmap. "Feedback is the breakfast of champions." – Ruben Spruijt, CTO Atlantis Computing
What are the benefits
Atlantis Community Experts are passionate community leaders who've demonstrated commitment to share real-world knowledge and technical expertise with the community, customers and Atlantis.
Benefits for ACEs are:
Exclusive webinars with Atlantis product teams for insights and discussions on current and future products
Direct touch with executives, product groups, CTO office and leading architects via private channel
Access to NFR software and demo environment
Increase personal brand & industry recognition (ACE Member Page)
Exclusive access and influence on Atlantis products and direction
Technical communities play a vital role in the adoption and improvement of Atlantis technology and helping our customers and partners achieve great things with our USX and HyperScale products.
How to become an ACE?
We evaluate the contribution of each nominee and its impact to online forums, social media, blogs, whitepapers, articles, conferences and user groups on a yearly basis. New candidates are reviewed periodically. Want to be an ACE and join this great group of passionate ACEs please email [email protected] and give some background what you do and why we should consider you as ACE.
View current ACE awardees
Get to know our Atlantis Community Experts.  They are listed on the ACE Membership Page.
—————————————————————————————————————————————————–
Network Virtualization for Dummies – Free E-book
It's time to bring your network into the future of business. Learn more in our comprehensive book, Network Virtualization For Dummies.
So what exactly is network virtualization? As its title might suggest, "Network Virtualization For Dummies" explains that, too. We're talking about a process of programmatically creating, provisioning, and managing virtual networks, using the underlying physical network as a simple packet-forwarding backplane, and replicating all networking components and functions in software. In simple terms, network virtualization allows you to run your entire network in software.
—————————————————————————————————————————————————–
"Why Linux and OpenStack Make the Most Sense for Virtualization and Cloud Computing in a Multi-Platform Environment"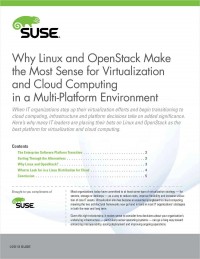 In this paper, you will learn how open source platforms like Linux and OpenStack have the flexibility to seamlessly transition to the data center today, and the innovation necessary for the future.
View full description >
—————————————————————————————————————————-
StarWind Hyper-Converged Platform (H-CP) Video
StarWind presents a video with Jon Toigo from Data Management Institute talking about the trends in virtualization and where the storage goes.
Watch the video and learn how Hyper-Converged platform can optimize your storage and save up to 40% of costs.
——————————————————————————-
SAN Must Die!
Do you hate SANs as we hate them? No, seriously? They were a great place to store your grandfather's Oracle database, but why the heck would anyone use them to store Virtual Machine images? SANs were never designed to handle virtualization workload! Also, with today's high-capacity spindles, PCIe attached flash and 40 Gb Ethernet all being commodities, it's simpler, faster and cheaper to use virtual shared storage for virtualization purposes. Get your cure to SANs disease free, now, right here.
Technical Paper 'StarWind Virtual SAN providing repositories for XenServer Pool'
Are you an experienced XenServer and Windows system admin?
Would you like to add StarWind® virtual storage to your XenServer Pool?
Then you surely need some step-by-step instructions!
You are welcome to check this document to find them all here 'StarWind Virtual SAN providing repositories for XenServer Pool'.
This document is aimed to describe how to enable vStorage APIs for Array Integration in the system in order to decrease the workload on the network part and offload certain ammount of hypervisor operations to the storage side. Additionaly it explains how to verify if VAAI works properly.
Check it out here!
………………………………………………………………………………………………
2-node VM Storage for ‪Free by StarWind
New Technical Papers:
StarWind Virtual SAN® VAAI (vStorage API for Array Integration) Configuration & Performance Guide
StarWind Virtual SAN® ODX (Off-loaded Data Transfer) Configuration and Performance Tuning Guide
Starwind – 4 scenarios of Storage Replication:
Storage Replica with Failover Cluster and File Server Role (Windows Server Technical Preview) https://www.starwindsoftware.com/blog/storage-replication-for-failover-cluster-with-file-server-role-on-windows-server-technical-preview/
Storage Replica with Microsoft Failover Cluster and Scale-out File Server role (Windows Server Technical Preview) https://www.starwindsoftware.com/blog/storage-replication-for-scale-out-file-servers-on-windows-server-technical-preview/
Storage Replica with Microsoft Failover Cluster and Clustered Hyper-V VM role (Windows Server Technical Preview) https://www.starwindsoftware.com/blog/storage-replica-with-microsoft-failover-cluster-and-clustered-hyper-v-vm-role-windows-server-technical-preview/
Storage Replica with Microsoft Failover Cluster and Guest VM Cluster role (Windows Server Technical Preview) https://www.starwindsoftware.com/blog/storage-replica-with-microsoft-failover-cluster-and-guest-vm-cluster-role-windows-server-technical-preview/
Get your Free NFR !!
Free NFR license for New StarWind SAN V8 is available for IT certified professionals.
To get free license is necessary to register here.
Starwind 8
Massive Scale-Out storage architecture
Creates fault tolerant shared storage with unlimited number of nodes
Asynchronous WAN-replication
Ensures efficient disaster recovery plan
L2 Flash Cache
Works with RAM as a L1 cache to boost the efficiency
In-line deduplication and thin provisioning with space reclaim
Reduces storage expenses dramatically and accelerates VM storage performance
Simplified and improved GUI
Provides Windows Server 2012 style, step-by-step wizards and support of PowerShell scripting
Support of SMI-S interface for integration with Windows System Center R2
Makes cloud storage administration easier
Log-Structured File System (LSFS)*
Eliminates random writes for VM storage