vSphere 6.7 Release
Recently vSphere 6.7 has been announced and released. This is the biggest news lately. Check out vSphere 6.7 detailed page.
My detailed blog post about it: https://www.vladan.fr/veeam-backup-and-replication-9-5-u3-released/
Download the Veeam 9.5 U3 Here. 
—————————————————————————————
VMware Workstation and Fusion Latest Release
Tip: Check our latest detailed post about VMware Workstation 14 and Fusion 10.




VMware Workstation 14 Pro and Upgrades – Best Desktop Virtualization Software
VMware Fusion 10 – Run Windows on MAC
VMware Fusion 10 Professional – Restricted VMs, Virtualized VT-X/EPT…
VMware Upgrades – vSphere, Workstation, Fusion, ESXi, & vCenter Server…
———————————————————————————
vExpert 2017
I'm in! Yes. I'm again part of the amazing vExpert community. Check out the announcement.
—————————————————————————————
Veeam Vanguard 2018
Again this year I'm Veeam Vanguard. Pretty exciting!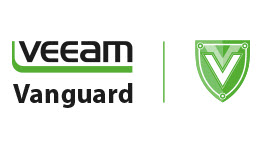 ---
2-node VM Storage for ‪Free by StarWind
New Technical Papers:
StarWind Virtual SAN® VAAI (vStorage API for Array Integration) Configuration & Performance Guide
StarWind Virtual SAN® ODX (Off-loaded Data Transfer) Configuration and Performance Tuning Guide
Get your Free NFR !!
Free NFR license for New StarWind SAN V8 is available for IT certified professionals.
To get free license is necessary to register here.
Starwind 8
Massive Scale-Out storage architecture
Creates fault tolerant shared storage with unlimited number of nodes
Asynchronous WAN-replication
Ensures efficient disaster recovery plan
L2 Flash Cache
Works with RAM as a L1 cache to boost the efficiency
In-line deduplication and thin provisioning with space reclaim
Reduces storage expenses dramatically and accelerates VM storage performance
Simplified and improved GUI
Provides Windows Server 2012 style, step-by-step wizards and support of PowerShell scripting
Support of SMI-S interface for integration with Windows System Center R2
Makes cloud storage administration easier
Log-Structured File System (LSFS)*
Eliminates random writes for VM storage