Webinar – Your 5 Most Critical M365 Vulnerabilities Revealed and How to Fix Them
Microsoft 365 is an incredibly powerful software suite for businesses, but it is becoming increasingly targeted by people trying to steal your data. The good news is that there are plenty of ways admins can fight back and safeguard their Microsoft 365 infrastructure against attack.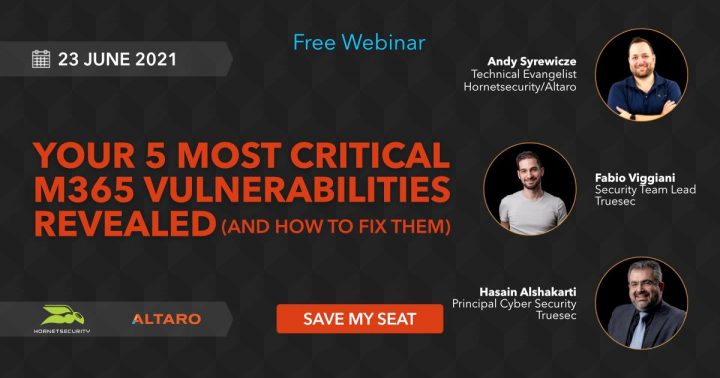 This free upcoming webinar, on June 23 and produced by Hornetsecurity/Altaro, features two enterprise security experts from the leading security consultancy Treusec – Security Team Leader Fabio Viggiani and Principal Cyber Security Advisor Hasain Alshakarti. They will explain the 5 most critical vulnerabilities in your M365 environment and what you can do to mitigate the risks they pose. To help attendees fully understand the situation, a series of live demonstrations will be performed to reveal the threats and their solutions covering:
• O365 Credential Phishing
• Insufficient or Incorrectly Configured MFA Settings
• Malicious Application Registrations
• External Forwarding and Business Email Compromise Attacks
• Insecure AD Synchronization in Hybrid Environments
This is truly an unmissable event for all Microsoft 365 admins!
The webinar will be presented live twice on June 23 to enable as many people as possible to join the event live and ask questions directly to the expert panel of presenters. It will be presented at 2pm CEST/8am EDT/5am PDT and 7pm CEST/1pm EDT/10am PDT.
Don't miss out – Save your seat now!
PowerCLI: An Aspiring Automator's Guide
Getting into scripting can be daunting. It's easier to just use existing scripts found online, but if you choose this route you'll quickly run into limitations. If you take the time to learn how to create your scripts, trust me, you'll never look back!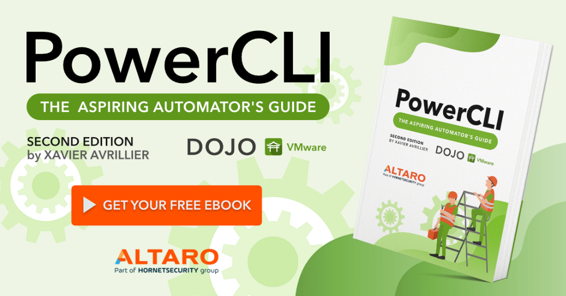 Automating vSphere is particularly useful for countless applications and the best way is through PowerCLI – a version of PowerShell developed specifically for VMware. Learn how to develop your own PowerCLI scripts with this free 100+ page eBook from Altaro, PowerCLI: The Aspiring Automator's Guide.
Written by VMware vExpert Xavier Avrillier, this eBook presents a use-case approach to learning how to automate tasks in vSphere environments using PowerCLI. We start by covering the basics of installation, set up, and an overview of PowerCLI terms. From there we move into scripting logic and script building with step-by-step instructions of truly useful custom scripts, including how to retrieve data on vSphere objects; display VM performance metrics; how to build HTML reports and schedule them; the basics on building functions; and more!
Stop looking at scripts online in envy because you wish you could build your own scripts.
Get started on your path to automation greatness – Download the eBook now!
************************************************
I'm honored to be a part of the best top-level technical community with some cool swags and access to
#Veeam
's SEs and the latest
#Veeam
information.
#VeeamVanguard
2015-2020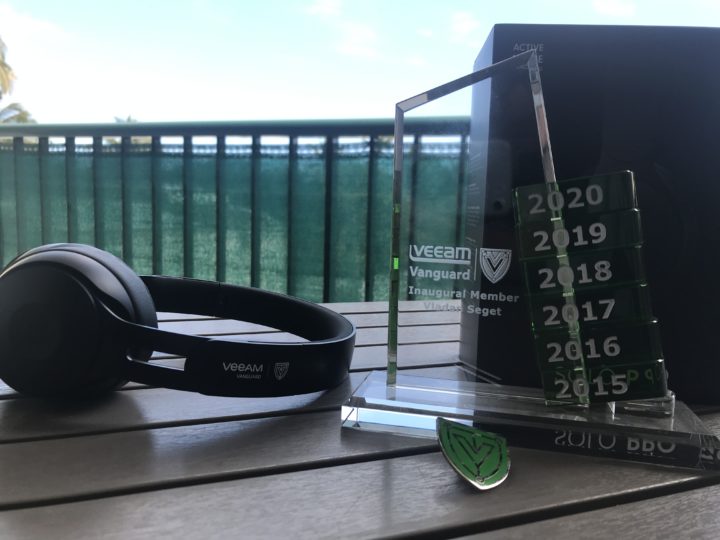 —–
VMware vExpert x11
it has been already 12 years since I have received my first vExpert award from VMware. Time is the only variable you can't influence unless having a way back machine -:). I'm very honored again to be awarded a vExpert by VMware.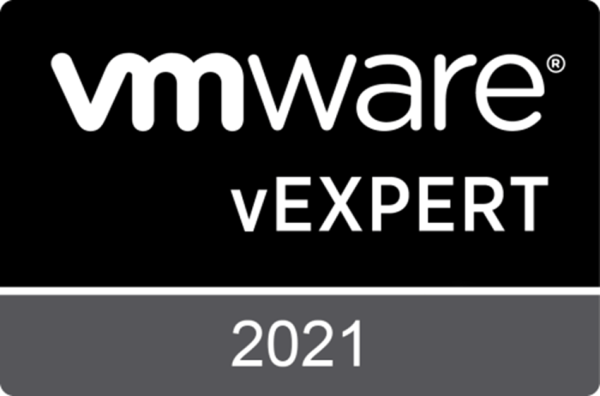 Thanks to Corey Romero and the team for the award.
****************************************************
Veeam Vanguard 2020
Again this year I'm Veeam Vanguard. Pretty exciting!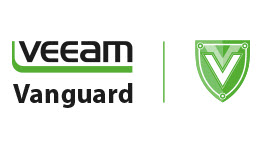 ——————————————————–
*************************************************************************