VCP-DCV Study Guide based on vSphere 8.x – VCP-DCV 2023 Certification
This page is a new page where you'll find all the necessary information about How to pass the VCP-DCV Exam based on vSphere 8.x. This page (will get updated frequently) will host a VCP8 Study guide which will be released as a FREE PDF.
VMware just released a new certification exam (2V0-21. 23) which it's focusing on the installation, configuration, and management of VMware vSphere 8. You can become certified with a label of VCP-DCV 2023 certified. Get the latest VCP-DCV 2023 overview PDF from VMware Education. Check the Official VMware VCP-DCV 2023 exam guide (blueprint) here.
**************************************************
The exam duration is 135 minutes
The number of questions is 70
The passing Score is 300
Price = $250.00
**************************************************
I'm using a lab with VMware Workstation software pre-installed.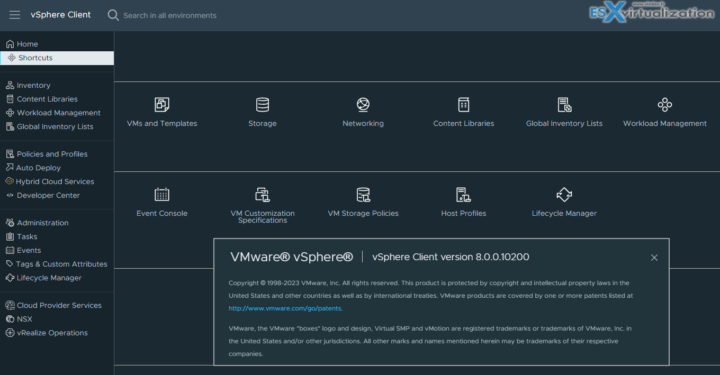 Persons willing to pass the exam should:
Quote:
The Minimally Qualified Candidate is able to install and configure a VMware vSphere 8. 0 infrastructure, which includes VMware ESXi and VMware vCenter; but occasionally needs to research topics. The candidate understands most of the requirements for managing, operating and maintaining a highly available and scalable virtual infrastructure. The candidate is able to monitor the day-to-day operations of a vSphere infrastructure with minimal assistance. The candidate has a basic understanding of virtual data center, network and storage concepts. The candidate possesses most of the knowledge shown in the exam sections (blueprint).
As with the previous blueprint for vSphere 7.x there is 7 sections, however more chapters (144 chapters in vSphere 8.x compared to 80 chapters in vSphere 7.x based exam)… so more learning, and more knowledge to master….
Remember, the exam based on vSphere 7.x will be retired the 31. Jan 2024 only so still plenty of time to pass your VCP-DCV 2023 via the v7 based exam. Check the Free study Guide PDF page there.
Sections included in The VCP Professional VMware vSphere 8.x Exam (2V0-21. 23)
Section 1  
Architectures and Technologies
1.
Objective 1.1
Identify the pre-requisites and components for a vSphere implementation
2.
Objective 1.2
Describe the components and topology of a VMware vCenter architecture 
3.
Objective 1.3
Describe storage concepts – same content as for VCP-DCV based on vSphere 7
4.
 1.3.1
Identify and differentiate storage access protocols for VMware vSphere (NFS, iSCSI , SAN, etc. ) –  same content as for VCP-DCV based on vSphere 7
5.
 1.3.2
Describe storage datastore types for VMware vSphere – same content as for VCP-DCV based on vSphere 7
6.
 1.3.3
Explain the importance of advanced storage configuration VASA,VAAI, etc.) – same content as for VCP-DCV based on vSphere 7
7.
 1.3.4
Describe storage policies
8.
 1.3.5
Describe basic storage concepts in VMware vSAN and VMware Virtual Volumes (vVOLs)
9.
1.3.6
Identify use cases for raw device mapping (RDM), Persistent Memory (PMem), Non-Volatile Memory Express (NVMe), NVMe over Fabrics (NVMe-oF), and RDMA (iSER)
10.
1.3.7
Describe datastore clusters – same as v7.x
11.
1.3.8
Describe Storage I /O Control (SIOC) – same as v7.x
12.
Objective 1.4
Describe VMware ESXi cluster concepts – same as v7.x
13.
1.4.1
Describe VMware Distributed Resource Scheduler (DRS) – same as v7.x
14.
1.4.2
Describe vSphere Enhanced vMotion Compatibility (EVC) – updated content
15.
1.4.3
Describe how DRS scores virtual machines – same as v7.x
16.
1.4.4
Describe VMware vSphere High Availability (HA)
17.
1.4.5
Identify use cases for fault tolerance
18.
Objective 1.5
Explain the difference between VMware standard switches and distributed switches – updated
19.
 1.5.1
Describe VMkernel networking – updated
20.
 1.5.2
Manage networking on multiple hosts with vSphere Distributed Switch (VDS) – same as v7.x
21.
 1.5.3
Describe networking policies – same as v7.x
22.
1.5.4
Manage Network I /O Control (NIOC) on a vSphere Distributed Switch (VDS)
23.
 1.5.5
Describe Network I /O Control (NIOC) – same as above
24.
Objective 1.6
Describe VMware vSphere Lifecycle Manager concepts – same as v7.x
25.
Objective 1.7
Describe the basics of VMware vSAN as primary storage – same as v7.x
26.
1.7.1
Identify basic vSAN requirements (networking, disk count, and type)
27.
1.7.2
Identify Express Storage Architecture (ESA) concepts for vSAN 8 – check the chapter at our partner's site
28.
Objective 1.8
Describe the role of Virtual Machine Encryption in a data center
29.
1.8.1
Describe vSphere Trust Authority  – same as v7.x
30.
1.8.2
Describe the role of a Key Management Services (KMS) server in vSphere – same as vSphere 7.x
31.
Objective 1.9
Recognize methods of securing virtual machines
32.
1.9.1
Recognize use cases for a virtual Trusted Platform Module (vTPM)
33.
1.9.2
Differentiate between Basic Input or Output System (BIOS) and Unified Extensible Firmware Interface (UEFI ) firmware
34.
1.9.3
Recognize use cases for Microsoft virtualization-based security (VBS) – check this content at our friend's website (4sysops)
35.
 Objective 1.10
Describe identity federation
36.
1.10.1
Describe the architecture of identity federation
37.
1.10.2
Recognize use cases for identity federation
38.
Objective 1.11
Describe VMware vSphere Distributed Services Engine
39.
1.11.1
Describe the role of a data processing unit (DPU) in vSphere – idem as above
40.
Objective 1.12
Identify use cases for VMware Tools
41.
Objective 1.13
Describe the high-level components of VMware vSphere with Tanzu
42.
1.13.1
Identify the use case for a Supervisor Cluster and Supervisor Namespace
43.
1.13.2
Identify the use case for vSphere Zones
44.
1.13.3
Identify the use case for a VMware Tanzu Kubernetes Grid (TKG) cluster

Section 2

VMware Products and Solutions

45.
Objective 2.1
Describe the role of VMware vSphere in the Software-Defined Data Center
46.
Objective 2.2
Identify use cases for VMware vSphere+
47.
Objective 2.3
Identify use cases for VMware vCenter Converter
48.
Objective 2.4
Identify disaster recovery (DR) use cases
49.
2.4.1
Identify VMware vCenter replication options
50.
2.4.2
Identify use cases for VMware Site Recovery Manager (SRM)

Section 3

Planning and Designing – There are no testable objectives for this section

Section 4

Installing, Configuring, and Setup
51.
Objective 4.1
Describe single sign-on (SSO) 
52.
 4.1.1
Configure a single sign-on (SSO) domain
53.
 4.11.2
Join an existing single sign-on (SSO) domain
54.
Objective 4.2
Configure vSphere distributed switches
55.
4.2.1
Create a distributed switch
56.
4.2.2
Add ESXi hosts to the distributed switch
57.
4.2.3
Examine the distributed switch configuration
58.
Objective 4.3
Configure Virtual Standard Switch (VSS) advanced virtual networking options
59.
Objective 4.4
Setup identity sources
60
4.4.1
Configure identity federation
61.
4.4.2
Configure LDAP integration
62.
Objective 4.5
Deploy and configure VMware vCenter Server Appliance (VCSA)
63.
Objective 4.6
Create and configure VMware HA and DRS advanced options (Admission Control, Proactive HA, etc. )
64.
Objective 4.7
Deploy and configure VMware vCenter High Availability
65.
Objective 4.8
Set up content library
66.
4.8.1
Create a content library – idem as chapter above
67.
4.8.2
Add content to the content library – idem as chapter above
68.
4.8.3
Publish a local content library – idem as chapter above
69.
4.9.1
Subscribe to content library – idem as chapter above
70.
4.9.2
Subscribe to a published content library
71.
4.9.3
Deploy virtual machines (VMs) from a subscribed content library
72.
4.10
Manage virtual machine (VM) template versions
73.
4.10.1
Update template in content library
74.
4.11
Configure VMware vCenter file-based backup
75.
4.12
Configure vSphere Trust Authority
76.
4.13
Configure vSphere certificates – same as v7.x
77.
4.13.1
Describe Enterprise PKI s role for SSL certificates
78.
4.14
Configure vSphere Lifecycle Manager
79.
4.15
Configure different network stacks
80.
4.16
Configure host profiles
81.
4.17
Identify ESXi boot options
82.
4.17.1
Configure Quick Boot
83.
4.17.2
Securely Boot ESXi hosts
84.
Objective 4.18
Deploy and configure clusters using the vSphere Cluster QuickStart workflow
85.
4.18.1
Use Cluster QuickStart workflow to add hosts
86.
4.18.2
Use Cluster QuickStart workflow to configure a cluster
87.
4.18.3
Use QuickStart to expand clusters
88.
Objective 4.19
Set up and configure VMware ESXi
89.
4.19.1
Configure Time Configuration – still valid (ESXi 6.5, will update images)
90.
4.19.2
Configure ESXi services
91.
4.19.3
Configure Product Locker
92.
4.19.4
Configure Lockdown Mode
93.
4.19.5
Configure ESXi firewall
94.
Objective 4.20
Configure VMware vSphere with Tanzu
95.
4.20.1
Configure a Supervisor Cluster & Supervisor Namespace
96.
4.20.2
Configure a Tanzu Kubernetes Grid Cluster
97.
4.20.3
Configure vSphere Zones
98.
4.20.4
Configure Namespace permissions

Section 5

Performance-tuning, Optimization, Upgrades

99.
Objective 5.1
Identify resource pools use cases
100.
5.1.1
Explain shares, limits and reservations (resource management)
101.
Objective 5.2
Monitor resources of a VMware vCenter Server Appliance (VCSA) and vSphere 8. x environment
102.
Objective 5.3
Identify and use resource monitoring tools
103.
Objective 5.4
Configure Network I /O Control (NI OC)
104.
Objective 5.5
Configure Storage I /O Control (SI OC)
105.
Objective 5.6
Configure a virtual machine port group to be offloaded to a data processing unit (DPU)
106.
Objective 5.7
Explain the performance impact of maintaining virtual machine snapshots
107.
Objective 5.8
Use Update Planner to identify opportunities to update VMware vCenter
108.
Objective 5.9
Use vSphere Lifecycle Manager to determine the need for upgrades and updates
109.
5.9.1
Update virtual machines
110.
5.9.2
Update VMware ESXi
111.
Objective 5.10
Use performance charts to monitor performance
112.
Objective 5.11
Perform proactive management with VMware Skyline
113.
Objective 5.12
Use VMware vCenter management interface to update VMware vCenter
114.
Objective 5.13
Complete lifecycle activities for VMware vSphere with Tanzu
115.
5.13.1
Update Supervisor cluster
116.
5.13.2
Back up and restore VMware vSphere with Tanzu
Section 6

Troubleshooting and Repairing

117.

Objective 6.1

Identify use cases for enabling vSphere Cluster Services (vCLS) retreat mode

118.
Objective 6.2
Differentiate between the main management services in VMware ESXi and vCenter and their
corresponding log files
119.
Objective 6.3
Generate a log bundle

Section 7

Administrative and Operational Tasks
120.

Objective 7.1

Create and manage virtual machine snapshots
121.
Objective 7.2
Create virtual machines using different methods (Open Virtualization Format (OVF) templates, content library, etc. )
122.
Objective 7.3
Manage virtual machines (modifying virtual machine settings, VMware per-VM EVC, latency sensitivity, CPU affinity, etc.)
123.
Objective 7.4
Manage Storage
124.
7.4.1
Configure and modify datastores
125.
7.4.2
Create virtual machine storage policies
126.
7.4.3
Configure storage cluster options
127.
Objective 7.5
Create DRS affinity and anti-affinity rules for common use cases
128.
Objective 7.6
Migrate virtual machines
129.
7.6.1
Identify requirements for Storage vMotion, Cold Migration, vMotion, and Cross vCenter Export
130.
Objective 7.7
Configure role-based access control
131.
Objective 7.8
Manage host profiles
132.
Objective 7.9
Utilize VMware vSphere Lifecycle Manager
133.
7.9.1
Describe firmware upgrades for VMware ESXi
134.
7.9.2
Describe VMware ESXi updates
135.
7.9.3
Describe component and driver updates for VMware ESXi
136.
7.9.4
Describe hardware compatibility check
137.
7.9.5
Describe ESXi cluster image export functionality
138.
7.9.6
Create VMware ESXi cluster image
139.
Objective 7.10
Use predefined alarms in VMware vCenter
140.
7.11
Create custom alarms
141.
7.12
Deploy an encrypted virtual machine
142.
7.12.1
Convert a non-encrypted virtual machine to an encrypted virtual machine
143.
7.12.2
Migrate an encrypted virtual machine
144.
7.12.3
Configure virtual machine vMotion encryption properties
FAQ:
Why does the VCP-DCV 2023 have a year designator as its version?
Data Center Virtualization solutions are frequently updated.  Having a year as its certification version allows VMware to better maintain the exam and training content, and more importantly, provides certification candidates to communicate how current their skills are in relation to other certifications.
I have attended the latest course (V7) but taken older version VCP-DCV Exam (2V0-621/2V0-622)
If you have taken one of the qualifying V7 courses and passed the older 2V0-621 or 2V0-622 exam you will be required to pass the latest Professional VMware vSphere 7.x (2V0-21.20)  exam to earn the VCP-DCV 2023 certification you are pursuing.
Check the official VMware VCP-DCV 2023 exam guide (blueprint) here.
***********************************
VCA | VCP | VCAP or VCIX exam vouchers
***********************************
VMware Learning Credits – Learning Credits provide the dual benefit of funding a well-trained IT staff, along with discounts options of up to 15 percent. Customers can schedule training when and how they need it. Customers can buy credits at the time of license purchase or as a stand-alone purchase
***********************************
VMware VCP7-DCV Exam page here.