This website is maintained by Vladan SEGET,  Independent consultant and professional blogger, based at Reunion Island (Fr).
The ESX Virtualization website is one of the Top Virtualization sites with daily updates. Virtualization of Physical systems, disaster recovery scenarios with fast backups and recovery. Those are the daily challenges I'm working on…
vExpert x11 (2009 – 2019) – Becoming vExpert a few years back for the first time has pushed me really forward in my professional career and also gave me a lot of motivation for the future. This website – ESX Virtualization at vladan.fr has started as a simple bookmarking website in 2008.
But with the daily updates has become a reference of VMware Virtualization Website and one of the Top Blogs on the Virtualization sphere. I'm trying to present the articles on my website in 'digestible' format to my readers, with an idea that not everyone is a VCP, VCAP or VCDX…..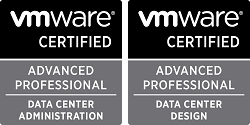 I'm working with VMware and Microsoft virtualization technologies, and as an IT admin for more than 15 years. To be able to successfully implement, deploy, manage and troubleshoot VMware vSphere installations, you can't take VCP for granted.
That's why I  passed a VCAP5-DCD and VCAP5-DCA.
If you too want to become a professional certified by VMware, you shall check out my VCP6.5-DCV or VCP6.7-DCV pages.
*********************************************************************
Shop for vSphere licenses at VMware Store:
*********************************************************************
There are many blogs on the Internet concerning the Virtualization and IT, but not every blogger seems to keep posting regularly. In fact, there are many dead blogs…. It's logical because bloggers usually have something else to do during the day then prepare new articles, edit photos or videos, or do a complete installation of some new product in a lab…. That's why there are many blogs appearing every day, but there are many dead blogs and websites too….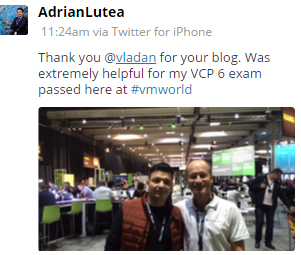 ESX Virtualization website was (and every year does) also participating in a competition – Best Virtualization Blog organized by Eric Siebert from vSphere-land.com. This year I was honored and finished 1st place as Independent Blog.
It's quite on the top of the list of bloggers, directly competing with all the EMC, VMware, Veeam, PernixData and HP bloggers… But it's the virtualization community who votes! Virtualization community who gives us their love, and every time I visit VMworld I'm amazed by the folks who really like the blog, and how it helps them in their daily job!
So you'll be able to find videos about the VMware ESX and ESXi servers, I'm presenting also Microsoft's Hyper-V virtualization technology, which is slowly closing the gap… If you are representing a company and want to get some exposure for your company, you can visit the Advertise Section of this Website, where you'll be able to find some guidelines on what is direct advertising and how your company can benefit from it.
The ESX Virtualization has become one of the references, how-to and technical websites oriented on virtualization and disaster recovery solutions, serving over  600 000 page views/month. 
There was in total over 6.886.544 page views in 2016 !!! 
Below a chart summarizing the last 3 years of web traffic.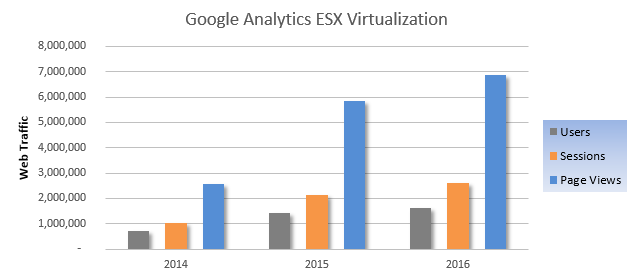 Check out our YouTube Channel for the latest video.
Few words about Reunion Island where I live. As you know, France has many departments on the European continent but also overseas. Reunion Island is a French overseas Department (DOM) and it's a part of Europe.
The local currency is Euro and so it's just another french department, but located 10 000 km from France continental. The laws are the same, banking system is the same, the same institutions, schools, universities, Job centers… and IT… -:). BTW you'll find many hardware manufacturer's offices here such as IBM, HP, Dell or hardware resellers and IT "shops".
Reunion Island Piton's and ramparts have been UNESCO recognized five years ago. It's a small volcanic island where lives almost 1 000 000 people. So there are some local industry, local universities, telecom and ISPs companies and few IT service companies, including VMware Partners helping those local companies to remain competitive.
Get in touch:
Email: contact (at) vladan.fr
www.vladan.fr/facebook
www.vladan.fr/youtube
www.vladan.fr/twitter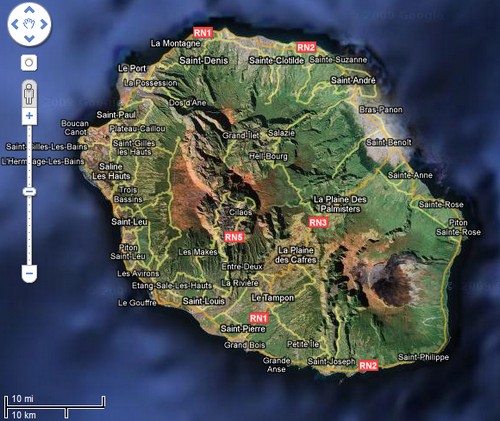 ————————————————————————————————
Now some personal stuff…
Apartment for Rent or Bed and Breakfast at Reunion Island!
We live here for 14 years and can share our house with visitors all over the world because we have opened a Bed and Breakfast! This is more like a personal project of my spouse which runs the B&B and we gave a name Aloe Vera Nature. My Wife Nicole is managing the whole structure… Website in English, French and Czech language at www.aloeveranature.fr.
Update: We have acquired an apartment for rent 300 m from the beach at La Saline Les Bains. Fully equipped apartment, newly renovated for up to 4 people. Check out new website: www.aloeverabeach.fr and YouTube video.
If you want to discover Reunion Island we'll be able to be your guide here. Speaking English, a French or Czech language we live at Reunion since 13 years.
We rent a whole independent apartment (for 2 persons) with private spa, located in the basement of our house (we live on the 1st floor).
The apartment is located 10 min from the beach of St Leu. For now, you can check the AirBnB site with many photos in English or in French, but I work on an English version of a dedicated website for this activity. The entire ground floor of the villa is at your disposal and has a separate entrance.
The apartment has 2 parts :
A closed part of 30 m2, which includes an air-conditioned room with king size bed (180×200), the bathroom, separate toilets.
An open veranda, (but covered), of 50 m2, where the Jacuzzi (Hot Tub) is located. Then there is a kitchen, the lounge area. There is also a garden with deck chairs. Free WiFi, Cable TV.
For nightlife lovers, Nicole will be happy to prepare you (extra charge) a cocktail aperitif including a bottle of champagne.
All useful shops are within a range of 1 km (post office, restaurants, pharmacy, bank, bakery, gas station, bus stops ……….).
The apartment is also available for rent without breakfast.
Interaction with Guests
We live on the same site, literally in the same house! We speak English, French, Czech, Polish… So we are at your disposal for all the information you might need (business, shopping or trekking ……….).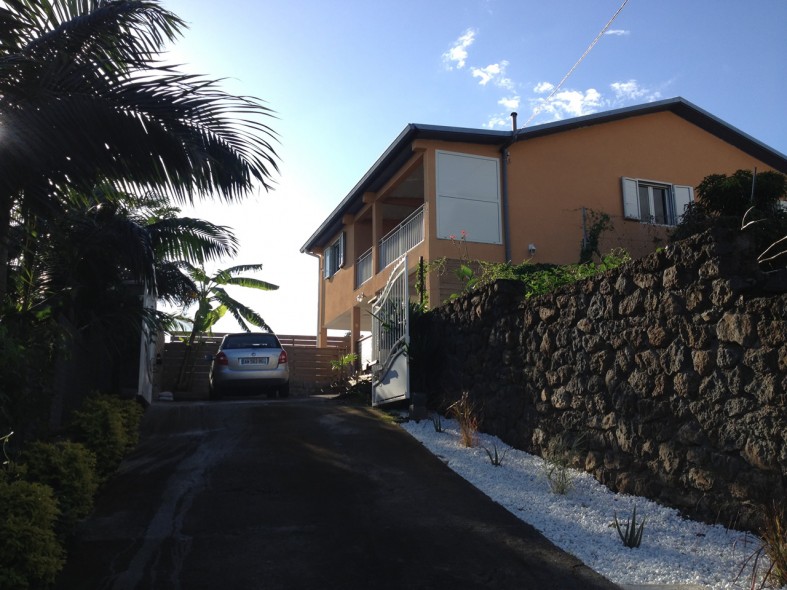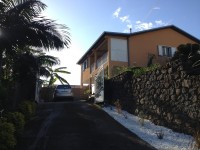 The Neighborhood
The neighborhood is safe. Classic Reunion neighborhood, located 5 minutes from the exit of the Tamarin's road (exit Piton St Leu, Leclerc shopping center). Southwest of the Island. There are other individual buildings nearby, no high buildings or disturbing environments.
To go downtown St Leu, it's 10 minutes by car to one of the two beaches of St Leu. To rent a car, usual companies like Avis, Rent a Car… are located at the Airport, or if you want to get a better deal contact us before your reservation and we'll give you a cheaper alternative… -:).
The apartment is situated ideally in the middle of the west side of Reunion: Google Maps:  -21.214581, 55.316156
From there you can visit the island and enjoy all the attractions of St Leu. Few of those are paragliding, diving, Kélonia (Turtle Farm), Stella Matutina (history of Reunion, sugar canes), botanical garden, lagoon, trekking …………).
Getting Around
We have a parking just in front of the apartment (and the house). House does have a barrier protection with an automatic gate (remote control will be given on arrival).
Other Things to Note
We provide our guests with equipment for trekking or enjoying beach activities: parasol, masks snorkels, cooler, beach chair, basket, backpack, tent, rain capes … … … We are very happy to share our experience of our Reunion trekking activities with our guests….
Everything is included in the price:
Breakfast
Free Wifi
Tourist tax
Cleaning
Jacuzzi (Spa)
…… And if you want a cup of coffee or Nespresso, no problem, you just have to ask!
You have fully equipped kitchen and fridge at your disposal but if you don't want to cook you can go out to eat outside. It's also easy as the nearest restaurant is only about 2 min drive by car… If you need any help with your daily schedule (where to go? what to visit? where to swim?) just ask. We live under the same roof.
Sheets and towels are changed at your request. We are environmentally conscious. The entire roof is covered with photovoltaic panels and we own a solar water heater. We try to eat locally, prefer organic food and meetings with local producers.
You can also check the Google + page!

You can contact us for the availability and pricing details:
Aloevera Nature Chambre d'Hôtes
16 Bis Chemin Lancastel,
97424 Piton St LEU
Mobile Nicole: +262 692 903 072
Mobile Vladan: +262 693 035 123
Email: [email protected]
How to find us:  Google Maps link with an itinerary from Tamarin's road through the city center of Piton St Leu.
Fellow Blogger's Blogs:
Karel Novak: http://www.vmware-veeam.cz