This website is maintained by Vladan SEGET, an Independent consultant and professional blogger, based  in France.
The ESX Virtualization website is an English speaking resource and it is one of the Top Virtualization sites with daily updates. Virtualization of Physical systems, disaster recovery scenarios with fast backups and recovery. Those are the daily challenges I'm working on…
vExpert x14 (2009 – 2022) – Becoming vExpert a few years back for the first time has pushed me really forward in my professional career and also gave me a lot of motivation for the future. This website – ESX Virtualization at vladan.fr has started as a simple bookmarking website in 2008.
But with the daily updates have become a reference for VMware Virtualization Website and one of the Top Blogs on the Virtualization sphere. I'm trying to present the articles on my website in 'digestible' format to my readers, with an idea that not everyone is a VCP, VCAP or VCDX…..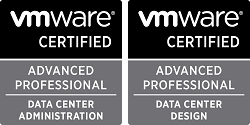 I'm working with VMware and Microsoft virtualization technologies, and as an IT admin for more than 20 years. To be able to successfully implement, deploy, manage and troubleshoot VMware vSphere installations, you can't take VCP for granted.
That's why I  passed a VCAP-DCD and VCAP-DCA.
If you too want to become a professional certified by VMware, you shall check out my FREE VCP-DCV Study Guide for vSphere 7.0 where you can  learn towards your VCP exam.
There are many blogs on the Internet concerning the Virtualization and IT, but not every blogger seems to keep posting regularly. In fact, there are many dead blogs…. It's logical because bloggers usually have something else to do during the day then prepare new articles, edit photos or videos, or do a complete installation of some new product in a lab…. That's why there are many blogs appearing every day, but there are many dead blogs and websites too….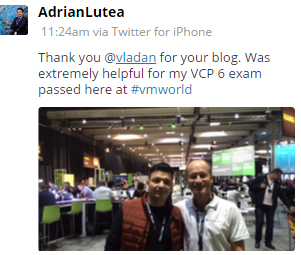 ESX Virtualization website was (and every year does) also participating in a competition – Best Virtualization Blog organized by Eric Siebert from vSphere-land.com. This year I was honored and finished 1st place as Independent Blog.
It's quite on the top of the list of bloggers, directly competing with all the EMC, VMware, Veeam, PernixData and HP bloggers… But it's the virtualization community who votes!
Virtualization community who gives us their love, and every time I visit VMworld I'm amazed by the folks who really like the blog, and how it helps them in their daily job!
So you'll be able to find videos about the VMware ESX and ESXi servers, I'm presenting also Microsoft's Hyper-V virtualization technology, which is slowly closing the gap…
If you are representing a company and want to get some exposure for your company, you can visit the Advertise Section of this Website, where you'll be able to find some guidelines on what is direct advertising and how your company can benefit from it.
The ESX Virtualization has become one of the references, how-to and technical websites oriented on virtualization and disaster recovery solutions, serving over  300-400 thousands page views/month. 
Check out our YouTube Channel for the latest videos.
Get in touch:
Email: contact (at) vladan.fr
www.vladan.fr/facebook
www.vladan.fr/youtube
www.vladan.fr/twitter
————————————————————————————————
Fellow Blogger's Blogs:
Karel Novak: http://www.vmware-veeam.cz