VMTURBO VMWORLD® 2016 SWEEPSTAKES
Do you want to attend VMworld® 2016 US in Las Vegas this year, but your company won't pay for the conference passes? Try your luck and win two full conference passes to VMworld® on VMTurbo®.
Let us send you to VMworld® 2016. Enter for a chance to win two free tickets.
THREE DRAWINGS: MAY 27, JUNE 17, JULY 15
Sweepstakes starts May 4, 2016 and ends on July 15, 2016 at 11:59PM EST. Winners will be announced on the same day of each drawing and we will notify each winners by email.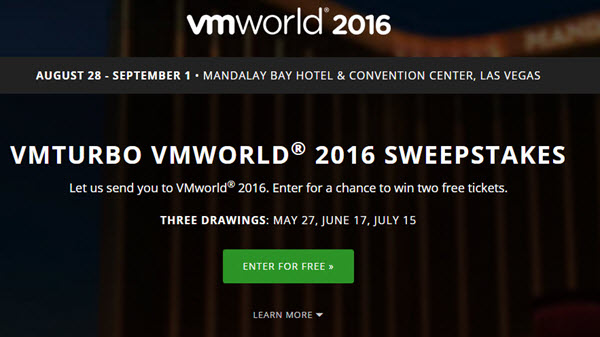 —————————————————————————————————————-
There is a new Atlantis Expert community that I'm part of! And I wanted to share the news with our readers. Check my detailed blog post about it here or, you can find the link here.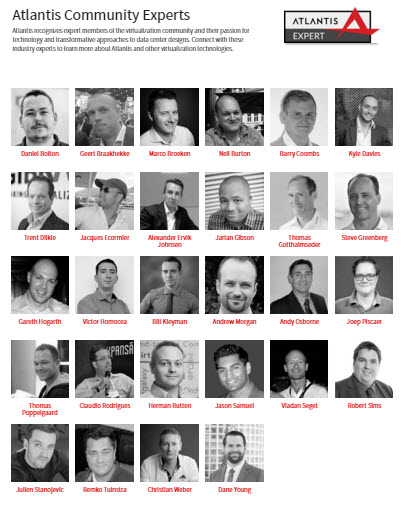 Atlantis Community Program recognizes exceptional community leadership
The Atlantis Community Program provides a great opportunity for the Atlantis Community Expert (ACE) to connect Atlantis colleagues, fellow community peers and more. Atlantis Community Experts (ACE) receive insights into Atlantis products while they engage with Atlantis colleagues to provide feedback, share their notes from the field and present as advocates in the community. ACEs help shape the modern workspace and programmable Datacenter by providing valuable feedback on product strategy and future roadmap. "Feedback is the breakfast of champions." – Ruben Spruijt, CTO Atlantis Computing
What are the benefits
Atlantis Community Experts are passionate community leaders who've demonstrated commitment to share real-world knowledge and technical expertise with the community, customers and Atlantis.
Benefits for ACEs are:
Exclusive webinars with Atlantis product teams for insights and discussions on current and future products
Direct touch with executives, product groups, CTO office and leading architects via private channel
Access to NFR software and demo environment
Increase personal brand & industry recognition (ACE Member Page)
Exclusive access and influence on Atlantis products and direction
Technical communities play a vital role in the adoption and improvement of Atlantis technology and helping our customers and partners achieve great things with our USX and HyperScale products.
How to become an ACE?
We evaluate the contribution of each nominee and its impact to online forums, social media, blogs, whitepapers, articles, conferences and user groups on a yearly basis. New candidates are reviewed periodically. Want to be an ACE and join this great group of passionate ACEs please email [email protected] and give some background what you do and why we should consider you as ACE.
View current ACE awardees
Get to know our Atlantis Community Experts.  They are listed on the ACE Membership Page.
—————————————————————————————————————————————————–
Network Virtualization for Dummies – Free E-book
It's time to bring your network into the future of business. Learn more in our comprehensive book, Network Virtualization For Dummies.
So what exactly is network virtualization? As its title might suggest, "Network Virtualization For Dummies" explains that, too. We're talking about a process of programmatically creating, provisioning, and managing virtual networks, using the underlying physical network as a simple packet-forwarding backplane, and replicating all networking components and functions in software. In simple terms, network virtualization allows you to run your entire network in software.
—————————————————————————————————————————————————–
VMware Sale – 20% OFF for New products and Upgrades!

Discount: Save 20%
Products: Fusion 8, Workstation 12 Pro and Workstation 12 Player. Includes both license and upgrades.
Dates: May 2 – May 6
Coupon Code: VMware20offMay16
VMware Products: VMware Fusion, Workstation Pro & Workstation Player
VMware May Sale
Discount: Save 25%
Products: Fusion 8, Workstation 12 Pro and Workstation 12 Player. Includes both license and upgrades.
Dates: May 17 – May 19
VMware Fusion Pro is on sale until September 29th. The full license is 25% off and upgrades are 33% off.

VMware Products: VMware Fusion, Workstation Pro & Workstation Player
—————————————————————————————————————————————————–
vSphere Beta Will Be Is On Very Soon right now – Sign for it ! (perhaps is too late…)
Cool, There is a cool news from vSphere Beta team. You can sing for and participate in next version of VMware vSphere! You'll be able to play with the next version of VMware vSphere before anyone else. But on the other hand, you'll need to accept the Beta Test Agreement, install within 3 days and participate in surveys feedback, discussion forums and conf. calls. Check the details below….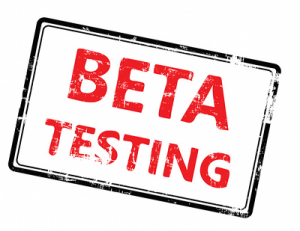 Participants are expected to:
Online acceptance of the Master Software Beta Test Agreement will be required prior to visiting the Private Beta Community
Install beta software within 3 days of receiving access to the beta product
Provide feedback within the first 4 weeks of the beta program
Submit Support Requests for bugs, issues and feature requests
Complete surveys and beta test assignments
Participate in the private beta discussion forum and conference calls
vSphere Beta Program Overview (feel free to use or modify for you audience as needed)
We are excited to announce the upcoming VMware vSphere Beta Program. This program enables participants to help define the direction of the most widely adopted industry-leading virtualization platform. Folks who want to participate in the program can now indicate their interest by filling out this simple form. The vSphere team will grant access to the program to selected candidates in stages. This vSphere Beta Program leverages a private Beta community to download software and share information. We will provide discussion forums, webinars, and service requests to enable you to share your feedback with us.
You can expect to download, install, and test vSphere Beta software in your environment or get invited to try new features in a VMware hosted environment. All testing is free-form and we encourage you to use our software in ways that interest you. This will provide us with valuable insight into how you use vSphere in real-world conditions and with real-world test cases, enabling us to better align our product with your business needs.
Some of the many reasons to participate in this beta opportunity:
Receive early access to the vSphere Beta products
Interact with the vSphere Beta team consisting of Product Managers, Engineers, Technical Support, and Technical Writers
Provide direct input on product functionality, configurability, usability, and performance
Provide feedback influencing future products, training, documentation, and services
Collaborate with other participants, learn about their use cases, and share advice and learnings
---
"Why Linux and OpenStack Make the Most Sense for Virtualization and Cloud Computing in a Multi-Platform Environment"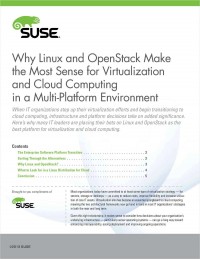 In this paper, you will learn how open source platforms like Linux and OpenStack have the flexibility to seamlessly transition to the data center today, and the innovation necessary for the future.
View full description >
—————————————————————————————————————————-

The following support is new in Workstation 12 Pro:
Full support of Windows 10
VMware Workstation Pro provides the following support for Windows 10:

Run Windows 10 as a virtual machine
Run Windows 10 as a host operating system
Windows 10 Auto Detect and Easy Install
Unity support for Windows 10
Migrate Windows 10 PC to a virtual machine

New guest operating systems support
Support has been added for the following operating systems:

Ubuntu 15.04
Fedora 22
CentOS 7.1
RHEL 7.1
Oracle Linux 7.1
VMware Project Photon

Advanced graphics
Support has been added for the following standards:
Performance improvements for suspending and resuming encrypted virtual machines
Improved vCloud Air Integration (Workstation Pro on Windows only)

Power operation on remote virtual machines
Enhanced user experience

Support IPv6 NAT network
Tear away tabs
You can drag open tabs out of the Workstation Pro window into new or already existing Workstation Pro windows.
Automatically suspend virtual machines upon host shutdown
Support 4K monitors with high resolution UI
Support for multiple monitors with different DPI settings
Echo cancellation for voice and video calls with Microsoft Lync and Skype
Added USB 3.0 support to Windows 7 virtual machines (with the latest Intel USB driver)
Improved standard installer
Added NAT network configuration in Virtual Network Editor on Linux hosts
Respect left-handed mouse setting on Windows host

Simplivity Partners With Lenovo
New partnership between Simplivity and their hyper converged software architecture, with Lenovo and their server platform. Simplivity has already strong partnership with Cisco and Dell and there is no doubt that third partnership in this field will enhance Simplivity's position in this field.
Three configs are available. Press release on Lenovo website and also on Simplivity website here.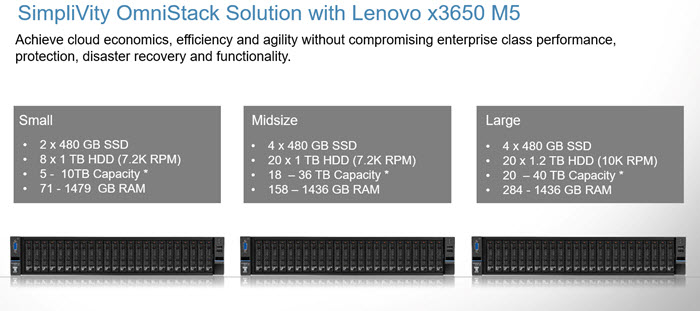 —————————————————————————————————————-
Veeam Vanguard Program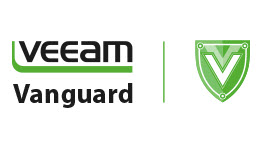 Veeam Veeam Vanguard program runs this year as well. And I'm part of it -:). It's similar program like vExpert or MVP programs which are well known programs for tech communities.
Veeam was one of the products which stud out from the crowd, since their beginning.
A Veeam Vanguard represents our brand to the highest level in many of the different technology communities in which we engage. These individuals are chosen for their acumen, engagement and style in their activities on and offline.
The Veeam Vanguard program is managed by Veeam Product Strategy Team and supported by Veeam as a company. Quite a few people are part of the team and I met few of them during my VMworld Europe activities and #TFD events.  As for now I'm certainly honored to be part of the program … -:)
You can follow @VeeamVanguard on Twitter
——————————————————————————————————-
VCP6-DCV
Check the  VCP6-DCV Page !!!
Register now:
---
VCP6-DTM Page now finished too !!!
——————————————————————————————————-
Xangati Now Montitors Xen!
Xangati is now able to monitor Citrix XEN server.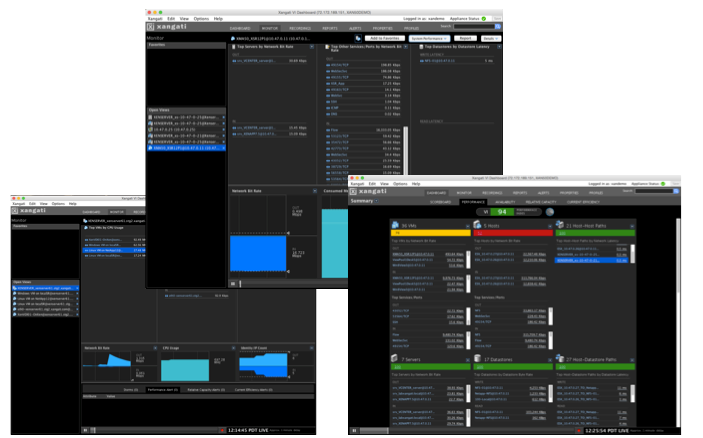 VMturbo can now run at Amazon AWS

VMturbo just released their software to AWS Marketplace as a SaaS offering. Now customers can run VMTurbo in Amazon Web Services and point it to their virtual infrastructure, instead of running it in their environment.
Quote from VMturbo's blog:
You can now subscribe to Operations Manager and deploy the AMI in less than 3 minutes (it took me 2, with most of the time spent watching it spin up). You can then start adding targets and getting actions to bring your data center to its desired state where application performance is assured while maximizing utilization.
Check out the full post at VMturbo!
———————————————————————————————-
StarWind Hyper-Converged Platform (H-CP) Video
StarWind presents a video with Jon Toigo from Data Management Institute talking about the trends in virtualization and where the storage goes.
Watch the video and learn how Hyper-Converged platform can optimize your storage and save up to 40% of costs.
——————————————————————————-
SAN Must Die!
Do you hate SANs as we hate them? No, seriously? They were great place to store your grandfather's Oracle database, but why the heck would anyone use them to store Virtual Machine images? SANs were never designed to handle virtualization workload! Also, with today's high-capacity spindles, PCIe attached flash and 40 Gb Ethernet all being commodities, it's simpler, faster and cheaper to use virtual shared storage for virtualization purposes. Get your cure to SANs disease free, now, right here.
Technical Paper 'StarWind Virtual SAN providing repositories for XenServer Pool'
Are you an experienced XenServer and Windows system admin?
Would you like to add StarWind® virtual storage to your XenServer Pool?
Then you surely need some step-by-step instructions!
You are welcome to check this document to find them all here 'StarWind Virtual SAN providing repositories for XenServer Pool'.
This document is aimed to describe how to enable vStorage APIs for Array Integration in the system in order to decrease the workload on the network part and offload certain ammount of hypervisor operations to the storage side. Additionaly it explains how to verify if VAAI works properly.
Check it out here!
………………………………………………………………………………………………
New Technical Papers:
StarWind Virtual SAN® VAAI (vStorage API for Array Integration) Configuration & Performance Guide
StarWind Virtual SAN® ODX (Off-loaded Data Transfer) Configuration and Performance Tuning Guide
Starwind – 4 scenarios of Storage Replication:
Storage Replica with Failover Cluster and File Server Role (Windows Server Technical Preview) http://www.starwindsoftware.com/blog/storage-replication-for-failover-cluster-with-file-server-role-on-windows-server-technical-preview/
Storage Replica with Microsoft Failover Cluster and Scale-out File Server role (Windows Server Technical Preview) http://www.starwindsoftware.com/blog/storage-replication-for-scale-out-file-servers-on-windows-server-technical-preview/
Storage Replica with Microsoft Failover Cluster and Clustered Hyper-V VM role (Windows Server Technical Preview) http://www.starwindsoftware.com/blog/storage-replica-with-microsoft-failover-cluster-and-clustered-hyper-v-vm-role-windows-server-technical-preview/
Storage Replica with Microsoft Failover Cluster and Guest VM Cluster role (Windows Server Technical Preview) http://www.starwindsoftware.com/blog/storage-replica-with-microsoft-failover-cluster-and-guest-vm-cluster-role-windows-server-technical-preview/
Get your Free NFR !!
Free NFR license for New StarWind SAN V8 is available for IT certified professionals.
To get free license is necessary to register here.
Starwind 8
Massive Scale-Out storage architecture
Creates fault tolerant shared storage with unlimited number of nodes
Asynchronous WAN-replication
Ensures efficient disaster recovery plan
L2 Flash Cache
Works with RAM as a L1 cache to boost the efficiency
In-line deduplication and thin provisioning with space reclaim
Reduces storage expenses dramatically and accelerates VM storage performance
Simplified and improved GUI
Provides Windows Server 2012 style, step-by-step wizards and support of PowerShell scripting
Support of SMI-S interface for integration with Windows System Center R2
Makes cloud storage administration easier
Log-Structured File System (LSFS)*
Eliminates random writes for VM storage