Starwind
StarWind iSCSI SAN & NAS, has been named the first runner-up in two categories: Virtualization Management Product of the Year and Storage Virtualization Product of the Year at the SVC Awards 2013. Read More…
Big Starwind Promo!

Buy any StarWind iSCSI SAN & NAS edition or StarWind Native SAN for Hyper-V edition by the end of the year and get BIG discounts off list price.  Take advantage of our special offer now!
Win With Veeam!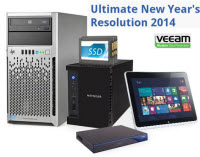 Register now and possibly win one of the following prizes:
Make sure to register before Dec. 24 to enter raffle!Tablet of your choice: Android, iPad or Surface
Class of your choice: Microsoft Training or VMware Education Services course
Event of your choice: TechEd or VMworld in your geography (pass, no travel)
Home lab with HP and Netgear products: one mega server, ReadyNAS Pro, SSDs and amazing WiFi router
Software kit: MSDN subscription, Veeam NFR licenses and VMware vSphere
(Make sure to register before Dec. 24 to enter raffle)
Xangati News

Xangati Names S. 'Sundi' Sundaresh CEO
Xangati, a leading provider of cloud and VDI performance management solutions, today announced the appointment of S. 'Sundi' Sundaresh as president and chief executive officer. Since early 2013, Sundaresh has served as an advisor to Xangati and has been instrumental in helping implement the strategy for growth as well as assist with fundraising.
Starwind 8 BETA 2 available!

The second StarWind Beta 2 version provides most salable and essential storage features:
Scale-out architecture creates fault-tolerant clusters with an unlimited number of hosts. StarWind also enables double or triple synchronous mirroring in a cluster, which guarantees 99.99% or 99.9999% uptime respectively.
Asynchronous WAN-replication copies data to the remote secure host and enables the primary storage to be restored from the replica when needed. The replication channel bandwidth does not affect the performance of the replicated storage.
The VAAI support for single-node devices and devices with synchronous replication offloads some tasks to the storage array, thereby reducing the CPU load and memory usage.
Flash caching is used as L2 cache to decrease random reads.
SSD/flash cards can be leveraged as the primary storage with StarWind's dedicated Log-Structured File System (LSFS).
Fixed and upgraded LSFS replaces random writes with a big sequential write, which improves VM performance drastically.

v3.7 of NAKIVO Backup & Replication Released!
The Beta version adds the following features:
Support for Windows Dynamic disks for file recovery
Support for Linux LVM disks for file recovery
Performance and ease of use improvements
More details and download are available at http://www.nakivo.com
All Beta Program participants completing the beta participation requirements will receive an Amazon gift card.  (value $20)
Trilead 5 Beta Program

We are excited to announce our participation at VMworld 2013 Barcelona. Visit us between 14th and 17th of October at the new innovators area (booth NI210) and have a look at the upcoming features of VM Explorer 5.0. Subscribe for VM Explorer 5.0 beta program!
To be one of the first to try the new features of VM Explorer 5.0 please join our beta program.
Veeam's new Paper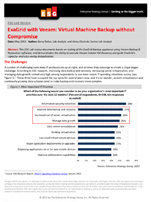 ExaGrid with Veeam: Virtual Machine Backup without Compromise  – ESG Lab Review
The ESG Lab Review offers guidance on how to minimize VM downtime and restore VMs in as fast as minutes in case accidental deletion, failure, or disaster. Key takeaways from the ESG Lab Review:
How deduplication can negatively affect your ability to
instantly recover VMs in VMware and Hyper-V environments
How the ExaGrid disk backup and Veeam solution allows
for the benefits of deduplication and instant recovery
How Veeam's source-side deduplication and ExaGrid's post-process deduplication minimize storage needed for backup
Free NFR For Veeam 7.0
Veeam is giving away FREE 180-day NFR licenses for 2 sockets of Veeam® Backup Management Suite™ for VMware or Hyper-V for your home or work lab.

Only for VMware vExperts, VMware Certified Professionals (VCP), Microsoft Certified Professionals (MCP), Microsoft Certified Technology Specialists (MCTS) and Most Valuable Professionals (MVP). Get your copy here!
Help Veeam to win Windows IT Pro Community Awards! We are nominated in SEVEN categories. You can vote here
http://www.surveymonkey.com/s/2013-CommChoice-WinITPro-FinalVoting
Starwind Software News
StarWind Software, storage virtualization software provider, and Microsoft Ukraine, the Ukrainian branch of the multinational corporation that delivers the world's leading software solutions, introduce an exclusive joint offer – a solution for business virtualization. This offer enables customers to accelerate physical-to-virtual migration, provides reliable data protection, simplifies storage management and reduces overall IT costs.
The affordable offer from Microsoft Ukraine and StarWind allows customers to buy two Windows Server 2012 licenses with a 15% discount, and a StarWind Native SAN for Hyper-V license with a 50% discount.
StarWind has won the second place in Datacentre Storage Software Product of the Year category at the Datacentre Solutions Awards 2013. Press Release is here: http://www.starwindsoftware.com/news/102

StarWind has entered into an OEM agreement with Western Digital. Under the terms of this agreement, the released software upgrade v1.5.7.30 adds the new ability for WD Sentinel™ DX4000 small office storage server to act as an iSCSI target. The support for iSCSI Storage Area Network (SAN) with newly introduced iSCSI target capability is powered by StarWind™: http://www.starwindsoftware.com/news/96
StarWind has won the second place in Datacentre Storage Software Product of the Year category at the Datacentre Solutions Awards 2013.  Press Release is here: http://www.starwindsoftware.com/news/102

StarWind Software Inc., an innovative provider of iSCSI SAN software, announced today that they have extended their distribution channels. The company has made an agreement with Azlan, Europe's leading value-added distributor of enterprise networking, server, storage and software solutions. This agreement gives Azlan rights to distribute StarWind's full line of iSCSI SAN and VM Backup software solutions in Germany and other European countries.