News from Starwind Software
StarWind Software Inc., a leading provider of software defined storage for Hyper-V environments, today announced a $3.25M Series B round of venture capital financing. The round was led by Almaz Capital, with participation from ABRT Venture, and AVentures Capital. Alexander (Sasha) Galitsky, a general partner at Almaz Capital, will join the company's board. More details here: http://www.starwindsoftware.com/news/115

StarWind iSCSI SAN&NAS and StarWind Native SAN for Hyper-V, have been shortlisted in the Datacentre Solutions Awards as the Datacentre ICT Storage Software of the Year. 

Get your Free NFR !!
Free NFR license for New StarWind SAN V8 is available for IT certified professionals.
To get free license is necessary to register here.
Starwind 8
Massive Scale-Out storage architecture
Creates fault tolerant shared storage with unlimited number of nodes
Asynchronous WAN-replication
Ensures efficient disaster recovery plan
L2 Flash Cache
Works with RAM as a L1 cache to boost the efficiency
In-line deduplication and thin provisioning with space reclaim
Reduces storage expenses dramatically and accelerates VM storage performance
Simplified and improved GUI
Provides Windows Server 2012 style, step-by-step wizards and support of PowerShell scripting
Support of SMI-S interface for integration with Windows System Center R2
Makes cloud storage administration easier
Log-Structured File System (LSFS)*
Eliminates random writes for VM storage
Download the Starwind v8 RC now.
Winning With Veeam – A trip around the World!
To participate, visitors need to register and predict the location of Veeam's 100,000th customer on the interactive map. The closer you are to the right spot, the better chance you have to win the trip around the world and other prizes.
We currently have a live pre-registration page. The main contest will start next week.
Veeam is about to get its 100,000th customer and is launching an interactive contest for a chance to win a trip around the world and other prizes (Google Glass, iPad and Microsoft Surface).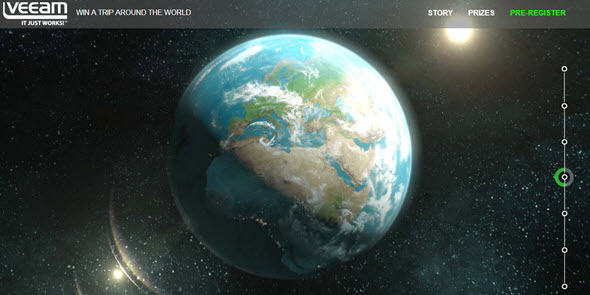 Xangati Names S. 'Sundi' Sundaresh CEO
Xangati, a leading provider of cloud and VDI performance management solutions, today announced the appointment of S. 'Sundi' Sundaresh as president and chief executive officer. Since early 2013, Sundaresh has served as an advisor to Xangati and has been instrumental in helping implement the strategy for growth as well as assist with fundraising.
Free NFR For Veeam 7.0
Veeam is giving away FREE 180-day NFR licenses for 2 sockets of Veeam® Backup Management Suite™ for VMware or Hyper-V for your home or work lab.

Only for VMware vExperts, VMware Certified Professionals (VCP), Microsoft Certified Professionals (MCP), Microsoft Certified Technology Specialists (MCTS) and Most Valuable Professionals (MVP). Get your copy here!
ESX Virtualization site has started as a simple bookmarking site, but quickly found itself a lot of readers and subscribers.
Vladan
is as an Independent consultant, professional blogger, vExpert 2009 - 2014, VCAP5-DCA/DCD, VCP 4/5 and owner of this website.
Latest posts by Vladan SEGET (see all)