Live Webinar: StarWind Virtual SAN break-out session: Hyper-converged storage for Hyper-V clusters
Wednesday, October 1, 2:00 pm ET / 11:00 am PT
Featured Speaker: Max Kolomyeytsev, Product Manager, StarWind Software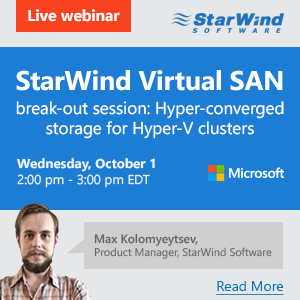 Join StarWind Virtual SAN live demonstration and see the software from a user's perspective. Learn how to configure a fault-tolerant Hyper-V cluster using just two commodity servers and no extra hardware. Get a full insight into operations from Max Kolomyeytsev, the StarWind Virtual SAN product manager.
Registration page: http://www.starwindsoftware.com/904731370?utm_source=blog&utm_medium=blog-anons&utm_campaign=webinar-1-october
 Live Webinar: How to Achieve High Availability and Protection from External Threats for Free Microsoft Hyper-V Server
Tuesday, October 9, 2:00 pm ET / 11:00 am PT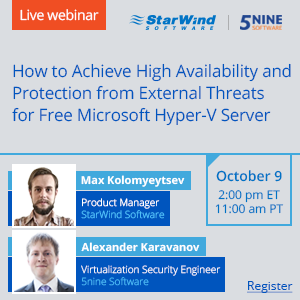 Featured Speakers:
Alexander Karavanov, Virtualization Security Engineer, 5nine Software
Max Kolomyeytsev, Product Manager, StarWind Software
Join virtualization experts from 5nine Software and StarWind Software to learn how to achieve high availability and protection from external threats for Free Microsoft Hyper-V Server.
Discover best practices on how to:
Leverage extensibility of Hyper-V virtual switch to provide efficient network security
Improve performance and protection with virtual firewall and agentless antivirus using 5nine Cloud Security
Achieve true high availability and Hyper-V cluster resilience with StarWind Virtual SAN
Minimize the number of hardware components while leveraging configuration reliability
Registration page: http://redmondmag.com/webcasts/2014/09/starwind-oct9.aspx?partnerref=starwind4
September Promo: Pick your special promo!
Only in September, StarWind offers you to pick a promo yourself!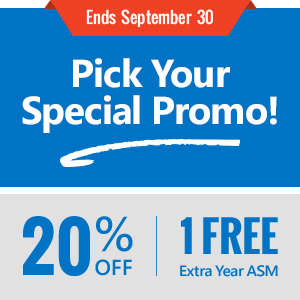 Choose either, a 20% OFF MSRP (Manufacturer's Suggested Retail Price) discount
or 1 extra year FREE ASM (Annual Support & Maintenance).
The Offer applies to:
Purchase of any StarWind Virtual SAN edition
Capacity Upgrade (upgrade of your current StarWind product to a higher capacity tier)
StarWind Asynchronous replication
Fulfill your company's Disaster Recover (DR) setup with just one virtual machine in your DR site with our cost-effective pure software solution: on any hypervisor, existing general-purpose hardware, and in a private or public Cloud (e.g. Amazone, Asure). Asynchronous mode will not affect the performance of the whole system since the DR site does not require high performance. Learn more
StarWind Virtual Tape Library
StarWind Virtual Tape Library converts inexpensive high capacity SATAs into a virtual tape library, emulating real tape hardware. The Backup window is significantly reduced, due to the fact that the VTL is utilizing hard disks rather than much slower tape. StarWind VTL preserves the existing infrastructure. Learn more
Pick Your Promo: http://www.starwindsoftware.com/pick-your-special-promo/?utm_source=blog&utm_medium=blogtextlink&utm_campaign=campaignId-366
Joint webinar with Veeam Software on September 30.
Live Webinar: VEEAM Backup & Replication vs. StarWind Virtual SAN: Business Continuity and Disaster Recovery Run Entirely by RTO / RPO Numbers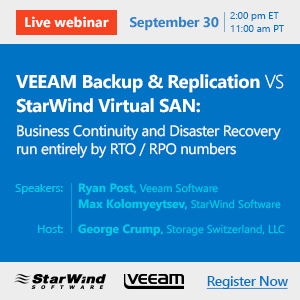 Tuesday, September 30, 2:00 pm ET / 11:00 am PT
Featured Speakers:
Ryan Post, Inside Systems Engineer, Veeam Software, Inc.
Max Kolomyeytsev, Product Manager, StarWind Software
Host: George Crump, Senior Analyst, Storage Switzerland, LLC
Should I use VEEAM Backup & Replication to meet my disaster recovery plan needs? Or should I use StarWind Virtual SAN for business continuity? Or should I use both? Two products or not.
Join StarWind and Veeam on a collaborate webinar, to come to know how to pick the right tools to meet the business continuity challenges and take full control of your RTO and RPO.
Registration: http://redmondmag.com/webcasts/2014/09/starwind-sep30.aspx?partnerref=starwind4
Live Webinar: Software-Defined Storage Architecture: Optimizing Business Value and Minimizing Risk in Microsoft/VMware Storage Strategies
Tuesday, September 24, 2:00 pm ET / 11:00 am PT
Featured Speaker: Jon Toigo, Toigo Partners International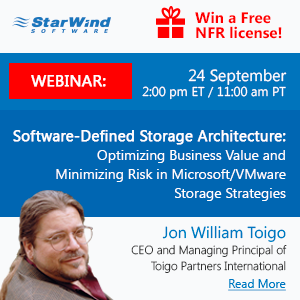 Sifting through the marketing hype from VMware and Microsoft regarding their "server-side software-defined storage models" can be almost as challenging as understanding the underlying technical issues that software-defined storage seeks to solve. What is needed is a clear headed analysis of the storage challenges created by virtual server computing, the benefits and limitations of competing software-defined approaches to addressing them, and what alternatives exist that might provide highly available and scalable storage capacity in a business-savvy way.
In this webinar, storage expert Jon Toigo:
Provides a brief retrospective on the drivers of software-defined storage
Delivers a snapshot of the current approaches of the leading hypervisor vendors for delivering SDS architecture
Identifies the key requirements that have yet to be met
Special Offer: Attend the webinar and get a chance to win FREE 6-month NFR license key for StarWind Virtual SAN!
Link for registration: http://virtualizationreview.com/webcasts/2014/09/starwind-software-defined-storage-architecture.aspx?partnerref=sw5
Other Starwind News…
Special offers for IT professionals as well as for customers. Starwind offers you to participate you in new referral program.
We would like to pay you a commission for each referred customer with cumulative bonus system.
See details here.
Referred clients:
5 or less – 15% commission
from 6 to 10 – 20% commission
from 11 to 20 – 25% commission
from 21 to 50 – 30% commission
51 or more – 35% commission
Also, we offer bonus program for everyone who will refer a new customer to us. We'll pay them 10% of the overall purchase amount as an Amazon gift card.
Former VMware CTO Scott Davis joins Infinio.
CAMBRIDGE, Mass., June 3, 2014 – Infinio, the price/performance leader in storage acceleration for virtualized data centers, announced today that Scott Davis, former CTO of VMware's storage and end-user computing divisions, has joined the company as Chief Technology Officer. At the same time, company founder Vishal Misra moves to the newly created role of Chief Scientist. Misra is also a professor in the Computer Science department at Columbia University. Scott's blog here. His Twitter here – @shd_9
Get your Free NFR !!
Free NFR license for New StarWind SAN V8 is available for IT certified professionals.
To get free license is necessary to register here.
Starwind 8
Massive Scale-Out storage architecture
Creates fault tolerant shared storage with unlimited number of nodes
Asynchronous WAN-replication
Ensures efficient disaster recovery plan
L2 Flash Cache
Works with RAM as a L1 cache to boost the efficiency
In-line deduplication and thin provisioning with space reclaim
Reduces storage expenses dramatically and accelerates VM storage performance
Simplified and improved GUI
Provides Windows Server 2012 style, step-by-step wizards and support of PowerShell scripting
Support of SMI-S interface for integration with Windows System Center R2
Makes cloud storage administration easier
Log-Structured File System (LSFS)*
Eliminates random writes for VM storage
Download the Starwind v8 RC now.

Xangati Names S. 'Sundi' Sundaresh CEO
Xangati, a leading provider of cloud and VDI performance management solutions, today announced the appointment of S. 'Sundi' Sundaresh as president and chief executive officer. Since early 2013, Sundaresh has served as an advisor to Xangati and has been instrumental in helping implement the strategy for growth as well as assist with fundraising.
Free NFR For Veeam 7.0
Veeam is giving away FREE 180-day NFR licenses for 2 sockets of Veeam® Backup Management Suite™ for VMware or Hyper-V for your home or work lab.

Only for VMware vExperts, VMware Certified Professionals (VCP), Microsoft Certified Professionals (MCP), Microsoft Certified Technology Specialists (MCTS) and Most Valuable Professionals (MVP). Get your copy here!