Many organizations keep increasing their cloud investment where cloud adoption has become an optimization strategy. Cloud migration makes businesses more flexible and agile providing a better customer experience.
One of the important points is support from your service provider. If you'd have to pick a service provider that has continuous support during and after migration or not, it's a quick choice.
A 27/7 support via service desk might be not necessary for very small businesses that run only a couple of desktops, but it can be a necessity for a large corporation with thousands of employees around the globe.
Identify the right applications
Not all applications are suitable for cloud workload. Some applications might need re-write so those will most likely be migrated as the last ones. You should evaluate every application that's used in your company and see:
Which application can be moved as is and which applications have to be redesigned?
What is the return on investment (ROI) for those apps that will be moved and how long will it take?
If some apps have to be re-written, what's the complexity and delay for those to be rewritten. Usually, this can be measured in the programmer's day (or hours) of work.
Identify which applications would perform better in private, public or multi-cloud.
Not everything needs to be migrated. Only a detailed analyse will allow you to determine which apps make sense to migrate and which apps does not.
Pick the right cloud provider
Identifying the right cloud provider is not simple. Usually, admin has to ask couple of questions, such as:
What is the level of experience?
What tools will be used for the migration and how those tools will make the transition easier
What level of support can be provided during and after the migration process?
Is the service provider able to support public, private and multi-cloud environments at any scale?
It's not an easy way to move your company's data to the cloud. The service provider you select should have proven experience that is capable to give you valuable support during and after migration and that is able to handle complex tasks during large-scale cloud migrations.
Anunta is one of such a service provider that is a recognized specialist in cloud and desktop virtualization technologies and has successfully deployed close to half a million virtual desktops across varied use cases globally. They are VMware and Citrix partners.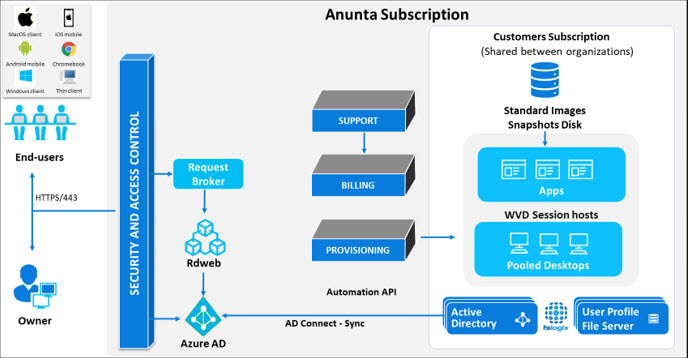 The End-to-End approach
It's not new that cloud migrations are not new. Why not using a proven methodology that is able to address all aspects of the migration process. The methodology should have built-in framework that manages complex transactions on a global scale and on a consistent basis. It's not something that can be "invented" or so. It has to be written through the Service Level Agreement (SLA) where both parties agree on key points and milestones for guaranteed results.
The right execution of cloud migration
It's possible to execute cloud migration in two different ways:
You create a proof of concept (PoC) and you try to move your applications to the cloud and see if it works. If yes, then simply switch from On-premises to the cloud.
You can move slowly your employees or clients to the cloud, in small groups, and each time you validate the performance, data and happiness each one of them. You continue this process until nobody is left.
It's important that with large cloud migrations you might reconsider on what's needed 100% and what's needed only on 60%. Are there any applications that you can stop using?
Are there any applications or application suites that do more with less? You can perhaps replace older apps with new ones that perform better?
Concerns about Downtime
Admins often ask questions when it comes to cloud migration. One of the main concerns is downtime. When you're experiencing downtime, every company loses money, and that's bad for the business. That's why many migration processes and tools avoid downtime at all costs.
Many modern backup tools we use provides a possibility to create an image of a system and save it as a file. This can be an image of a physical server that needs to be migrated to the cloud or it can be an image of your accountant's desktop which needs to have all the files and shortcuts as they are, with the same applications and data, once migrated.
If you're protecting virtual machines (VMs) you can usually use replication as an easy migration tool where you set your backup software to replicate your VMs directly to the cloud where those are powered Off waiting to be powered On.
Final Words
One of the main big points is the overall migration project. Fairly often, small businesses do not have IT staff that has the skills and experience for to do cloud migration. It is usually a service provider company that does the whole project and has skilled engineers for the job.
One of such global providers is Anunta that is able to plan ahead and create a migration plan where it guarantees that there will not be any or minimum downtime and that the final result will be what the client expects. In addition, they have over 99.9% of availability with the lowest incident-to-user ratios in the industry.
Anunta is a service provider within the End User Computing (EUC) space since 2012 and have more than enough experience in the field.
Anunta is VMware Partner and Solution provider focused on end-user experience management in enterprise environments.
Go and test Anunta DaaS via Scheduled Demo.