If you have passed by the OCZ stand (Now part of Toshiba Group) during this year's VMworld Barcelona 2014 you could have probably spotted a new upcoming SSD drive they were showing up. the format was like the classic 2.5′ format, but twice thicker. Destined for the enterprise customers, the drive will use new connector – SFF-8639 and will provide up to 6.4 TB of Data on Single SSD.
The Z-Drive 6000 NVMe is not available yet as when you're reading those lines, a testing with OEM providers in upcoming server hardware is taking place. The Z-Driver 6000 will allow to pack in some huge capacity of flash – up to 6.4 TB of data. Other capacities will be also available – 800Gb, 1.2Tb or 3.2Tb.
It's kind of an alien looking with fat body and multiple connectors on the side. In fact there is a SFF-8639 connector (strange coding, right), which is hot pluggable,  and two other connectors, which can possibly assure backward compatibility with SATA/SAS. The SFF-8639 connectors will be present on new server motherboards (to be released in 2015) and the principal reason of this evolution are transfer speeds as the NVMe standard will allow up to six times faster data transfer speed than 6 Gbps SAS/SATA SSDs.
More about NVMe can be found here. NVMe stands for Non-Volatile Memory Host Controller Interface Specification (NVMHCI), is a specification for accessing solid-state drives (SSDs) attached through the PCI Express (PCIe) bus.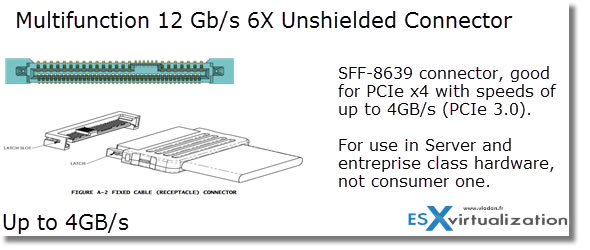 The NVMe standard has the following benefits over SATA:
Performance across multiple cores to quickly access critical data
An optimized register interface and command set that uses the minimum number of CPU clocks per IO for higher performance and lower power
Scalability with headroom for current and future NVM performance
End-to-end Data protection capabilities and support for standard security protocols, such as Trusted Computing Group
Lower power consumption resulting in a lower Total Cost of Ownership and carbon footprint
About the Z-Drive 6000
Next generation Z-Drive 6000, which is a native PCIe 3.0 NVMe 1.1 solution in an easy-to-deploy and hot pluggable 2.5-inch form factor.
Specs:
Will come up in those models having 800GB, 1.6TB, 3.2TB and 6.4TB capacities
Read IOPs up to 7000K
Write IOPs up to 175K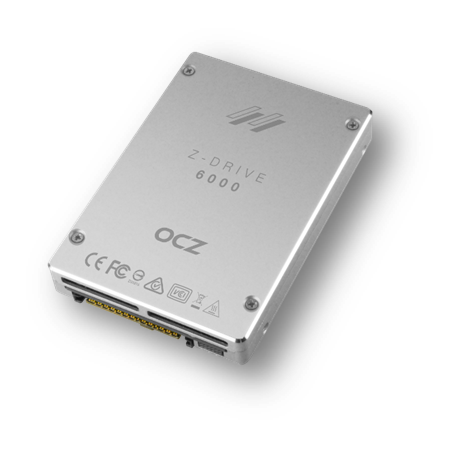 Not only will the Z-Drive 6000 deliver extremely high performance and enables superior deployment-efficiency and serviceability. Z-Drive 6000 will also have some enterprise features like internal RAID to protect all flash data, or
power loss data protection, consistent low latency, and encryption. The first samples shall be available in upcoming weeks where the production shall start in 2015.
The Z-Drive 6000 is powered by a PMC Sierra Princeton controller managed by OCZ's own proprietary firmware. The consumption is only  25W, where other options allowing do go down and consume only 20W or 15W makes this solution very efficient and  low power.
Benefits of NVMe
Better performance with faster access compared to the classic SCSI stack. Paralelism! The AHCI interface has been developed for compatibility reasons, not for spead:
AHCI was developed back at the time when the purpose of a host bus adapter (HBA) in a system was to connect the CPU/memory subsystem with a much slower storage subsystem based on rotating magnetic media.
Image and source – Wikipedia: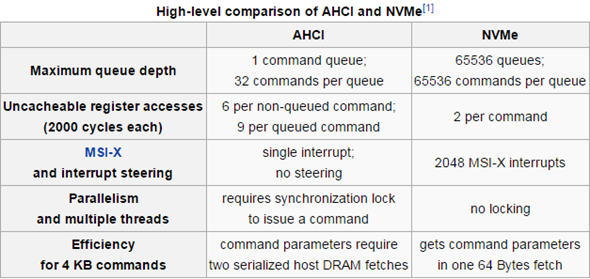 You can download the full PDF document by Anil Vasudeva discussing the NVMe here, or you can find the NVMe specification page here.

Back to OCZ which also has traditional PCIe SSD cards or traditional SATA SSDs in their current enterprise portfolio. A model called Z-Drive 4500 is destined for the enterprise market and offers capacity up to 3.2 Tb with 5 years guarantee. The drive has a proprietary firmware which has Virtualized Controller Architecture™ (VCA) 2.0  (BTW compatible with VMware vSphere up to 5.5 !!). This VCA has some functions which are not only useful, but also necessary for the lifespan of the drive which also assure data protection, encryption, TRIM or performance.
Those features are:
Extends NAND flash life at a block level
Enables TRIM Command support and SMART health monitoring
Internal storage controller delivering highly efficient performance aggregation while reducing the burden on host resources
End-to-end data protection performs data integrity checks at every juncture where data is transmitted, received, processed and stored
Advanced ECC effectively corrects up to 55 bits per 512-byte sector
Advanced security with 128-bit AES encryption support
Temperature sensing and thermal throttling
In addition to PCIe they also have full game of enterprise SATA 6Gb/s drives called INTREPID in 2.5′ standard format, which is up to 5 times faster than previous generation.
Check out OCZ Enterprise SSD page for further details here.