Acronis Disk Director 11 for home users.
I recently helped a friend of mine to recover his PC. What happened with his computer was, that he erased by error a data partition on his system running XP.  Since I knew that at Acronis they have a tools for recovering lost partitions, I used the latest Acronis Disk Director Home 11 to do the job with success.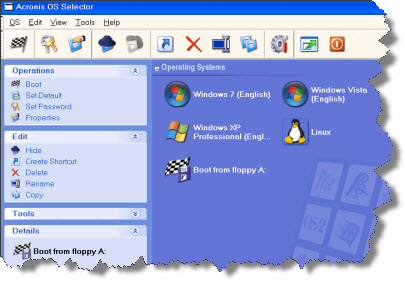 The software come with several tools in one. Not only you get a tool for managing partitions on your system, but also you have the possibility to use a second utility bundled with the product, for managing multiboot system.
The tool is called Acronis OS Selector. Third tool which is included in the package is called Acronis Recovery Expert. You can use it to recover lost partitions. It was this tool which helped me to recover my friend's lost partition.
To note, when you first install Acronis Disk Director 11 Home (ADDH 11), the tool for managing multiple OS is not installed by default. You must install it by your own by going to the Start menu > All Programs > Acronis > Disk Director > Install Acronis OS Selector.
After installing Acronis OS selector, every time your PC boots up, you get a screen where you must choose which system you want to boot. It's quite annoying because in case you don't use this feature, you'll end up with a nag screen every time your PC boot and the boot process stops there…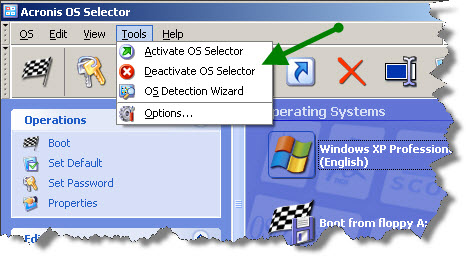 Please note that you can deactivate this feature easily by going to the Tools Menu.
You can also configure your default boot OS. This makes your Windows XP (or whichever OS you're using as a default boot OS) to boot every time your System boots up.
You can do this in the Options menu, and also you have the possibility to select if there is a pause few seconds before the default OS is started.
With the OS Detection Wizard the Acronis OS selector, can discover your partitioning scheme and add automatically your installed OS to the list of bootable systems present.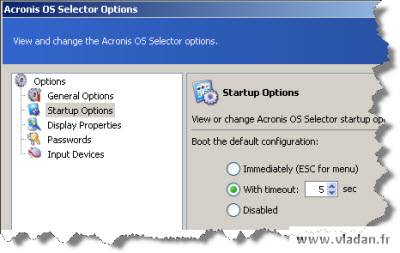 In the General Options you have the possibility to write protect system folders if you're using multiple boot OS. This secures against accidental delete of system files.
You have also the possibility to configure password protection for multiple Systems.
The display properties option can be used to setup a default display resolution during the boot Screen.
And concerning Input devices option – this helps to setup mouse port. You have the choice between USB, COM ports or None, but the default option mostly suits your needs.
This brings us to the main purpose of this review actually, because I did not even told you what you can do within the main interface of partitioning management.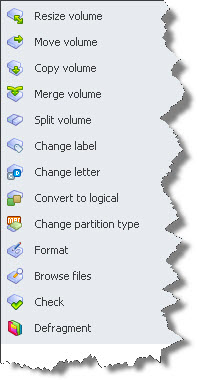 Even if you think that this is a tool only for home users, it brings you many many possibilities which most of the time suits your needs. Create, manage, copy, split, browse files on partitions, resize volume etc…
You have the choice of doing actions by 2 manners. Firs you select your hard disk where you want work, and then you go to the actions where you can choose what to do. Or you can use the right click on a drive/partition which brings you the same options.
You can do one action at a time, but you can also do few actions one followed by another and when you finished, just click on the Comit Pending Operations Icon. Then the actions are performed one by one and for some of the actions performed the system reboots.
I personally most of the time use the resize option, because for example, when you first install your OS on your disk, usually you split your disk into Sys + DATA partitions. And quite often I see on a systems where I have to adjust the system partition because of not having enough space.
While users installs some new programs, or games, the system partition gets filled up quickly and the user find himself forced to uninstall some programs to free space etc etc.. But the resize option helps to make  the system partition larger (so the DATA partition smaller).
Copy volume can be useful too to make backup copy of your system partition onto another disk, for example. It's a backup copy, not an image of your partition. So in case you have several hard disks connected to your PC, you can copy your active system partition onto another disk drive and add it to the list of bootable Systems present on your system.
With another utility which is included called Bootable Media builder, you are able to create Acronis Disk Director bootable disc or USB stick and perform all hard drive management operations from Linux or Windows PE environment (Acronis Disk Director bootable disc is based on Linux or Windows PE).

Creating images of partitions can be done by Acronis True Image Home (pro) Editions, which I wrote in one of my earlier articles.
The Acronis Disk Director Home sells normaly for $49.99 and you can also upgrade from previous versions for $29.99 . But you can also use this link which entitles you for a 25% discount on buy or this link for nice  25% discount on upgrade.
The product is fully compatible with Windows 7, but also XP and Vista. You can see all the details and features on the products page here.