There is new best practices whitepaper concerning the Best practices in VMware View 5 environments.
In this Whitepaper you'll be able to read and see the inconveniences and problems which are known when using traditional AV software in VDI environments. If you know how the traditional AV software behaves, you might want to avoid troubles before you start your deployment.
The traditional AV software usually generates AV storms when all AV agents installed inside of each desktop scans the desktops and users are actually logged in at same time, you can easily saturate at 100% the host's CPU and NAS/SAN.
You might wonder what to scan? Where the data of users are located? There are several places which needs to be taken into consideration:
–  Mapped drives or shared folders
–  User data disks (UDD)
–  ThinApp-related storage
–  The Persona Repository for View Persona Management.
Also, the traditionnal AV software requires that each desktop has a unique SID, you can see that there is a workaround on how to re-mediate that in the paper.
If the antivirus software you choose for your environment is not integrated with vShield, and the software needs a local SID to generate its own GUID for each endpoint, or if for any other reason you need a unique local SID for your linked clone desktops, you can use a workaround to avoid running Sysprep
The author:
Tina de Benedictis, Technical Marketing Manager for Enterprise Desktop at VMware, revised and updated this document for View 5. Tina's background at VMware includes writing Knowledge Base articles and developing Technical Support training on ThinApp, Fusion, and Capacity Planner.
For protection of virtual machines in a View virtual desktop environment, VMware recommends the vShield Endpoint solution offered by VMware partners. VMware partners who have integrated their antivirus solutions with vShield Endpoint are:
– Trend Micro
– Bitdefender
Get the whitepaper here: Antivirus Practices for VMware View 5.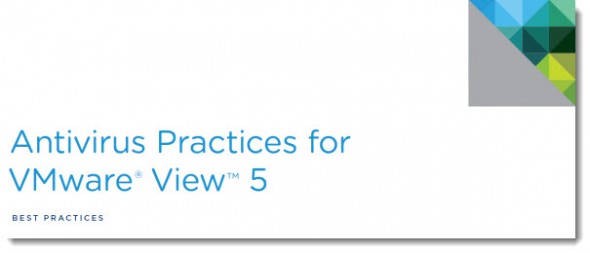 A quick quote from the Paper:
This paper focuses on the best practices for protection against viruses in the VMware View™ 5 virtual desktop environment. Antivirus software is one of the largest segments in today's computer security market. Nearly every enterprise deploys antivirus software on every desktop. As services such as security, mobility, access control, and line-of-business applications are all rolled up into the datacenter or cloud, antivirus practices need to be rolled up as well.
For more details, read the full whitepaper here: Antivirus Practices for VMware View 5.
Enjoy..