Free tool to check alignement of your VMs and also Wasted space on your VMDKs.
Ricky El-Qasem from VirtualizePlanet.com has build a nice free tool which enables you to check the alignements of your VMs in the cluster and also check wasted space in your VMDKs. It's 2 in 1 tool. I was actually participating in the building process, since I did some beta testing for Ricky. Not only me, but also other bloggers too. It was fun.
It's a tiny package to download (2.6 Megs) . Make sure that you have .NET installed on your system otherwise during the installation process the latest .NET will be downloaded and so the installation process can get lengthy.
How to use it? Very easy. Just check the About button on the software. You'll see a nice page where you can see the instructions….-:). Basically just click on nice VMware Tree button on the left top side of the program, where you enter your vCenter or ESX(i) credentials, and here you go. Next thing you must do is to go to Scan Options button, where you enter your Domain credentials which might be different from your vCenter credentials.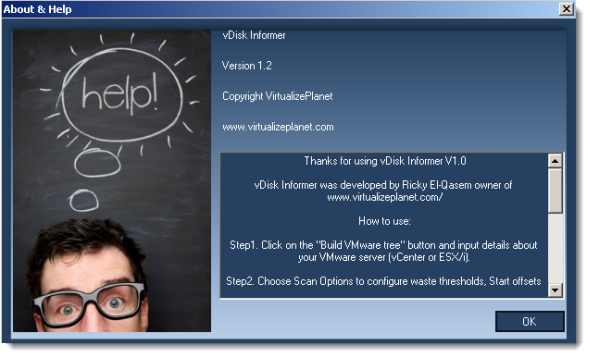 As I said it's a nice lightweight tool which can gather 2 different information about your VMs:
01. Disk Alignement which is configurable (in Scan Options button )for 32K or 64K bit offset. (depends of your SAN array, better check before…)
02. Disk space Waste in your virtual disks files. (VMDKs).


Source: VirtualizePlanet.com