Restore Operations.
As restore operations it's possible to restore full VMs or individual files.
Full VM restore – The full level restore operates as an "Export" operations. So you basically export (clone) the VM into your environment. It's possible to export to:
– vSphere ESX/ESXi hosts
– Hyper-V hosts
– VMware Workstation
– Amazon EC2 export
As a side note here: You can also configure bare metal restore in case you're backing up physical server. There are quite a few prerequisites for that, like Win 7 PE (32bit) compatible drivers storage and network adapter drives for the target machine (if different hardware), a storage controler, RAID, AHCI and chipset drivers for the target OS.
On the image bellow you can see that there is different possibilities when you click on the button next to the protected VM. One of the options is the Export Option. Point towards your vCenter (ESX/ESXi) host and specify the name for the VM that you're restoring.

In my case, I restored to a new VM, which is called DC2-restore, because my protected VM was still online. You would probably wanted to restore (if needed) with the same name (and re-crash your old VM), in case your VM get's corrupted.
You can see the different options in this screenshots. Note the option for changing the vMemory. The Volumes Tab enables you to choose the volume you want to restore (by default all the volumes are checked). The Disk mapping tab enables you to create thick or thin provisioned disk at the destination.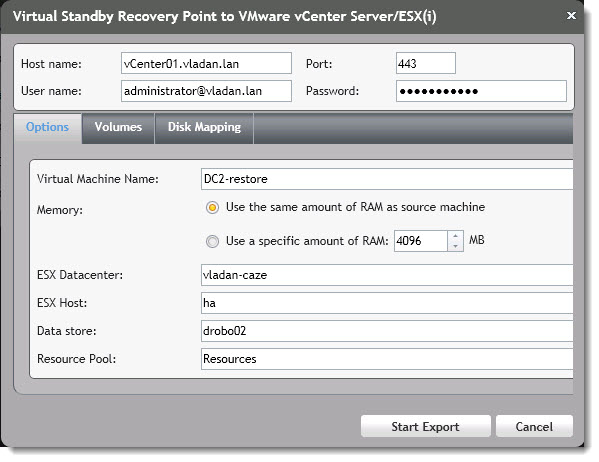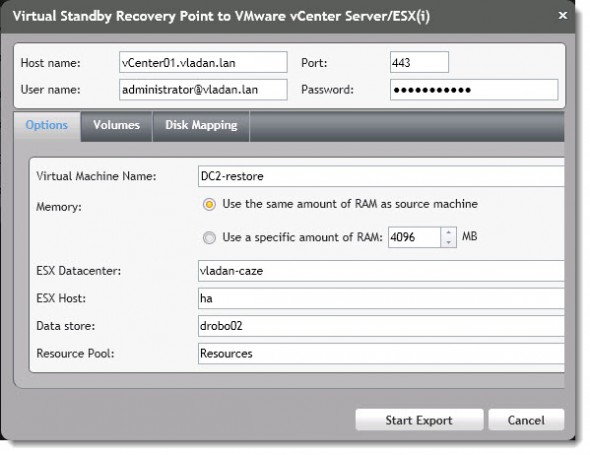 Note: When creating the full restore job, It's possible to setup a continuous (virtual standby) restore. It means that the CDP operations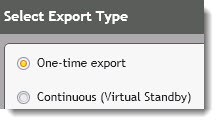 always copies the latest increments from the source agent and updates the destination – the standby VM. In fact the source VM is cloned to a destination VM, which is updated incrementally. In this way the VM is configured in Standby mode in case there is a problem in the source VM.  There are a number of use cases for this configuration, as you can also protect physical host, which would then have a standby VM ready to be started… -:). Good for Disaster recovery plans. We use to carry out the same functions using VMware Converter Standalone, and doing P2V once a month… manually.
The File level Restore – Has a user deleted important file from the company's shared folder? No problem. No need to restore full volume. Instead use the file-level restore option. The file level restore might be the most used option for file servers, but also for other servers, like Exchange or SQL. To recover individual files you basically mount the volume as a local subfolder and copy-paste the file that you want to recover back to the original location.
Individual files can be restored from mount points. You choose the mount point which you want to retrieve a file from, and you mount it by choosing Mount from the menu when clicking the button next to the protect.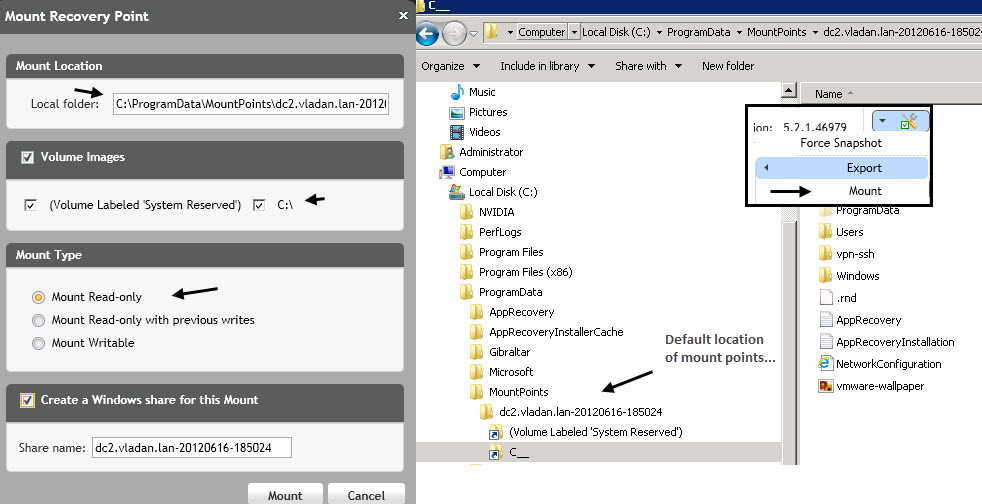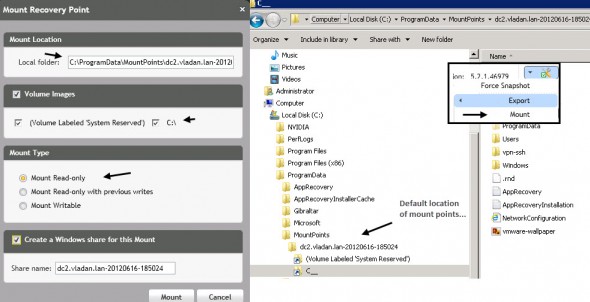 After the initial setup I must admit that I had to get use to this software interface, but once you know where to look for what you need to do, it's a snap. The web interface is fast, and intuitive. The solution is robust and had no bugs to report on.
If you install a smart agent onto an Exchange or SQL server, it's automatically detected and you got further options. Those Servers
Those options are accessible by goight throuth the Main Menu > selecting the VM > Summary TAB and clicking on the link (depending if Exchange or SQL) – Exchange server Settings or SQL Server Settings.
You'll get a prompt window with furher possible settings:


What's cool – The initial setup config and install is really quick. After the deployment of the core softwre, the agens can be deployed to multiple VMs or servers at the same time. If your existing infrastructure is running Microsoft's AD, then the login/password combinations are homogene across all environment, and so you just need to line up a list of all machines to the single entry form. This can be a copy-paste operation.
What's not so good – the whole solution is web based. It might be a problem for some users, who don't like web consoles.  Maintenance of smart agents with future updates and upgrades of the whole backup infrastructure might be a problem, because it adds complexity comparing to other solutions on the market which don't use agents. No protection for linux VMs.
Even if I tested a fraction of the product's possibilities in my small lab, I had a good feeling after this. The product worked as expected – protecting my VMs. I really liked the continuous replication (virtual Standby), which can be used especially for physical servers running windows servers. That's an excellent DR plan.
Note: Please note that this detailed review of Dell Appassure 5 product was sponsored by Dell Appassure.