Native HTML 5 client for VMware View from Ericom is compatible with Ericom Security Gateway.
Few weeks ago a beta release of a native HTML 5 VDI client from Ericom has been announced. This client is compatible with pure HTML 5 browsers like Chrome, Safari or Firefox. It uses the  HTML5 canvas to display a remote PC desktop, taking full advantage of WebSocket, AJAX, JSON and HTML5 technologies.
You can read more in the FAQ  for VMware View.
What was actually not said already is that there is also the possibility to couple the solution with Ericom Secure Gateway.
A quick quote:
Ericom Secure Gateway provides end-users with secured remote access to virtual desktops and Terminal Servers.  The Secure Gateway is compatible with Ericom HTML5 client

Ericom Security Server acts as a gateway between end users in remote locations and applications and desktops in the datacenter.  It may be installed in a DMZ to route traffic between the Internet and the LAN.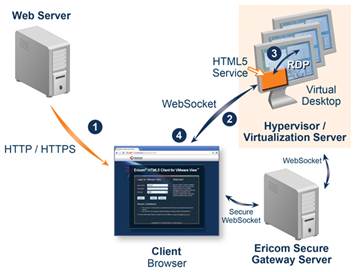 HTML5 technology enables development of rich, highly interactive browser-based applications. Ericom has developed a fully functional, high-performance HTML5 client that enables seamless access to VMware View virtual desktops. Running wholly within the browser, the client runs on devices with an HTML5 compatible browser and requires no additional software installation on the end-user device.
Just bear in mind that the PCoIP is available only through VMware View client. The Ericom VDI client uses RDP protocol to connect to virtual desktops.
You can watch a quick video from YouTube:
Source: Ericom