What is Clonezilla?
Like filezilla – a very popular opensource FTP client and server applications, Clonezilla is a free software which I'll test sonner or later…and which can P2V your physical server into virtual environement running under VMware vSphere 4 for exemple….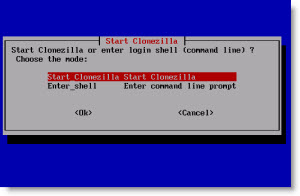 Clonezilla helps you to to do bare metal backup and recovery. There are two types of Clonezilla:
Clonezilla live – for single machine backup and restore and Clonezilla SE (server edition). –  for massive deployment, it can clone many (40 plus!) computers simultaneously. Clonezilla saves and restores only used blocks in the harddisk. This increases the clone efficiency.
The download is provided as a bootable ISO file which you can burn onto a CD and boot your physical server with.
You may utilize clonezilla to image a physical machine and then PXE boot the virtualized hardware to restore the image.
Clonezilla Live is a combination of Debian Live and Clonezilla; it has the following features and benefits:
It clones only the used blocks on the hard disk.
It provides multiple file system and even LVM support, including ext2, ext3, xfs, jfs, and LVM2 under GNU/Linux; FAT, NTFS under Microsoft Windows; and HFS+ under Mac OS.
You don't need a diskless remote boot server (Diskless Remote Boot in Linux, DRBL) in Linux to set it up, as you do with Clonezilla SE.
CD/DVD, USB flash/hard drives, and PXE boots are supported.
It has a customized capability for boot and recovery procedure
Source: IBM