Monitoring Solution for your ESX Server – for free
Solarwinds is well know company for their subnet calculator. Today I'd like to present your a free toll from Solarwinds called VM Monitor
With this free software you are going to be able to do:
Fast check the health of your VMware ESX Server by monitoring CPU, memory utilization, number of virtual machines configured and running.
See detailed individual virtual machine health statistics including VM name, guest OS, and VM state, and also the processor utilization, memory, and network.
You can prevent performance degradation by watching threshold-specific indicators to visually alert you when problems occur.
This tool is really handy, but what you need to do is enable SNMP in your ESX Server.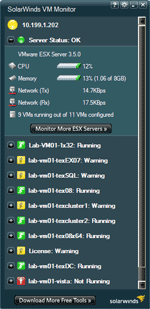 Here is how to enable SNMP:
1.) Connect to your server via SSH or if you have an access to the server console you can do it there as well.
2.) Edit /etc/snmp/snmp.conf and add a community string to the rocommunity value
3.) Then you have to modify a value for the smnpd (fyi. snmpd – snmp daemon) to start automatically when the server starts with chkconfig snmpd on
4.) No need to reboot, just do from the console: service sshd restart and start the SNMP daemon service by typing service snmpd start.
Enjoy.. -:)