Horizon View Event Notifier is a new free tool produced by VMware labs enables to establish a DB connection to one or more Horizon view DB and allows to get alerted on events. The types of alerts are customizable (fail, warning, error or informational) and are delivered via e-mail.
Horizon View Event Notifier can be installed on any Windows based system. It can be monitoring workstation or VM, or other, but needs dotnet 3.5 to function.
It's a tech preview utility as many other free tools from VMware labs. Check it out.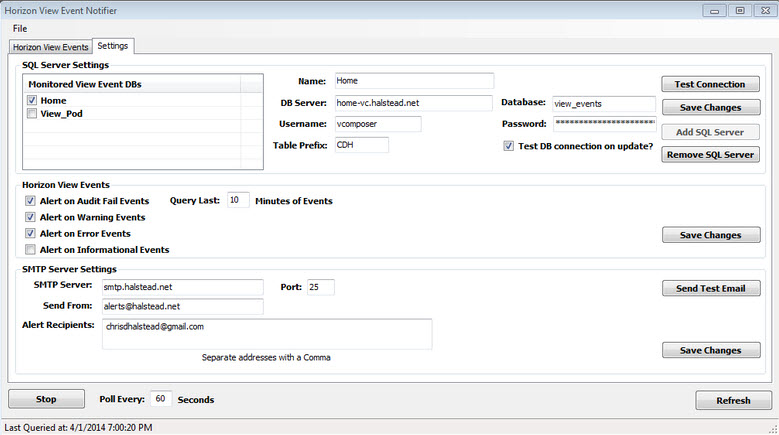 Quote from the VMware Labs site:
This tool connects to one or more existing Horizon View Event Database(s) and allows the user to customize which types of alerts to be notified on. It can be run from any Windows based system and it collects and sends the alerts via email (SMTP) to users that are specified during the configuration process. It allows aggregation of alerts across multiple Horizon View Pods and for near real-time alerting of Horizon View alerts that are otherwise very difficult to be notified on.
Horizon View Event Notifier System requirements:
Horizon View 5.0 or later
View Event DB pre-configured
SMTP server which allows messager relay
SQL login to the horizon view events DB and RW access to horizon_view_event_notifier.exe.
Windows based system with .NET 3.5
The tool Horizon View Event Notifier can be downloaded as free tool from VMware Labs here, where you can also find the how-to install and use instructions.