A very large number of Free VMworld 2015 Sessions on YouTube has been made available from VMware. This year it's really a lot of sessions comparing to other years. It's probbably due to a very large number of sessions at VMworld altogether.
This is good as not everyone can attend VMworld and to follow the latest and greatest VMware technology, including deep-dives sessions, the YouTube options is just the best, IMHO. So I decided to spread out the news with a dedicated blog post here.
If you're coming to VMworld Barcelona, it's perhaps the best moment to see some of those sessions now, and decide if you want to schedule the same session for VMworld OR if you want rather schedule another one which you did not watch. I'm assuming that the content of those sessions will stay the same form VMworld barcelona (except some conent on the General sessions).
I'll be present again this year in Barcelona. Twitter is your friend if you want live news .. -:) @vladan. Thanks to VMware to provide me with Free Blogger pass. I'm very honored and it's always a great pleasure for me to attend the biggest European computing events. This year again, I'll be shooting some video insights and video interviews about interesting technology from VMware and other vendors. Stay tuned for more…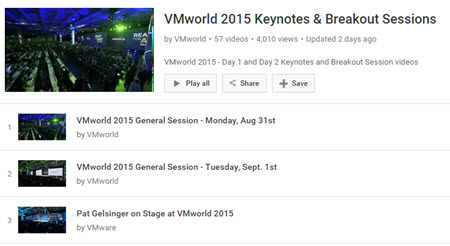 Here is the list of Free VMworld 2015 sessions from YouTube.
I have highlighted some of the sessions which I'm finding useful for myself, my environment, my needs, but I'll have closer look on more that what I just highlighted. So depending on what technology you're facing you might find more useful networking or security sessions. Enjoy…