Windows 10 talk back to Microsoft way too much. That's the fact. For some users this does not matter. But for for some Windows users it's not a really comfortable. It bothers, and personally it makes me uncomfortable. I wanted to upgrade from Windows 7 to Windows 10 but hey, I did not ask to spy on me all the day long! You can deactivate quite a lot through the W10 control panel, but thankfully there are some Free tools to help out, like for example the Free Windows 10 AntiSpy from Ashampoo.
It is not the only one, there are others. But today we will introduce this one. First, it's a tiny software without any spyware. There is no installer. It's simple executable which weights only 280 kb!

The first time you execute the program, you're asked to create a restore point. Clever move. I always do create restore point when using such a programs. They usually know why they're asking to do so…..
The screenshot below shows that, and also (obviously) the link to download the full product which protects your privacy when running Windows 10. Also this isn't something which bothers me. This business model is actually what I prefer. A product offering basic functionality, inviting you to download paid product (or full featured time limited trial). This is something that most of the virtualization vendors do and it's paid strategy.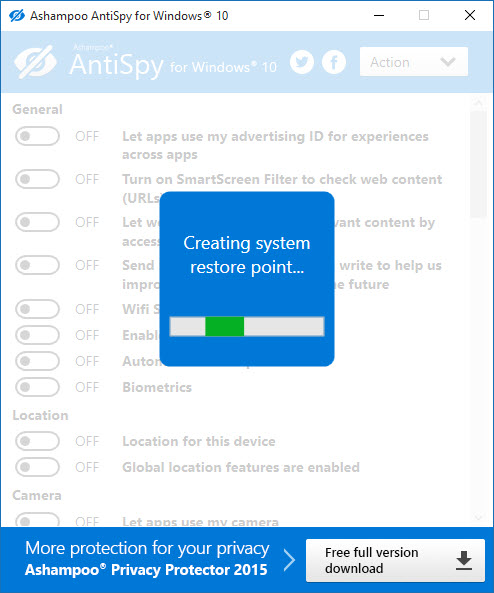 Using this tool you can configure some privacy settings and also prevent Windows 10 from collecting and sending diagnostics as well as other data. The utility works only for Windows 10.
Features
Configure security settings
Protect your privacy
Disable location services
Prevent Windows 10 from sending diagnostics and usage data
General
Let apps use my advertising ID for experience across apps
Turn on SmartScreen Filter to check web content (URLs)
Let websites provide locally relevant content by accessing my language list
Send Microsoft info about how I write to help us improve typing and writing in the future
Wifi Sense
Enabled Notifications
Automatic driver update
Biometrics
Location
Location for this device
Global location features are enabled
Camera
Let apps use my camera
App Connector is allowed to use your camera
Microsoft Edge is allowed to use your camera
One Note is allowed to use your camera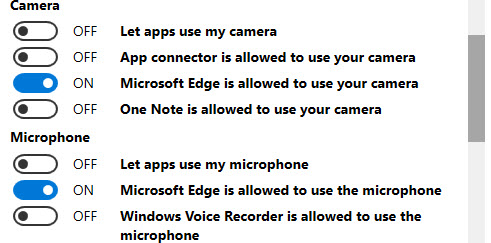 And the list goes long and long…
You can deactivate pretty much everything. AntiSpy is very easy to use as you just need to click the toggle button corresponding to the setting to enable/disable it. That's it.
As I mentioned earlier, there is no installer, so what I did is that I just put a copy of the tiny executable to my dropbox folder, from where I can execute it whenever I need. Download Windows 10 AntiSpy from Ashampoo here.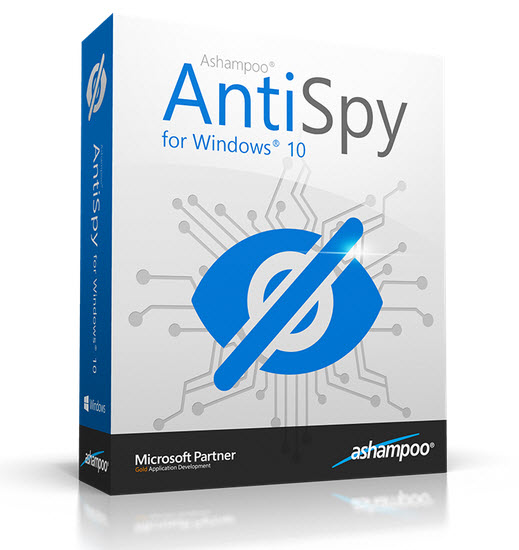 Note that this isn't the only software which combats Microsoft Windows 10 spying. Some of the others you may know or use are W10Privacy, O&O ShutUp 10, Spybot Anti-Beacon, DoNotSpy10,  DisableWin10Tracking (github) Or also Destroy Windows 10 Spying….
Microsoft's unethical snooping brought a real offensive of from software vendors creating different blocking software to stop the intrusiveness. Every major third-party software vendor feels its chance.