Need a support from VMware? Here is how to create a support request.  Create a support request at VMware is not simple. but with this video from VMware KB Tv you can see the necessary steps (and there are quite a few) to create a support request via the Partner Central portal. (available for VMware Partners )
Just make sure that you've got the Serial Number of the product to which you're requesting the support for and also the Paid support request serial number.
So basically you'll have to follow those steps:
– Log in to the Partner Central
– Go to my Profile (on the left) > Entitlements  (on the right)
– Click through the number on the Action ID  and locate the details
– Click Technical Support (on the left)
– Click File a support request (on the right)
– File a technical support Request
– Log in the VMware Store Accounts and click on "Support tools" on the right top.
– Fill in the Product serial number and also Paid support request serial number.
– You'll see the current entitlement and the total of incidents, also the expiry date.
– Click on the product link you're asking the support for.
– Select the product number, fill in the phone number, problem category and description.
– Click Submit and note the Support request reference number.
As you can see the process is not easy and can take you some time….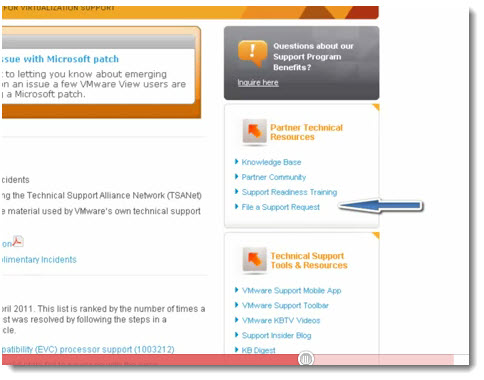 With this video which you can follow, you'll be able to create a support request quite easily. The video comes from VMware KB TV:
Enjoy… -:)
You can subscribe for Free to our RSS Feed to stay updated. If you don't know what is RSS or how to use it, just see our page which explains how to use RSS and how to save tons of your time.
Source: Partner Support – How to Activate your Complimentary Incidents