If you're working for a merchant that accepts or processes payment cards, you must comply with the PCI DSS. You as an admin will need to make your company's IT systems compliant with the PCI DSS standard.
PCI DSS is a standard used by the payment industry. The Payment Card Industry Data Security Standard (PCI DSS) is an IT security standard for organizations that are involved in handling credit cards and their associated data. While administered by the Payment Card Industry Security Standards Council, the PCI Standard is mandated by the card brands, with the aim to tighten controls around cardholder data and reduce credit card fraud.
There are 12 requirements. PCI DSS comprises 12 compliance requirements for building and maintaining a secure network. Compliance validation occurs at regular intervals, performed by a certified assessor.
In this E-Book you'll learn:
Who should be PCI DSS compliant
What are PCI DSS compliance requirements
Twelve PCI DSS compliance requirements
Major Pain Points
The 3-Step Process
How to free up time & resources with automation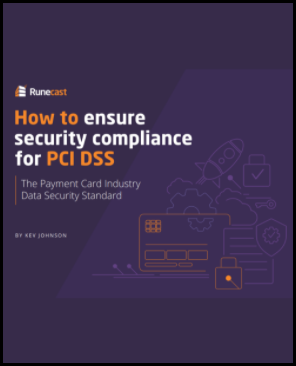 This free E-book has been written by Kev Johnson.
Runecast Analyzer works with vSphere, AWS, NSX-V, VSAN, Horizon View, Kubernetes… While the product has started with the only vSphere, there are many new products supported now. The vSphere eco-system is getting different for each customer too. The times are longtime gone where only vSphere environments could be found.
Free Trial of Runecast can be downloaded from this link (a free account creation is necessary).
Download Latest FREE Trial of Runecast Analyzer which is 100% compatible with VMware vSphere 7.0.
Screenshot from the paper below…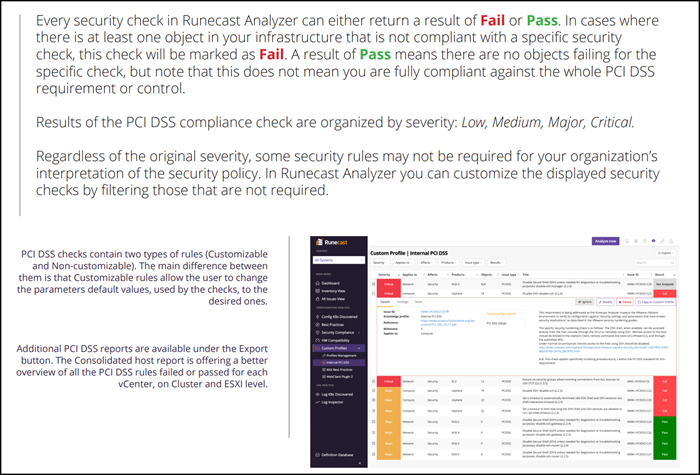 Do you have PSODs often?
Another paper which might be your interest. The technical paper will teach you what is PSOD, how to get the core dump, and hand it to VMware support for an investigation. You'll learn how to decipher the error and which logs to checks.
Why we're here
What is PSOD?
Why PSOD happen?
What is the impact of PSOD?
What to do when PSOD happens?
How to prevent PSOD
Runecast Analyzer
Download How to deal with PSOD Whitepaper here.