Today I'd like to write about a service from one of our partners which is providing a very cool service. A cloud modeling before migration. They are able to simulate costs based on your on-prem environment and they are neutral (not biased). I'm sure that all major software vendors such as VMware or Microsoft, or cloud providers such as Google Cloud, IBM cloud or Oracle cloud, do have their own tools for cloud modeling and migrations, but most likely, they are biased.
On-premises to Cloud Migration Cloud modeling is something that every company wants to do but fails because of a lack of resources, knowledge, or tools. How do you know which cloud provider will be the cheapest one and how do you know how much it will cost you before you move to the cloud? Impossible to compare everything. Most importantly, how do you know which cloud provider will be the best for the type of workloads you're using? Can I bring my own licenses and how much I'll save?
Depending on the type of environment you're running on-prem, you can model and do a very clear estimate via Akasia Infrastructure Modeller (AIM). Let's say that you're running VMware Infrastructure, but you think that it's better and cheaper to use Microsoft Azure cloud for your VMs. Well, you can't simply upload your VMware VMs to Azure, but you have to transform them, resize, and reconfigure the networking and storage, allocate the proper policy (on-demand, reserved instance, or bare metal). Unless of course, you're using VMware to Azure offering which can run natively VMware workloads in Microsoft Azure. Akasia also supports bare metal and dedicated hosts in their cloud modeling in case customers want to BYOL VMware.
There are simply too many parameters to take into account which will give you thousands of possibilities. Impossible to manually determine and map your individual VMs to the cloud resources where you have to compare thousands of different options and costs. You can get a granular cost projection upfront before you make the move to the cloud.
Akasia has a SaaS tool that scans your on-prem environment (agentless) and after a couple of minutes brings up the details. Customers have used Akasia SaaS to model over 1 Million VMs and physical machines for migration planning and were able to model their savings against 5 different cloud provider platforms (AWS, Azure, Google Cloud, IBM Cloud, and Oracle Cloud).
How Akasia Infrastructure Modeller works?
Discover Your On-Premises Infrastructure – AIM scan your environment and discovers applications, VMs and physical hosts, their configurations and usage patterns to give you a jumpstart in modeling their costs in the cloud.
Compare Cloud Costs – After the AIM presents the modeling results, it shows side-by-side comparisons of on-premise vs. cloud. You are able to compare costs for running the same resources in AWS, Azure, GCP, IBM Cloud, Oracle Cloud, and VMware Cloud.
Map to Cloud Resources and Optimize – Then you will be presented with equivalent and right-sized cloud resources that you can work with for your cloud modeling. You'll be able to see also the "hidden costs" (with not only CPU usage, but also network usage and IO) so you can really get the realistic cloud cost estimates.
Add Other Cloud Services – You can add other cloud services such as load balancers, cloud storage, applications and support to see the real needs and do an estimate within the modeler.  With all this, you have a realistic view of how much your workloads will cost when they will run at a particular cloud provider's datacenter.
Example of view when you choose Bring Your Own License (BYOL)….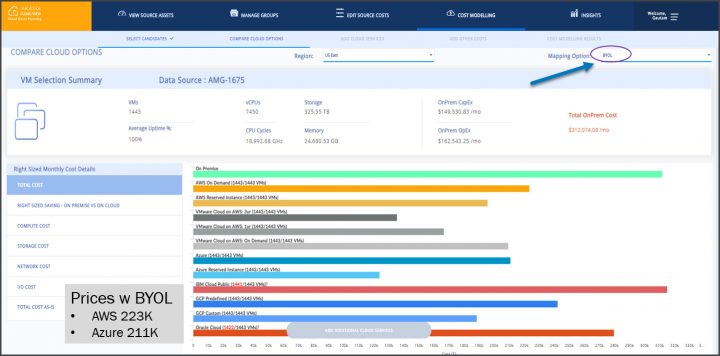 Download a Free Technical Whitepaper from Akasia
You can download a free technical whitepaper explaining the benefits, in detail, with many screenshots etc. It's called "How to Cost Optimize your On-Prem to Cloud Migration" and it really shows the benefits, the way it works, and many real-life examples from the field.
If your plans are to move some or all of your workloads to the cloud, and you looking for answers like "how much will it costs?", then Akasia shall be the tool to use to find your answers. Akasia is good for enterprises searching for a public cost modeling platform to model cloud costs and maximize cloud savings.
IT teams and consultants use Akasia to rapidly generate the bill of materials and projected costs in AWS, Azure, Google, IBM Cloud, Oracle Cloud, and VMware Cloud on AWS. Via a lightweight agent-less discovery tool, Akasia is able to collect data from the on-prem infrastructure. Then use this data to feed their SaaS modeling platform which is able to map the on-prem data to equivalent as well as right-sized resources in the cloud. The final result is the cloud bill of materials and costs.
Akasia SaaS tool can also be used for modeling new cloud environments and have an accurate estimate where you can model cloud-native or hybrid solutions and then generate cloud bill of material and costs.
For workloads already in the cloud, you can use Akasia's cloud optimization tool to see where else you can save on cloud costs.
Final Words
Let's say you have 300 VMs on-prem and you're looking for a cloud provider. Let Acasia Infrastructure Modeller discover your environment and look into each VM, map the applications running on each VM, see the VMs configuration such as Memory or vCPU, see the storage, network and IO allocations to the VM and how much resources were actually used.
Akasia is able to build a list of Azure right-sized templates, calculate network and IO costs, and also other services such as blob storage or Azure site recovery. I think because their service is neutral and not biased, it shall provide optimal planning and cost modeling capabilities.
Website: Akasia Cloud