Iperius Backup is a backup and replication product for VMware vSphere and Microsoft Hyper-V. Other than that the product can also do image level backup and database backup ( Exchange, SQL Server, MySQL, PostgreSQL, and Oracle).
It's a small product which does the essential – protects your workloads which can be restored if anything happens to your VMs (virus, ransomware, malware) or to your underlying datastore where your VMs are stored.
You only need a single license to protect all your production environment, so no per-socket licensing. With a single license, you protect an unlimited number of virtual machines which are running in your local environment. This makes me think of a product called Trilead which we reviewed a few years back.
Iperius Backup is an agent-less backup solution so you don't have to install and maintain agents inside of VMs in order to proceed with the backup. Iperius Backup is compatible with VMware vSphere and ESXi 6.7 (and ESXi Free), but also Microsoft Hyper-V.
The download is pretty small, only 49 Mb in size, however, the size does not count. What count is whether the product is able to protect your infrastructure or not. In this post we'll try to install and test the product in the lab, we'll do some backups and restores to get the "look and feel".
The overview of the console. As you can see, the product is multilingual and can be easily configured in different languages during or after installation.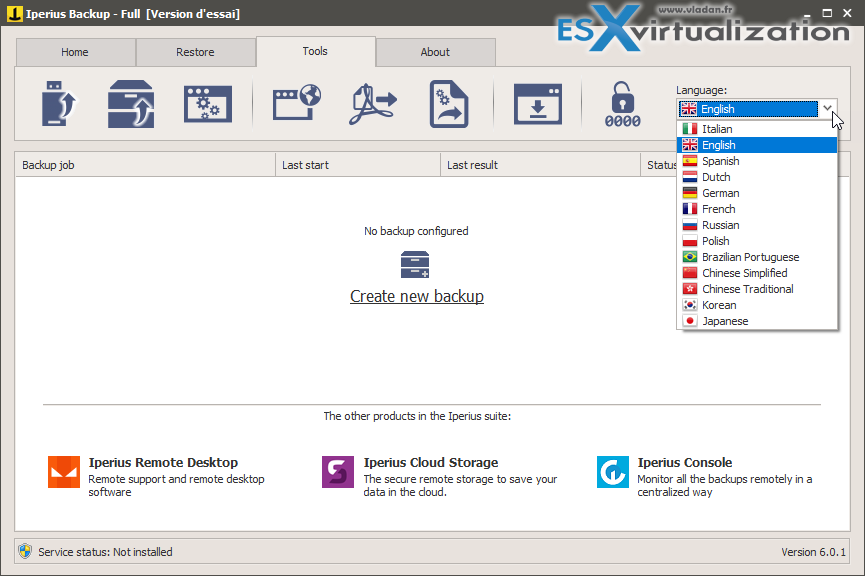 Iperius Backup System Requirements
In the lab, I tested an installation on a Server VM and on my desktop running Windows 10. In both cases, the installation worked. My lab environment runs VMware vSphere 6.7 Update 1 and I haven't had any issues with that.
Iperius Backup Features
VM backup – you can backup running VMs on ESXi (also ESXi Free), vSphere or Hyper-V. Full, Incremental and differential backups are possible by using VMware changed block tracking (CBT). Only blocks that changed since the last backup are processed and backed up which not only saves space but also speeds the backup jobs.
VM Replication – you can set up a replication job that replicates production VMs to a secondary site where you have an ESXi host. The replicas are powered off and started only in case the main site goes down.
Backup targets – a disk, network, Cloud, NAS and (or) LTO Tape. You can backup directly to Google Drive, Microsoft one drive, Dropbox, Amazon S3, Microsoft Azure storage, Google cloud storage or S3.
Restore VMs – you can restore the ESXi and Hyper-V VMs to the same location or to a different host(s).
Totally agentless – You don't need to install agents to proceed with a backup.
File/folder – you can enter the path for file or folder and configure a backup.
Image level backup – yes from the same console you can launch image-level backup for backing up physical servers (not virtual), and you can create a recovery drive to make a bare-metal restore of image backups even to different hardware.
FTP backup – you can add remote credentials and configure an FTP based backup/download job.
Exchange, SQL, MySQL, PostgreSQL, and Oracle
New: Individual Files Restore – you can now restore individual files when restoring a VM. Previously only full restore was available.
Cloud backup destinations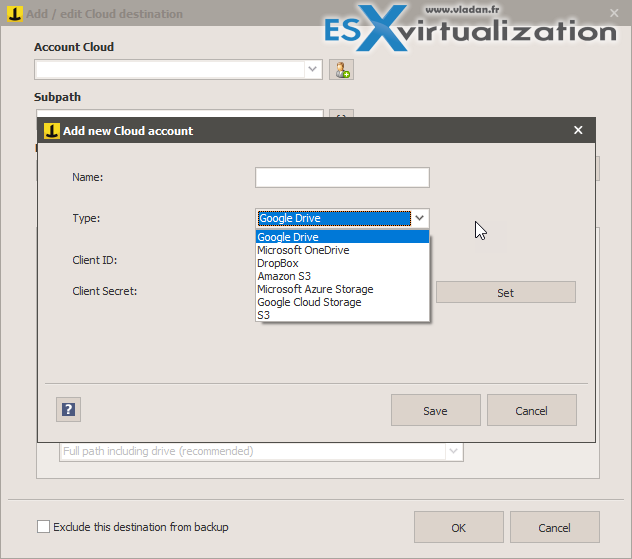 You can also use Iperius Online Storage where you can configure automatic cloud upload with Iperius Backup. There are several advantages which this integration offers:
AES 256 bit encryption
Compression and Synchronization
Ransomware protection
Access your files from any browser, FTP client and mobile devices
Backup from unlimited PCs/Servers
File search and file preview
Share files with other users
ISO 27001 and GDPR certified data centers
Check Iperius Online Storage here.
Iperius Backup Installation
The product installs itself very easy. The small installation package has everything you need. No external products are necessary to download. After 30 seconds the product was up and running. A single click on License activation I was asked for my e-mail.
There are two versions:
Free version – limited. It cannot be installed as a service and cannot make file synchronization (deletion from the destinations of the files that no longer exist in the source folders). No advanced backup types are available as in the commercial editions. This means that there is no Tape backup (DAT, LTO, etc..), no backup to Cloud (OneDrive, Dropbox, Google Drive), no remote backup FTP, no backup of databases and Drive Image backup (disaster recovery).
Paid version – Free trial during 21 days allows you to test all features. Then you must buy a license.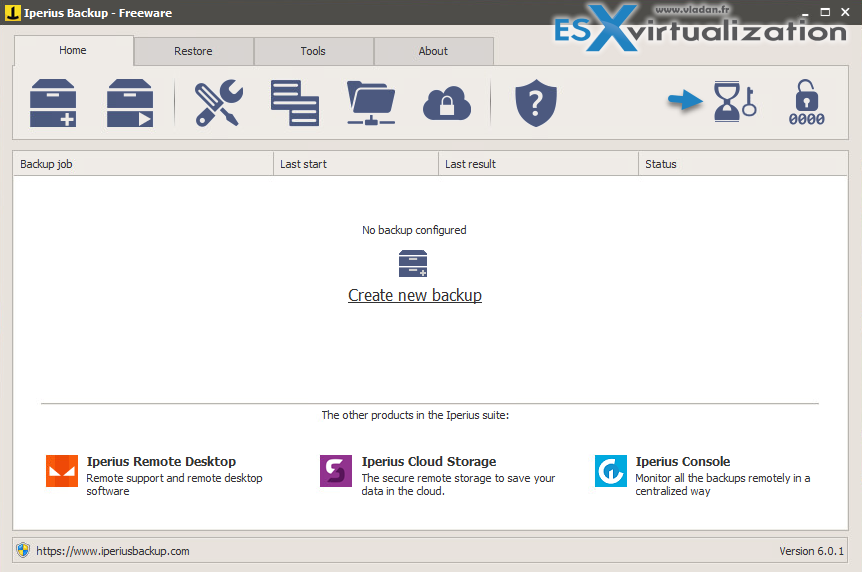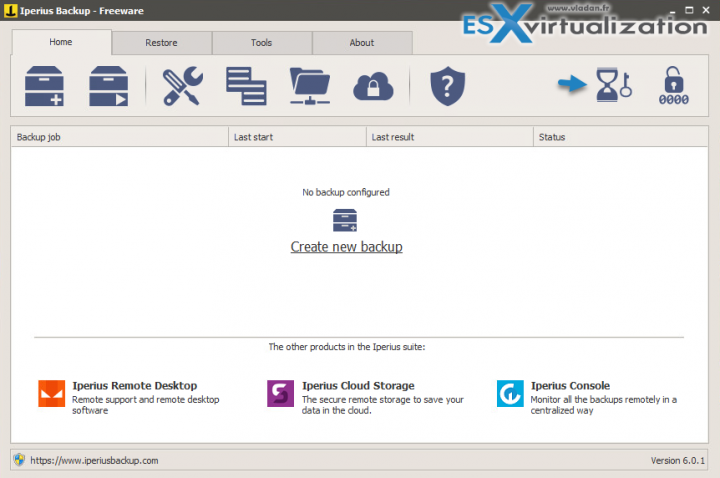 Then a few seconds later the product was ready to go for the first backup. Fast indeed.
So now I have the full version installed, let's have a look on the user interface (UI).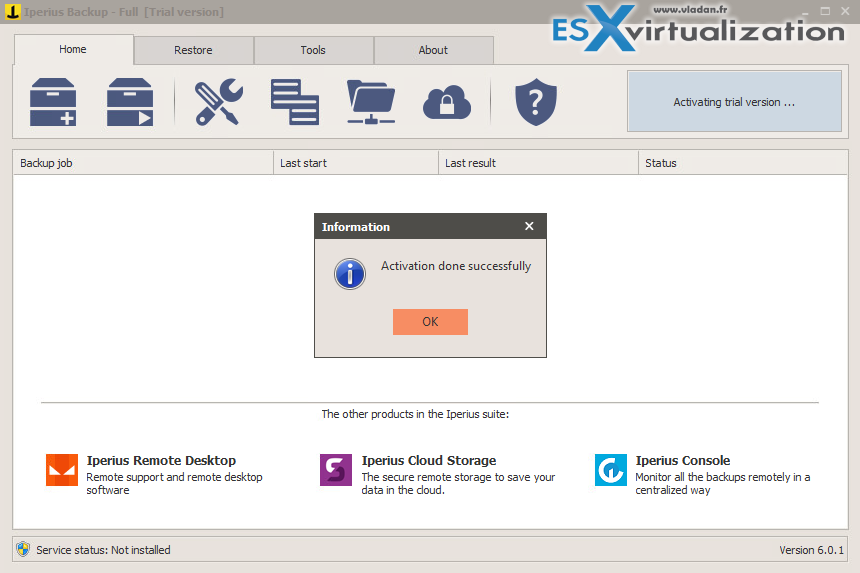 Install as Service
It is wise to install the Iperius backup as a service. This is not mandatory but has several advantages. If you chose to do so, the main benefits are:
Run without being logged in – You can run scheduled backups even if no user is logged on. While you can run
Parallel processing – you can run multiple backup jobs at the same time.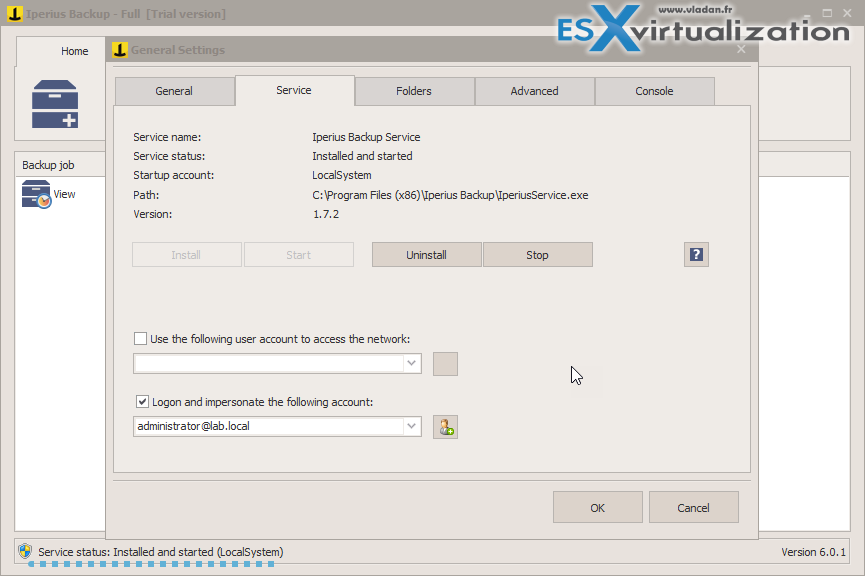 Note: The Install as a service is only available in the commercial edition, not the free edition.
How to backup a running VM?
In this section, we'll create a simple backup job and have a look at the user interface (UI) which looks very simple and very easy to use.
The first icon on the left-hand side is to Create a new backup job. When clicked you open a wizard asking you what you want to backups. You have a large choice of different assets:
File/folder – you can enter the path for file or folder and configure a backup.
Image level backup – yes from the same console you can launch image level backup for backing up physical servers (not virtual).
FTP backup – you can add remote credentials and configure an FTP based backup/download job.
ESXi/vSphere Backup – we'll be using this type of backup for our review. You can back up individual ESXi hosts or hosts managed by a vCenter server.
Hyper-V – The product is capable to backup Hyper-V VMs
Exchange, SQL, MySQL, PostgreSQL, and Oracle – those are the database level backups which this product supports. Quite impressive.
You'll get to an empty page where you need configure the connection to your vCenter server (or ESXi). If you don't have vCenter server, simply configure all the necessary connections you need to connect to your ESXi hosts.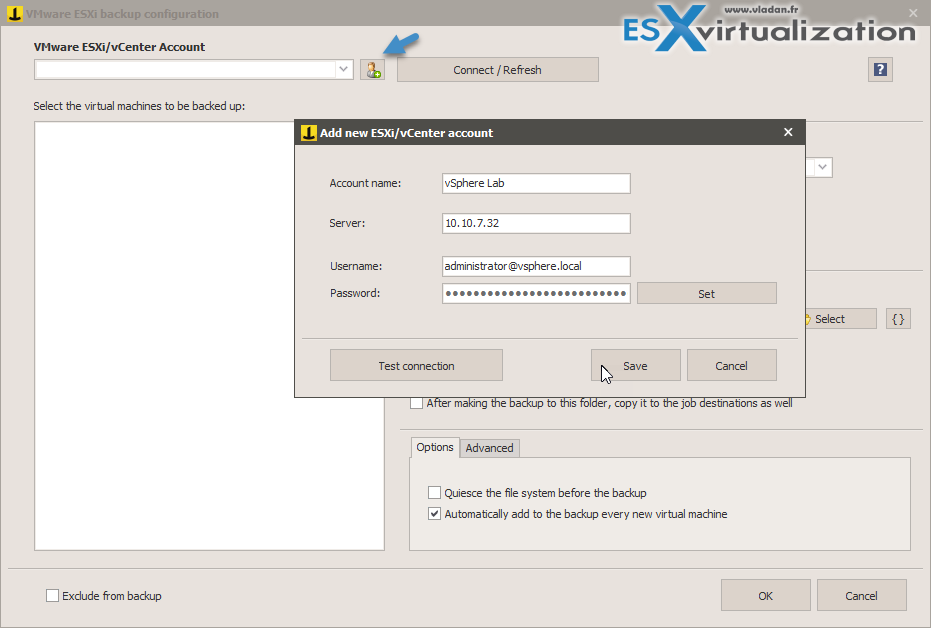 Nothing particular to say about this, just that the password field is not clickable so you must click the Set button which opens a pop-up overlay window allowing you to enter and save the password. Once done, you can click the Test connection to make sure your connection works. then click the Save button to save this connection to the list of available connections.
Then hit the Connect/Refresh button to connect to your virtual infrastructure. You'll get a datacenter view of your data center with datastore and VMs which are stored there. This is quite unusual as normally you should see your ESXi hosts and the VMs which are registered on those hosts.
However, even in the datastore view, you can pick a single VM (with all disks) or you can uncheck disks that you do not want to back up. By default, the whole datacenter with All VMs and Disks are pre-checked.
On the right side chose from one of the backup mode drop-down list:
Standard (copy of individual virtual machine files)
CBT/VDDK (full/incremental/differential)
Replica on Datastore/host – used for VM replication
The overview of the lab, with the backup mode selection.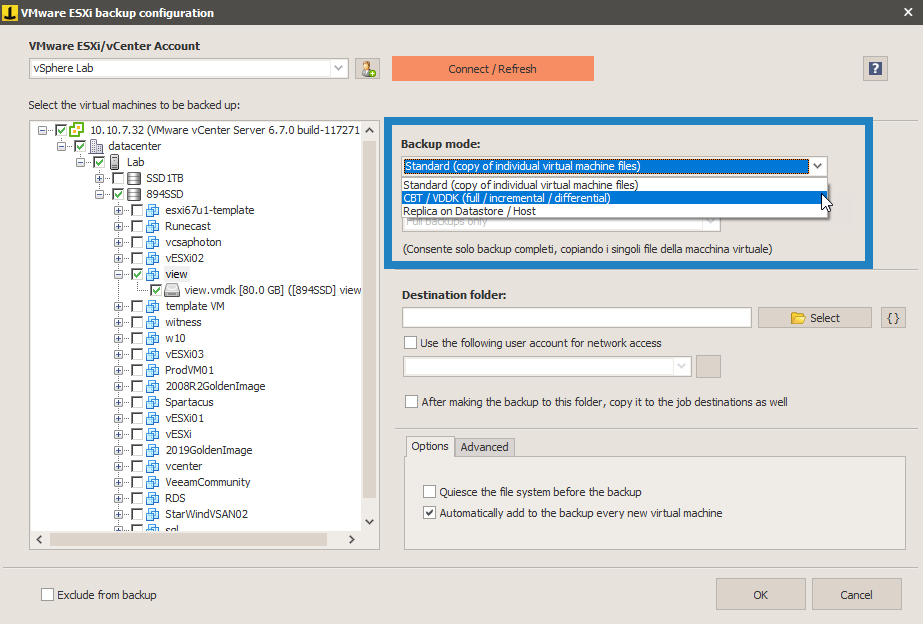 Just below that (hidden by the drop-down menu on the image above) we have Backup type and the choice is between:
Full Backups only
One full backup + Incremental backups (preferred IMHO)
One full backup + differential backups
You have also destination folder and the choice of network accounts if you're using the network as a destination. But don't click the destination folder only if you plan to do a backup via the network or local backup.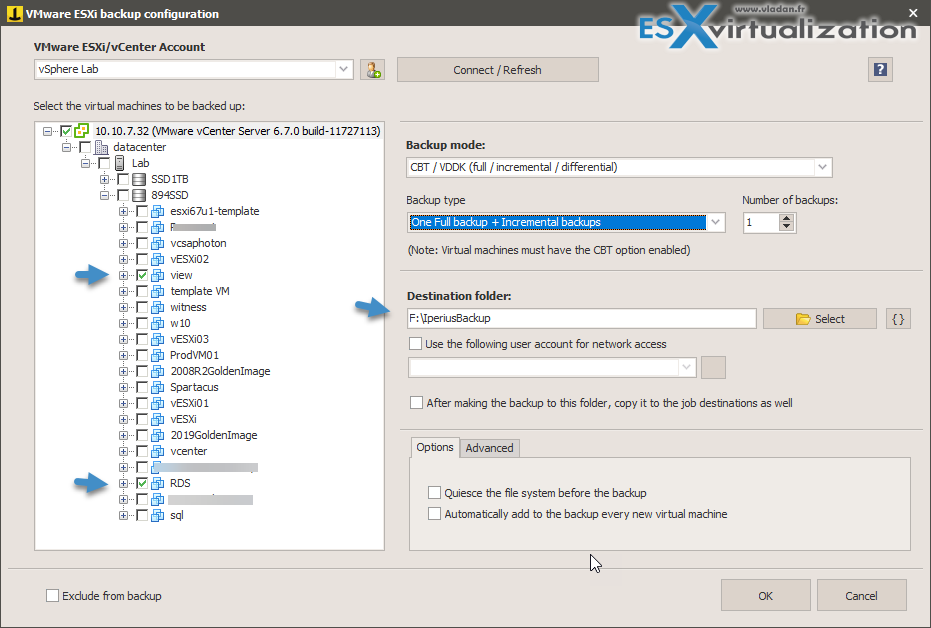 Hit OK to validate and click Next button to continue the wizard. You will see 4 (optional) destinations where you can configure a secondary location of your backup. The job will proceed with a copy of the files to those destinations. This step is optional, but you might want to keep a secondary copy of your backups somewhere else.
We have a Local backup, Tape backup, FTP, or Cloud. You can backup directly to Google Drive, Microsoft one drive, Dropbox, Amazon S3, Microsoft Azure storage, Google cloud storage or S3.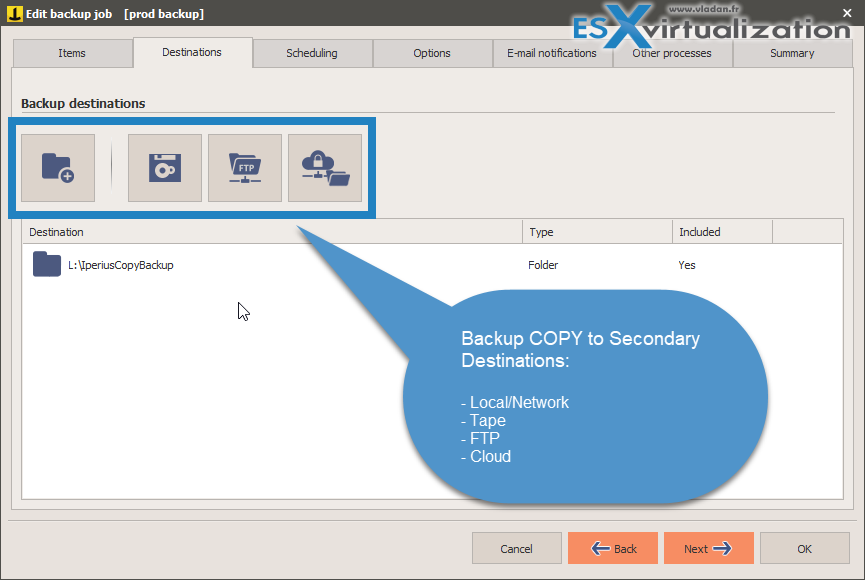 We're still in the wizard. Click the next button to continue the configuration.
So far so good. Easy to use a product, large icons, good view, and good design. Let's have a look at the Schedule options. We can check box to activate the schedule and to check the days of the week which we want to run our backup.
A radio button allows picking the Daily (day after day granular options), Weekly, Monthly or other options. On the right, there is also a list of execution times which allows you to specify exactly when the backup will trigger. A very complete scheduler indeed.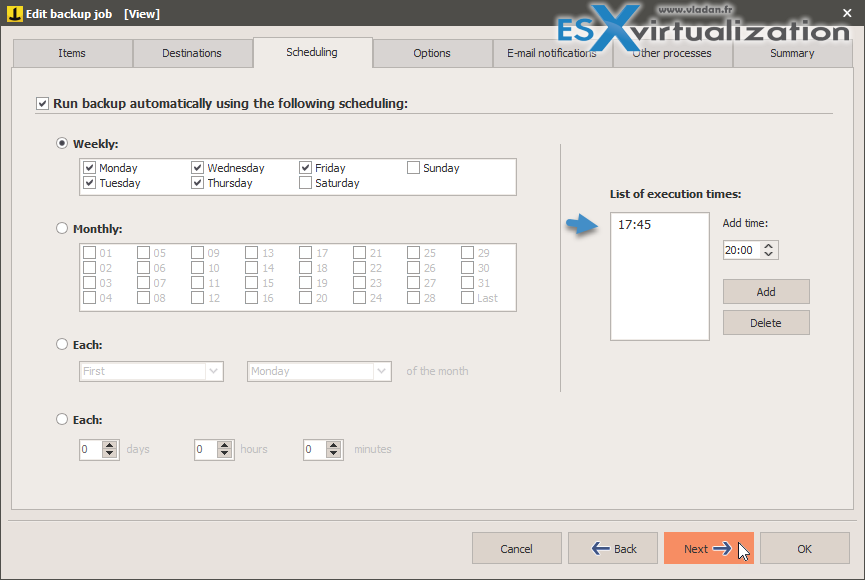 Next screen shows us different options which are Advanced Options. This is an optional config that you can leave as is unless you need to change some options. Personally, I'd perhaps change the compression to have higher compression, but at the end, if it's to have slower backup times, perhaps the defaults are just fine.
Note the "shut down computer at the end of backup" which might be useful in case you've installed the product on a desktop computer and you don't want to leave it running all night.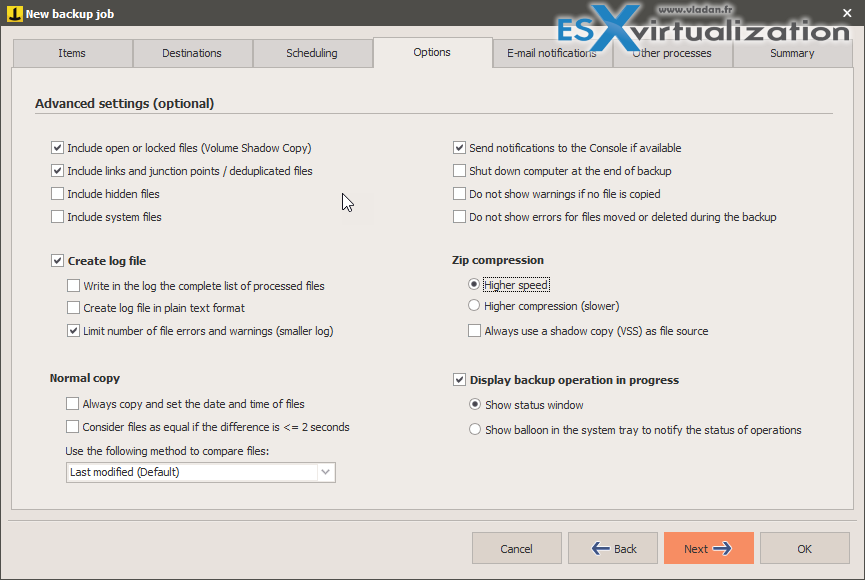 Next screen is email notification where you can choose to get only the error or warnings (preferable perhaps). Other options like "send always" can also be chosen.
Interesting options are for example
"When backup had a duration greater than 12 hours". Yes, this allows to troubleshoot long backup times and perhaps detect a huge change in CBT or files, perhaps some VMs or systems which were mass-modified by ransomware? Yes, possible.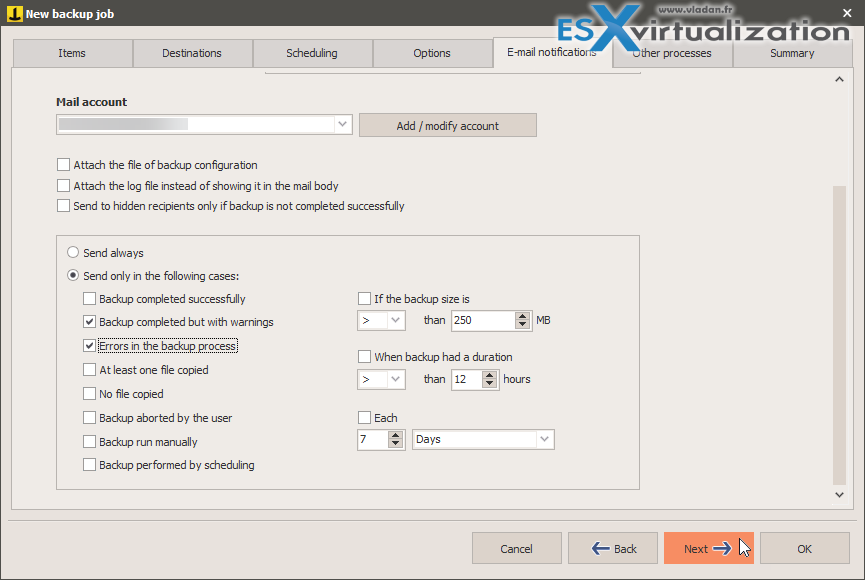 Next, we have Other processes TAB which allows specifying whether you have a script which you want to run before or open an external file. And also after the backup job. You might have a script that shuts down an in house developed custom application via several services. Or a database that runs inside of a particular VM which needs to be shut down and started after the backup job finished. Really useful, or I'd say impossible to "live without".
Note also the possibility to chain backup jobs. Means that after the current backup job you can chain and trigger another backup job.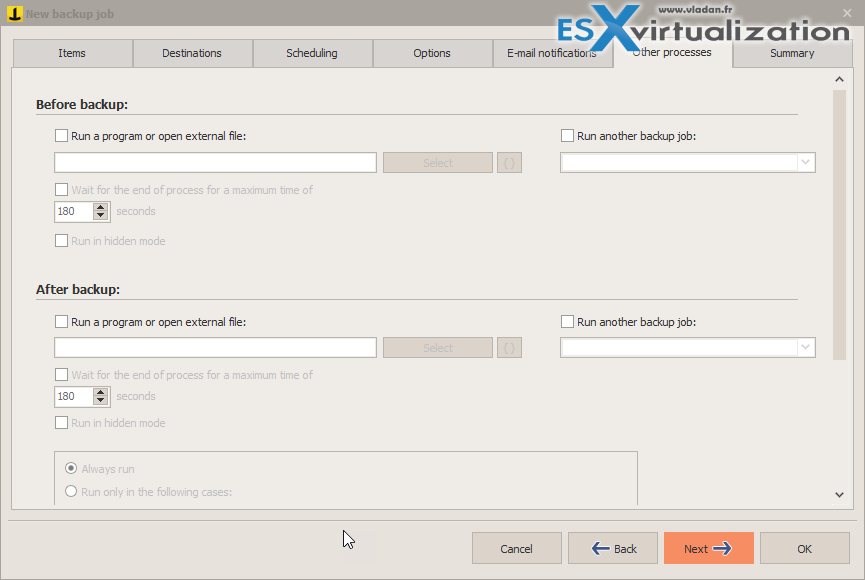 Then we have a summary view where we have a recap of the job.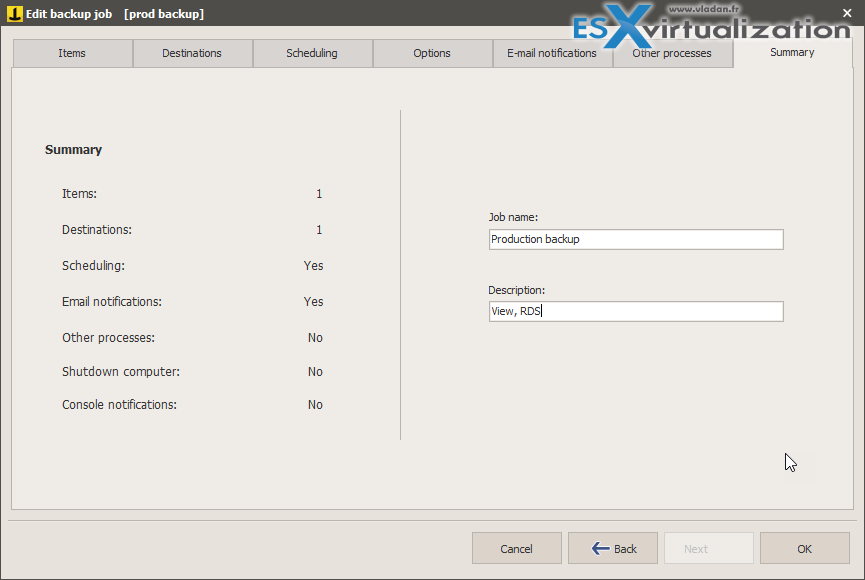 Enter some meaningful name for the job and you can also enter a description. In my case, I only included a single VM, but obviously, you'll have different criteria. You'll most likely group your VMs according to your business needs. Group by criticality, by Operating system, by applications installed…
Hit OK to close the wizard.
The job has a new Icon signifying that there is a scheduler active. The right-click option gives us different options for the job as well. You can test the backup from there by right-clicking the job > Run backup.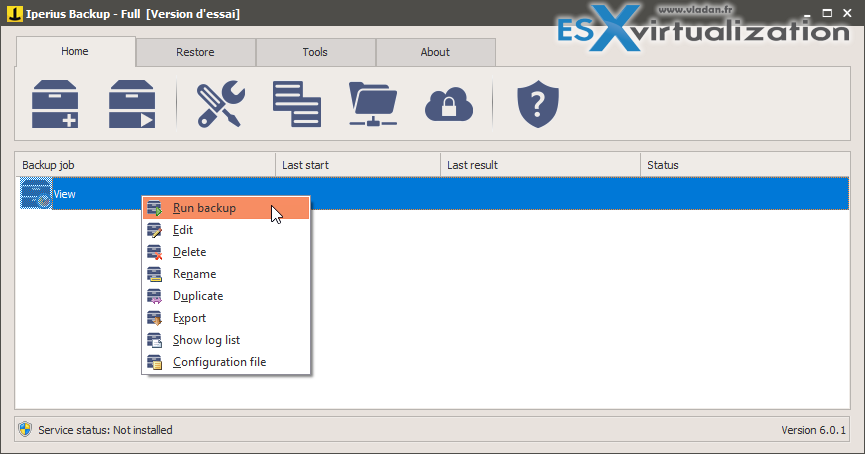 Restoration.
Let's have a look at the restoration options. Again, very easy to find, the Restore tab is the way to go. We chose the restore of our ESXi VM and click Restore. It is necessary to re-connect to our source and chose a datastore where to restore the VM.
Example of choice of a restore point from backup.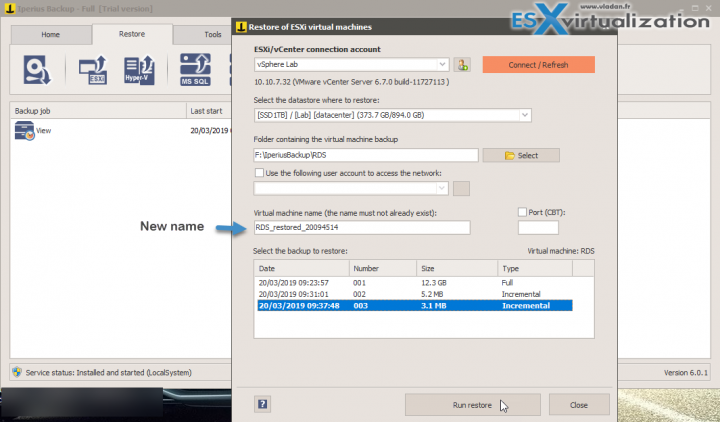 And once finished, you'll get a pop-up window with the result. The VM has been restored and registered on the host.
If you set up a reporting you might also be able to get restore reports, in addition to backup reports.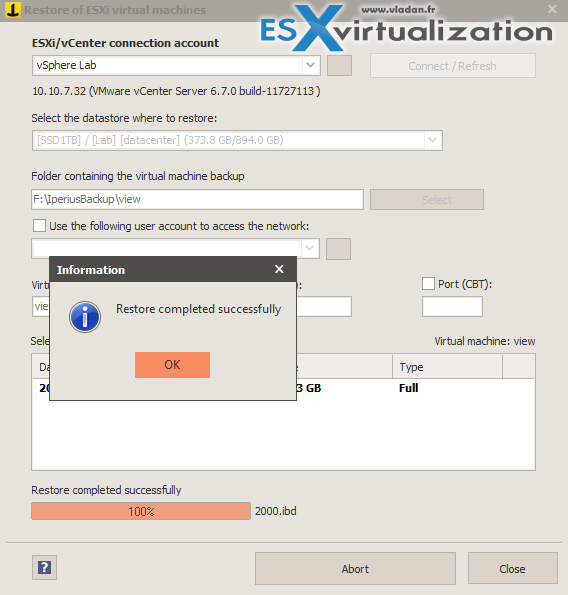 I haven't seen an option to restore individual files from a backup but I've been told that Individual file restore is already in the works and will be released with the next major release of the software.
Update: The individual file restore option has just been added in the 6.3 release.
As a workaround, you can restore full VM, start it, and then copy the files you need from that VM.
General Settings of the Program.
The general settings of the program affect all jobs and we have other options which we did not talk about just yet.
You can access the option via the Home > General Settings Icon.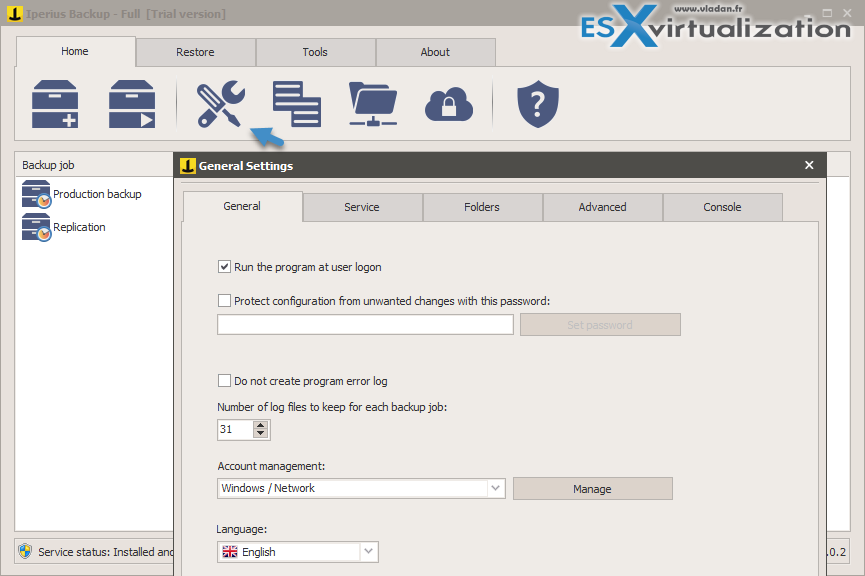 Let's start with the "General" TAB where we can set to run the program at user login and password protect configuration from unwanted changes.
This is great as it allows you to lock the program to the end users (non-admins) if this backup software is installed on a shared computer or if you just want to lock your config down.
You can also specify Windows network account sand passwords if you need to access remote locations. The language drop-down list is also accessible there.
The other tabs.
Service – allows the installation of the software as service, which we have already talked about.
Folders – allows changing the folder for temporary files and folder path for log files.
Advanced – here we have options to affect some different various options including the possibility to configure proxy server in your organization uses one.
Console – This tab allows you to enable, download and install an Iperius Console software which is useful for management of multiple sites and allows you to centralize information in one place
The Console allows to manage and monitor all the backups in a centralized way, with a web dashboard and iOS/Android apps. Every installation of Iperius can send notifications of the completed backups to the Console, so you can have a detailed report for the backup status of all your environments. From the Console you can check errors, change job scheduling, update Iperius Backup to the latest version, run backup jobs, and monitor some other important information about machines (CPU, Disk, Antivirus, Firewall, etc.).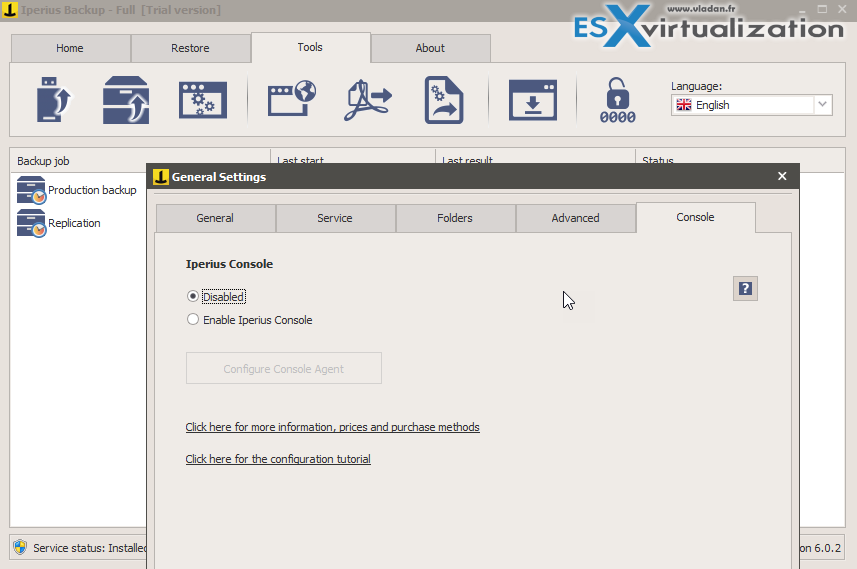 VM Replication
Replication of VMs to other site or simply to other datacenter room within the same building allows you to have a Disaster recovery plan (DR). In case something goes wrong with your main infrastructure, you can start-up replica VMs which are your production VMs copied on a regular basis to the remote site (or remote room).
You can also set up replication between datastores attached to the same host protecting your VMs from, for example, an accidental deletion. You have perhaps some tier 2 datastore with low-end storage attached to the same host and you simply create a replication job between the production datastore (fast) to the tier 2 datastore (slow). Just to have protection.  The best is, of course, to replicate from one host to another mitigating the risks of losing a whole host.
The advantage of replica VMs is that those are "ready to be started". You don't have to wait for the restore operations. You can perfectly have a DR plan where you replicate your core VMs running core network services (Microsoft AD), DNS, DHCP….
Let's have a look at how to setup replication and which options the replication schedule gives us. For this, in fact, you must again select Backup button but then in the Backup mode, chose Replica on Datastore / Host.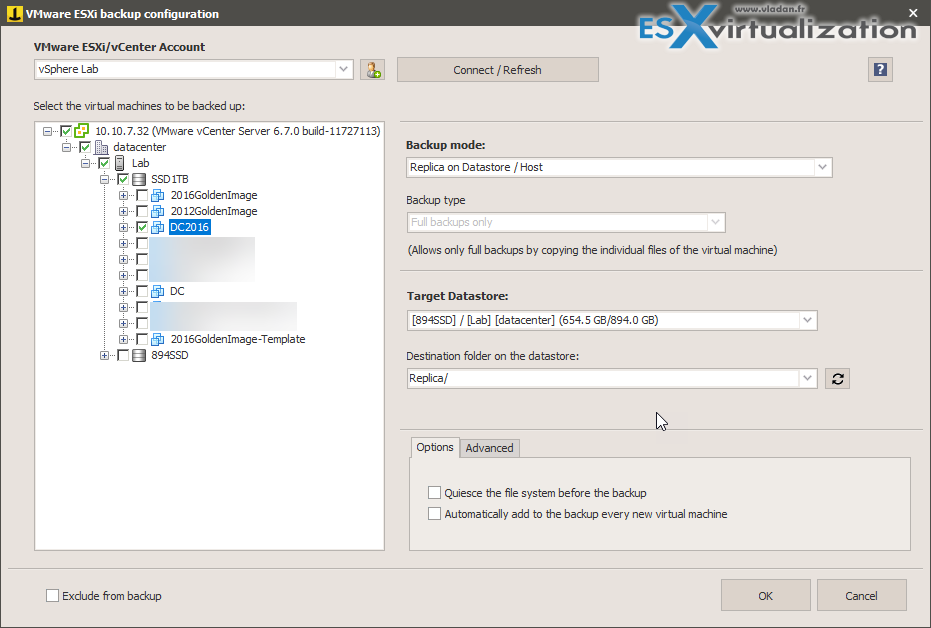 We can set up different schedules for the same job. This is necessary where you might want to have a replica before the workers connect to your VM and start changing the data on the VM. And then have another replica by the end of the day.
You can pretty much configure whatever you like, and then have a nightly backup to the cloud. Yes, I think this might be a good strategy, but again, it really depends on many parameters and the production environment.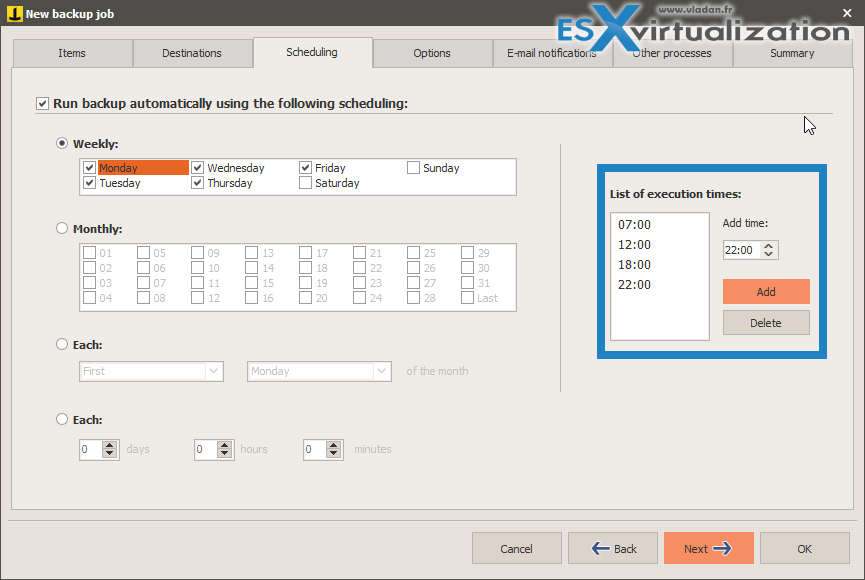 In my small lab, I simply configured the replication of my domain controller to another datastore on the same host. (I only have this single host in this environment).
Here is the job progress….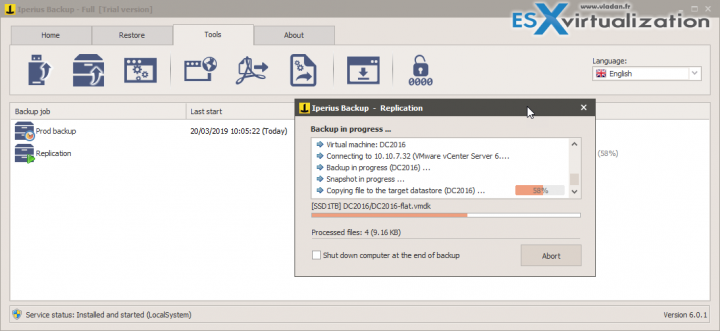 Once the replication job finishes, I found out that the VM is not registered in vCenter inventory automatically. To do it manually, simply browse to find your replica VM (copy) and select the .vmx file > register VM.

You'll be proposed a name which must be different from the name that has the original VM. Usually, a "replica" word after a VM should be just fine…
Once done, you're ready for a disaster. In case something is wrong with the original VM, you can start the "replica" which will miss just the delta you can afford to lose. If you want lower RPO, just configure the replication of every two hours or so.
Final Words
The software is certainly capable to fulfill the basic needs of admins who just need to protect their infrastructure and don't need more advanced restore features like the mentioned above or features allowing you to power on VM directly from backup file and then migrate it to production as running VM.
We can see that Iperius backup software has great potential, that it's easy to install and use, with many Database back-ups and restore possibilities, including Microsoft Exchange and Office 365 email accounts.
However, it still lacks some key features that bigger competitors have (that are anyway in the roadmap, the company says). But do not forget that pricing and licensing is one of the lowest on the market. Actually, it is one of the few implementing per-site licensing with lifetime license and updates.
Iperius backup allows backing up and replication of VMware and Hyper-V virtual machines (VMs). As a destination, you can set up local storage, NAS/SAN, LTO tape drives, Clouds or FTP. There is no limit on how many VMs you have in your environment. You only need a single license per-site. If a cost is something you care about, you might even consider using ESXi free version which is officially supported as well, even for incremental backups.
When you download Iperius Backup, you can activate the 21 days trial or use the free, limited, version. During my testing, the software was backing up my testing VMs pretty fast once the first full backup was done.
Replication jobs work as a backup, with the only difference that you must change the backup mode and the replica has to be registered manually. However, it seems that the replication jobs does not take advantage of CBT and uses only full each time which slows down the replication process. I think that this is another point which needs to be taken care of rapidly in order to get more client's attention.
If you're not very demanding on features and functions, the incremental backup works like a charm. It does its job for the money. If you need a basic and solid backup feature for an unlimited number of hosts and VMs on a single site, this might be your product. Think of all those secondary sites you can protect with this product. Finally, do not forget the number of backup types, aside from ESXi and Hyper-V, that Iperius offers, together with great flexibility and a perpetual license.
Check the latest release 6.3 which adds Individual File Restore Feature.
Note: Plese note that this review was sponsored by Iperius Backup.