Latest ESXi Updates available for VMware ESXi can be downloaded since few days at VMware website. This large update pack (610 Mb) contains general ans security fixes. Mostly general bug fixes, but also security fixes. The host reboot is required.
For installing the VIB use esxcli software vib command. Or, additionally, the system can be updated using the image profile and the esxcli software profile command.  You can follow my detailed post on how to do that – How to patch ESXi 5 without vCenter.
The fixes are organized into bulletins. Each bulletin has at the end a letter(s) which informs you if it's general or security one. Security-only bulletins are applicable to new security fixes only.
The general bulletins have latest two letters (BG) where the security bulletins do ends with (SG).
What fixes has been addressed?
Those bug fixes are flagged as important and can be found in following KB articles:
You can check the details at the following KB: VMware ESXi 5.1, Patch Release ESXi510-201307001
2052145
2052146
2052147
2052151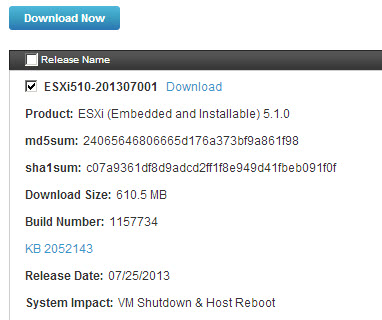 You'll need to go to the VMware download page in order to download the bundle ( VMware Login required).
The download details:
Download Filename: ESXi510-201307001.zip
Build:
1157734
1142907 (Security-only)
Download Size: 610.4 MB
Source: VMware ESXi 5.1, Patch Release ESXi510-201307001
Feel free to subscribe to our RSS feed.