The Complete Guide to Planning, Deploying, and Operating High-Performance VMware vSphere 5 Virtual Infrastructure
New book by Sean Croockston (VCAP-DCA, VCAP-DCD) and Harley Stagner (VCDX 3 and VCDX 4) was released by VMware Press. The book is a guide to vSphere deployment and optimization.
In chapter 6 for example you'll be able to see a Full case study, which explores the design from its inception to the implementation. You then explore the reasons for the design decisions along the way.
To make the most of VMware's vSphere 5, IT professionals need knowledge, tips, and insights they'll never find in the manuals–or in any book, until now! In Managing and Optimizing VMware vSphere Deployments, two world-class VMware experts offer start-to-finish lessons for vSphere planning, implementation, operation, management, and troubleshooting: expert insights drawn from their unsurpassed "in-the-trenches" consulting experience.
Writing for experienced VMware professionals, the authors focus on high-value techniques optimized for the new vSphere 5, helping you establish frameworks that support your virtual infrastructure's evolution for years to come. They present scenarios and examples drawn from real-world data, helping you address crucial issues ranging from sizing and performance to redundancy.
Coverage includes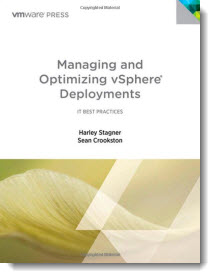 • Building a strong foundation for virtual infrastructure: design considerations and best practices
• Smoothly integrating vSphere 5 into current environments and considerations
• Establishing a more stable infrastructure
• Choosing hardware and making optimal configuration decisions
• Transforming your VMware design from blueprint to completion
• Operating vSphere solutions more efficiently on a day-to-day basis
• Automating tasks and maximizing availability
• Streamlining the installation of updates, patches, and upgrades
• Forecasting and planning capacity on an ongoing basis to support growth
• Overcoming roadblocks on the journey to 100% virtualization
• Monitoring vSphere 5 with tools provided by VMware and its community
• Discovering the most valuable and current online VMware resources
• Examples using Cisco Unified Computing System (UCS) are provided throughout the book
Get your copy of Managing and Optimizing VMware vSphere® Deployments on Amazon.
The book is available through Amazon as Paperback ($24) or kindle edition ($17). It should be a very good resource quide for preparation for VCAP exam.
A reader review:
An excellent guide filled with essential design, planning, deployment tips, & best practices needed to implement a successful virtual infrastructure that will accommodate unexpected growth due to future requirements. The emphasis is on planning to avoid future bottlenecks or technical blocks. Storage and performance management is covered well, along with the ever critical backup/disaster recovery necessities that every installation hopes not to have to use but will save a project if needed. The case study is a classic 'real-world' scenario that is well laid out with many useful examples. I wish the book had reserved a section to discuss guidance or provide references when deploying Oracle Databases in virtual environments. This remains one of the more challenging areas of tweaking a virtual server to run efficiently. Like a physical server, there are various tuning tips & tricks that will make a performance difference when accessing Oracle. Perhaps a VMware vSphere Oracle deployment book? All in all, this is a great little guidebook that should be part of your toolkit if you work with VMware vSphere.
Source: Amazon