TrainSignal has released a new training course for VMware vSphere 5.0/5.1, which can be used as a preparation to pass VCAP5-DCA Certification exam. The VMware vSphere Optimize and Scale (VCAP5-DCA) dives into the advanced topics which is advanced storage management, storage connectivity and multipathing, VLANs and PVLAN management, vDS, Optimizing and tuning vSphere performance or advanced DRS configurations.
TrainSignal with their new training-as-a-service offer, allows a test drive.
This VMware vSphere Optimize and Scale (VCAP5-DCA) training is done by Jason Nash (VCDX), which is also an author of other trainings for TrainSignal:
Cisco UCS training I've already reviewed on my website here
VMware vSphere Advanced Networking (my detailed post here).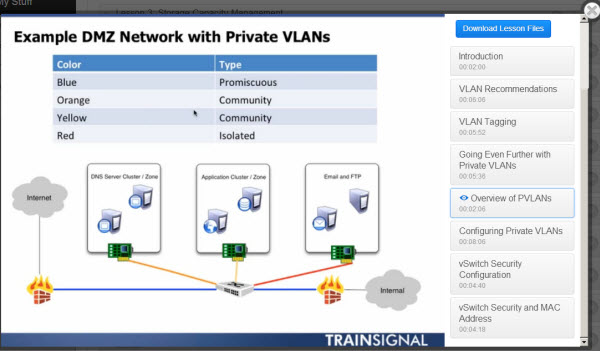 The lessons:
Getting Started with VCAP-DCA Training
Advanced Storage Management
Storage Capacity Management
Storage Connectivity Management
Storage Connectivity and Multipathing
Configuring and using VLANs and PVLANs
Physical Network Connectivity
Managing the vSphere Distributed Switch
Tuning vSphere Performance
Optimizing Virtual Machines
Advanced Distributed Resource Scheduling (DRS) Configurations
Monitoring vSphere Performance
Managing VMware High Availability
Managing VMware Fault Tolerance
Using Host Profiles
Using Update Manager
Configure and Inspect vSphere Log Files
Monitoring and Troubleshooting Host and VM Performance
Monitoring and Troubleshooting Networking
Monitoring and Troubleshooting Storage
Monitoring and Troubleshooting vCenter Server and vSphere Hosts
Securing Your ESXi Hosts
Automation Using PowerCLI
Using the vSphere Management Assistant (vMA)
Custom ESXi Installations
Using Auto Deploy for ESXi Deployment
Next Steps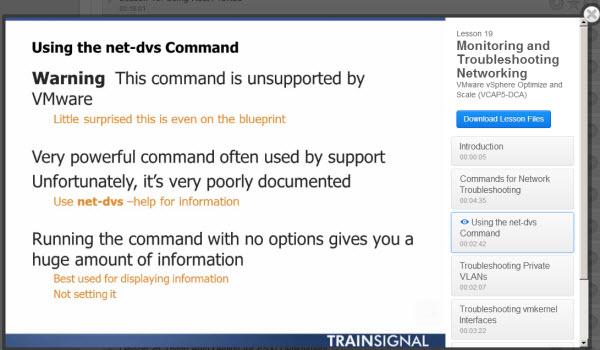 The VCAP5 exam difficult, and a lot of information is required. This training is a very complete and covers all advanced vSphere Features and requirements listed on the VCAP5-DCA blueprint. Using this course as a baseline to complete your knowledge of VMware vSphere. This course hits the blueprint on every point.
You must be quick and know how to check stuff quickly, so lab environment is a must. Physical or nested. Also to reserve your seat, it's not so easy as for a VCP exam, as the appointment to the VUE professional centers must be done by VMware first, and it might take few days.