Take part in this 2022 Ransomware Survey & Win a 4K Samsung Monitor!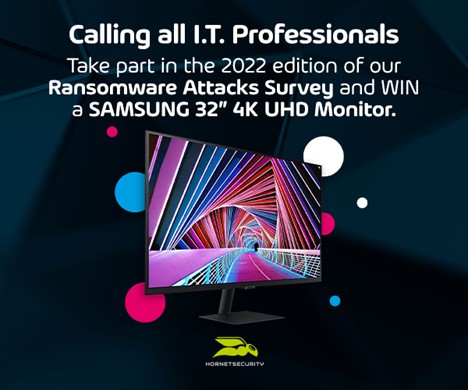 Cybersecurity is a hot topic for any organization worldwide, as ransomware attacks continue to target companies that barely possess any protection against cyber threats. Last year, Hornetsecurity found out that 1 in 5 companies had been the victim of a ransomware attack, and many of those either lost data or had to pay the ransom to keep their operation running.
In such an event, some organizations may take longer to recover fully. That is why security leaders are constantly looking to upgrade their programs to safeguard their data and provide efficient cybersecurity practices for employees.
Ransomware techniques are constantly evolving. Cybercriminals are working hard to find new ways to attack businesses, and Hornetsecurity are committed to staying ahead of the curve.
Be part of the solution. Hornetsecurity have created the ultimate 5-minute Ransomware Attacks Survey for MSPs and IT admins, so you can contribute towards the collection of practical, real-world insights that will help us continue to build our knowledge and combat the threat.
But that's not all – by completing the Ransomware Attacks Survey, you will be enrolled and have a chance to win a 32″ 4K Samsung Monitor worth $349! Are you ready to get rewarded?
*************************************************************************************************************
Free eBook – A SysAdmin's Guide to Azure IaaS – Second Edition.
With the shift in the computing paradigm to the cloud, the Azure ecosystem is quickly becoming a critical platform for IT pros to grasp and adopt. But how do you make the leap while maintaining security, manageability, and cost-control?
Whether you're making new VMs directly in the cloud, have VMs in your own datacenter and are looking to migrate to Azure, or you're looking to manage VMs with cloud-based tools regardless of where they live, The SysAdmin Guide to Azure Infrastructure as a Service (Iaas) will teach you to set up and maintain a high-performing Azure IaaS environment.

Written by veteran IT consultant and trainer Paul Schnackenburg, Altaro's free 100+ page second edition eBook covers how to create VMs, size them correctly, and manage storage, networking, and security, along with backup. You'll also learn how to operate groups of VMs, deploy resources based on templates, manage security, and automate your infrastructure. There are also two new chapters on Automanage and Azure Arc to help you bring a lot of automation to IaaS, all lessening the burden on your time.
One thing that has changed significantly over the past couple of years is the shift towards making IaaS VMs more like PaaS services. VMs are great but they require a lot of maintenance and care, whereas all the business is really interested in are the applications and data that run inside of them. This explains the popularity of PaaS services such as managed Kubernetes (AKS) and Azure Functions (serverless).
If you're new to the cloud (or have experience with Amazon Web Services and/or Google Cloud Platform but not Azure) this eBook will cover the basics as well as advanced skills. And given how fast things change in the cloud, it covers the why (as well as the how) so that as features and interfaces are updated, you'll know how to proceed.
Make the cloud work for you – download your free copy today!
*** *** *** *** *** *** *** *** *** *** *** *** *** *** *** *** *** ***
PowerCLI: An Aspiring Automator's Guide
Getting into scripting can be daunting. It's easier to just use existing scripts found online, but if you choose this route you'll quickly run into limitations. If you take the time to learn how to create your scripts, trust me, you'll never look back!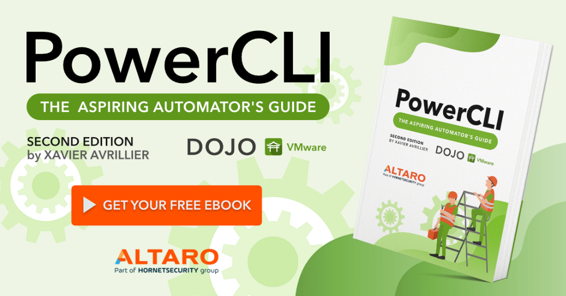 Automating vSphere is particularly useful for countless applications and the best way is through PowerCLI – a version of PowerShell developed specifically for VMware. Learn how to develop your own PowerCLI scripts with this free 100+ page eBook from Altaro, PowerCLI: The Aspiring Automator's Guide.
Written by VMware vExpert Xavier Avrillier, this eBook presents a use-case approach to learning how to automate tasks in vSphere environments using PowerCLI. We start by covering the basics of installation, set up, and an overview of PowerCLI terms. From there we move into scripting logic and script building with step-by-step instructions of truly useful custom scripts, including how to retrieve data on vSphere objects; display VM performance metrics; how to build HTML reports and schedule them; the basics on building functions; and more!
Stop looking at scripts online in envy because you wish you could build your own scripts.
Get started on your path to automation greatness – Download the eBook now!
************************************************
I'm honored to be a part of the best top-level technical community with some cool swags and access to
#Veeam
's SEs and the latest
#Veeam
information.
#VeeamVanguard
2015-2021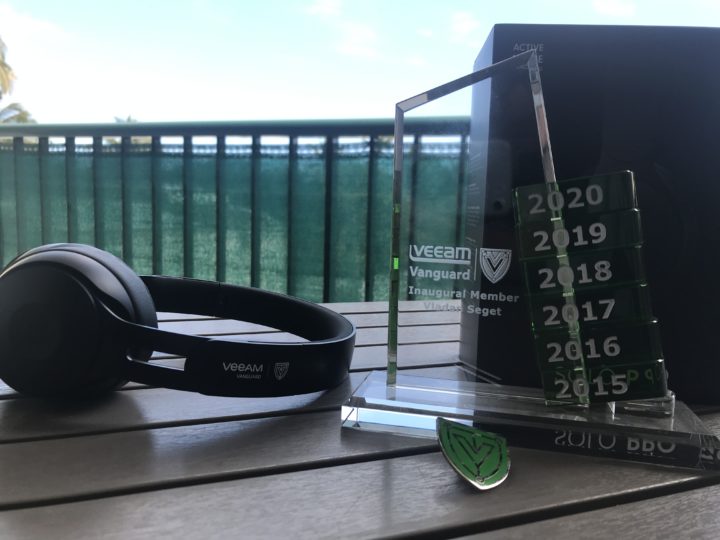 —–
VMware vExpert x11
it has been already 12 years since I have received my first vExpert award from VMware. Time is the only variable you can't influence unless having a way back machine -:). I'm very honored again to be awarded a vExpert by VMware.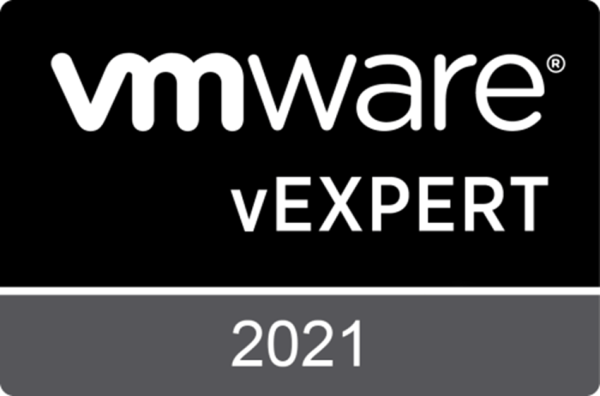 Thanks to Corey Romero and the team for the award.
——————————————————–
*************************************************************************