Update: Use this free Guide to pass this exam and achieve VCP-DCV 2021! In fact, there are two options:
You pass the Professional VMware vSphere 6.7 (2V0-21.19) Exam
You pass the Professional VMware vSphere 7.x (2V0-21.20) Exam
I'm actively working on a new WP page that is based on vSphere 7 and will have covered all chapters from the new blueprint. However, there is so much new chapters that it will take me a few more weeks/months. If you're willing to pass and obtain VCP-DCV 2021 you can still use the VCP6.7-DCV Study guide for preparation and pass the 2V0-21.19 exam. 
Update: Check out the new VCP7-DCV Study Guide – VCP-DCV 2021 Certification


*********************************************************************
On this WordPress Page you'll find VCP6.7-DCV Study Guide. It is a certification for VCP-DCV 2020, but based on installation, configuration, and management of VMware vSphere 6.7 product. This FREE "VCP6.7-DCV Study Guide" page is based on the official VMware blueprint has 41 Objectives.
The VCP-DCV 2020 certification details:
Based on 2V0-21.19 exam number
Will have 70 questions
Duration of 115 minutes.
Passing score is 300.
This page is now finished with updates of individual chapters. And the good news is that this guide is available as Free PDF!
Free Download at Nakivo – VCP6.7-DCV Study Guide.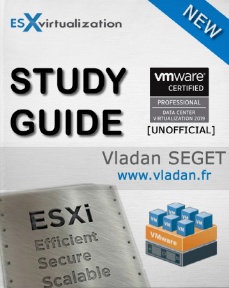 Here the current Blueprint: (Original PDF Online at VMware is here 2V0-21.19).
some testimonials:

or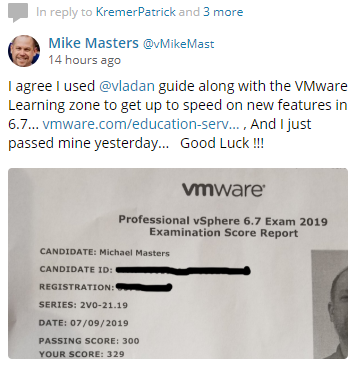 VCP6.7-DCV Study Guide – VCP-DCV 2020 Certification
Quote: The VCP-DCV 2020 certification validates candidate skills to implement, manage, and troubleshoot a vSphere V6.7 infrastructure, using best practices to provide a powerful, flexible, and secure foundation for business agility that can accelerate the transformation to cloud computing.
Documentation Set from VMware
Download the recommended documentation set as recommended courses:
Here are the direct links: (note that the location/content might change so I'm not proposing this set as ZIP).
Links:
***********************************
VCA | VCP | VCAP or VCIX exam vouchers.
***********************************
On-Deman Courses – Provides a robust, self-paced learning solution delivering modular training combined with hands-on practice labs, giving you a powerful alternative to traditional classroom training.
VMware Learning Credits – Learning Credits provide the dual benefit of funding a well-trained IT staff, along with discount options of up to 15 percent. Customers can schedule training when and how they need it. Customers can buy credits at the time of license purchase or as a stand-alone purchase.