OnApp is a cloud management, provisioning and billing portal for VMware vCenter Server. It does a similar job as vCloud Director, but it's more simple to use. It provides the possibility to create and manage public and private clouds without Cloud director (vCD). We'll have a quick look today on the different possibilities.
So the use case of OnApp is either internal usage, for organizations who want to create tenants for their different departments and allow self-service VM provisioning and VM and service lifecycle; or for enabling organizations to create clouds with isolated resources for external clients.
You might say that you can all do that within vCenter. I mean, to delegate users and roles to your departments to create and use the VMs etc. However, you might not be able to properly separate and isolate your resources or easily secure access to them. You will not be able to have detailed reporting on usage resources with detailed metering, chargeback, billing. There are many things you simply cannot do via vCenter itself.
With OnApp, you can assign costs to users or departments, and invoice those external users and clients with invoices. You can do this as a service provider, or locally within your organization. It is possible to achieve this with OnApp, without a heavy-duty product such as VMware vCloud Director.
However, you can also add OnApp to vCloud Director environments if you're a service provider and your vCD is already installed. OnApp is an approved VMware portal partner,  and simplifies vCloud management and tasks. So, existing vCD customers can work with OnApp as it brings additional value.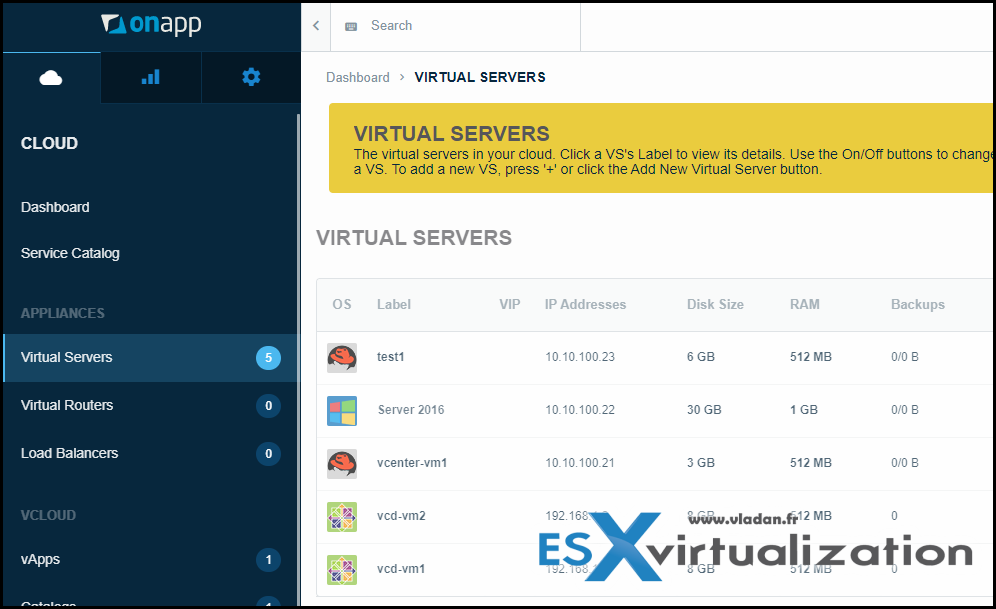 OnApp for VMware vCenter Features
Self Service Portal – allows, after assignment resources to users, to deploy and manage VMs by end-users securely via a web-based console.
Billing – allows the creation of billing plans based on the consumption of resources (CPU, memory, disk space, IOPS). You can assign costs to users and company's departments, or bill an external client.
Service deployment – allows creating services/apps which are part of a store. From there, the user can choose a service and apply it to a VM so the service can be installed via script (ex. SQL server). The service then can be billed as other resources.
Add multiple vCenter servers or vCDs – you can add multiple vCenter servers from multiple customers and allow for centralized resources deployment and billing.
Centralized template management – single location of templates from the central library to any of vCenter environments
Backup Integration with Veeam – users can self back up and restore their VMs. The integration is done via API with Veeam Enterprise Manager.
I had the chance to get a demo from OnApp and explore a hosted PoC environment for myself,  which gave me the first overview of the product: what to expect and what's not part of the product as I originally imagined. The UI is nice and responsive over the internet, as I'm browsing the hosted PoC. There are some actions that I liked straight away.
For example, when you are logged as an admin and want to quickly login as some user. Simply go to Settings > Users > Scroll to the user you want to login as and click the drop-down menu to see the different actions.
You can:
Login as a vCenter User
Edit
Delete (deleting user also deletes all VMs which the user is an owner so watch out for this). You'll have an additional confirmation window if you really want to do that -:).
Suspend
White IP List
So here is the shot: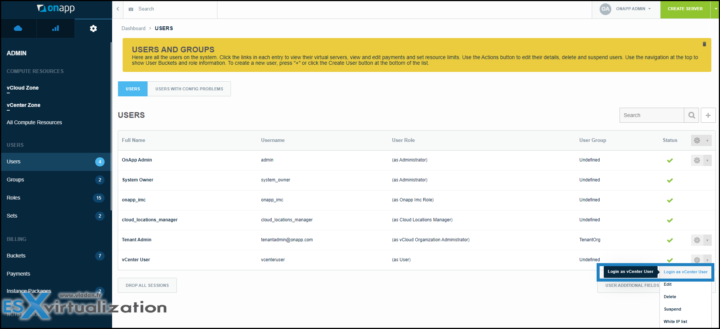 This action will immediately log you as a normal user (without asking you for password) so you'll have the tenant view only… Looks like this. There are much fewer menus, much fewer possibilities, but that's normal. It's only a tenant view.
The tenant has access to Templates and to Recipes, which are basically small scripts that can be used to do things like run updates and install apps on a VM. The client has the possibility to add his own scripts too.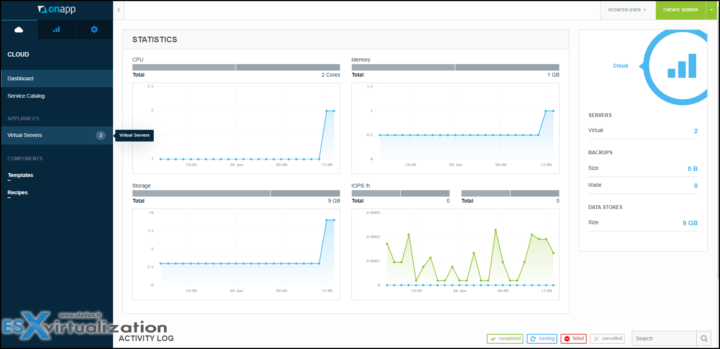 Screenshot from the UI showing OnApp Roles. Quickly define what a user can or cannot do.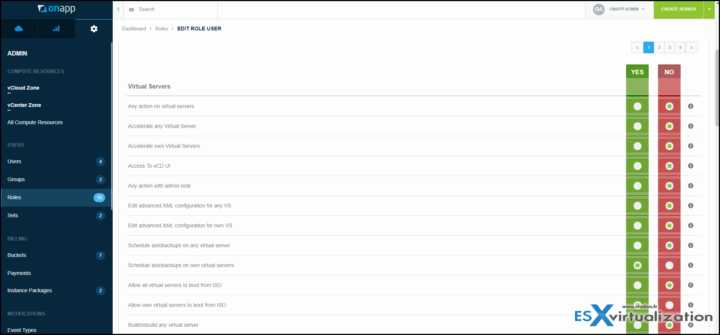 Adding vCenter Server and (or) vCloud Director to OnApp
Good to know that when first adding a vCenter environment to OnApp there is no import of VMs automatically. You can decide which VMs you wish to manage in the portal, and which you don't. You can add several vCenter servers or vCDs if you like and manage the resources that they're installed in. Check the detailed post on it at the OnApp blog here.
Here is a shot of the settings screen where you can see that it is very simple. After specifying the URL, login, and password combinations (the default admin login/pass) for vSphere administrator, then OnApp syncs them across.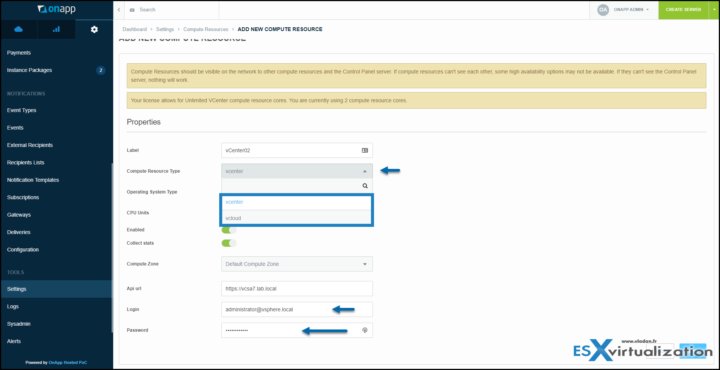 Licensing management for clients
I was always wondering how the Windows licensing part for clients can be done on products like this. OnApp has a licensing integration where you can select:
MAK – Multiple Activation Key
KMS – Key management server allows the integration of your own KMS.
Own – allows bring-your-own license
This is at the bucket level when creating a new bucket.
Note: A bucket is where you define all the pricing and billing structure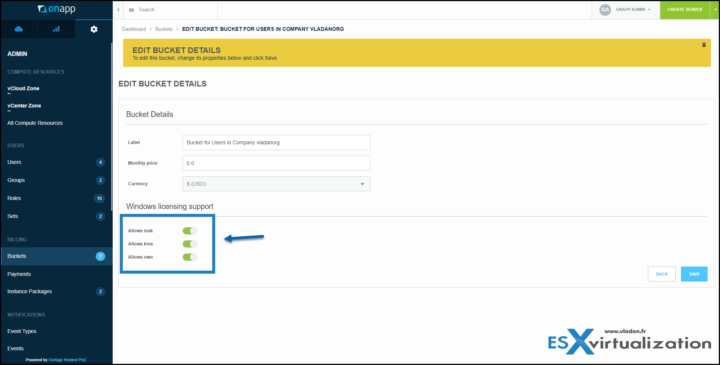 Backup Integration
The OnApp environment can be hooked up with Veeam Backup providing backup and restore capability directly to tenants so they can manage their backups themselves, for a fee, as an additional service. This is really interesting for service providers willing to provide data protection services to their clients as this integration simplifies this.
A Veeam Enterprise Manager, which has a web-based front end, is used to "hook" via API connection to the OnApp cloud management platform. Clients can monitor their backups via built-in mini-portal showing them whether their backups are OK, how many restore points are available, and gives the option to quickly restore their VMs in case of necessity.
Final Words
This was a very high-level overview of OnApp for VMware vCenter and CD. You can find more information at the OnApp website where you can also ask for a demo or read some detailed technical posts from OnApp engineers.
Also interesting is that you can use OnApp to manage other services in the same portal alongside VMware (like KVM cloud and CDN). To me, it is a product that will further evolve. I have some information from OnApp about planned improvements to multi-tenancy, for example. There is more to come.
Check out the OnApp website for further details here.