How vCenter Performs on low latency links – in Remote Offices and Branch Offices. VMware vCenter 5.0 ROBO performance. People usually deal with remote offices. With only one VMware vCenter, which manages the whole infrastructure, the performance must be a question that every IT administrator should ask.
A new document, a study, from VMware shows how vCenter is performing not only on low latency links in LAN environment, but also on high latency links in WAN. Types of WAN studied include dial-up, DSL, Satellite, and T1. The LAN environment has been monitored too in order to get the whole picture.
The author of this document is Fei Chen.
An outline:
–  The Evaluation Environment
–  Background Traffic
–  Host Tasks (Add or remove host, Enter or exit maintenance mode)
–  VM Tasks (Power On or Off, Create and delete snapshots, Register or unregister, Create, remove, clone, Reset, reconfigure…)
–  vDS Taks ( Create and remove a vDS, Add/remove static port group)
–  Statistics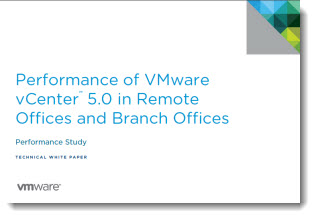 A quick quote:
First, to establish a baseline, we evaluated the time and bandwidth consumption of vCenter tasks over LAN (high bandwidth, low latency). Then, we evaluated the time and bandwidth consumption of vCenter tasks in five representative WAN (low bandwidth, high-latency) cases.
The experimental results show that vCenter performs well in the ROBO environment in terms of both time and bandwidth consumption. For a vCenter task, time consumption increases very slowly when network latency1 increases by several times. Furthermore, network bandwidth is not saturated even if it decreases from 1.5 Mbps to 64 Kbps.
The document Performance of VMware vCenter 5.0 in Remote Offices and Branch Offices (ROBO).
Source: VMware Vroom!