Keyboard Shortcuts VMware Workstation 8
To speed up the daily use of VMware Workstation, it's good to know some keyboard shortcuts. I wanted to point out some of them that I use the most. Shortcuts that save you some time searching through the icons or menus.
There is much more than listed below but I won't bother you to list all of them, since the not All are used on daily basis.
So here we go. Here is the first one.
CTRL  + Alt – This one is the first shortcut I ever learned on VMware Workstation, a couple of years ago…. This shortcut does free the mouse cursor from the Guest OS when the mouse "get stuck" inside of the VM.  Youll need to know this shortcut before you actually install VMware Tools inside of your guest OS. If you don't know this shortcut, you can't do much…
CTRL + Enter – Full Screen. You like to use Full screen? Me too. It's excellent to "mask" your underlying OS and make to think to your friends that you're running natively whatever operating system on your laptop..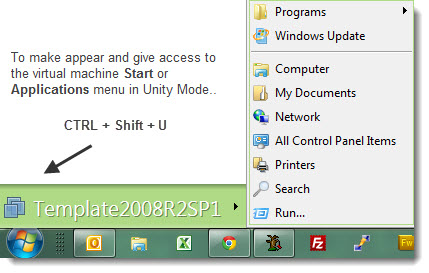 CTRL + Alt + Righ Arrow – This is next necessary shortcut to know if you're using Full Screen mode, since this shortcut will get you, In full screen mode, to the next powered-on virtual machine.
CTRL + Alt + Left Arrow – Same as previous one, but this time you'll navigate to the previous powered-on virtual machine.
CTRL + Alt + Ins – If you want to log in, Sends a command to the VM in order to invoke CTRL + ALt + Del, to shut down or, depending on the guest operating system, log out of the guest operating system. This command is received by the virtual machine.
Ctrl+Shift+U – While you're in unity mode and you need to make appear the start menu on your Guest OS system.
You can change all of those shortcuts if you go to Select Edit > Preferences > Hot Keys.  In fact when you click one of the non selected buttons there for example, to use Ctrl+Shift to release control from the current virtual machine, click the Ctrl and Shift buttons. You'll see that the text under the hot key buttons changes as well and the new value for the hot keys is showing now…..
Enjoy.. -:)