Stratoscale Symphony is a hyper-converged solution allowing you to built your own private cloud. Their solution has converged compute, storage and networking with automation and management. It is also multi-tenant. Think of it as a full VMware stack with ESXi, VSAN, and vCloud Director….. but running OpenStack and KVM Hypervisor based.
They're using commodity hardware so any x86 servers can be installed with their OpenStack pre-packaged (easy to deploy) solution where the local disks are used to create a storage pool, like for example VMware VSAN or Nutanix. Both are what's called "NO SAN" solutions, where no external storage providing shared storage is used. Only local storage within each node (host).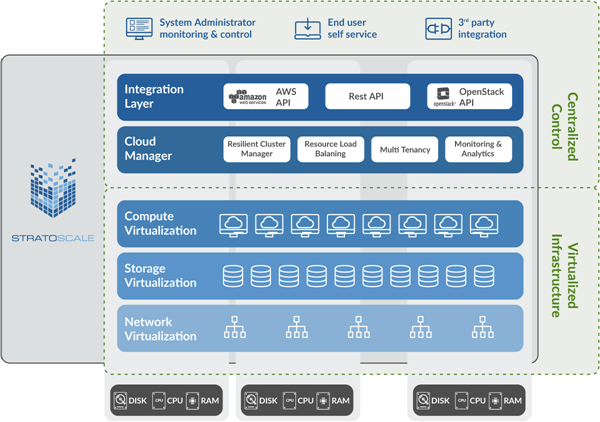 Stratoscale is a very young and emerging software company. With their solution they actually allow you to install OpenStack-based cluster based on KVM hypervisor, much easier. Not only that, their solution also has built-in VM management so you can create a VMs, manage storage, networks, and also manage tenants. You can run any types of VMs (Linux, Windows) or containers. Stratoscale Symphony UI (web based) allows managing the whole cluster which needs at least 3 nodes to start with. The solution is already in v2.0 which has been released in July 2016.
The v2.0 brought also some native conversion tools which support Hyper-V VM's, which completes the existing drag & drop UI when working and importing VMware or KVM based workloads. You can import images via OVF files.
Quote:
Out of the Box OpenStack Powered Hyper Converged Infrastructure: from Bare Metal to Cloud in 45 minutes
Stratoscale Symphony supports multi-tenant and multi-project deployments, self-service portals, and easy provisioning and management of all activities of the data-center.
Stratoscale Symphony – The Storage:
Stratoscale has their own distributed storage which exposes block storage to the workloads so each workload can use this storage to be consumed. Fully resilient, HA, fully distributed…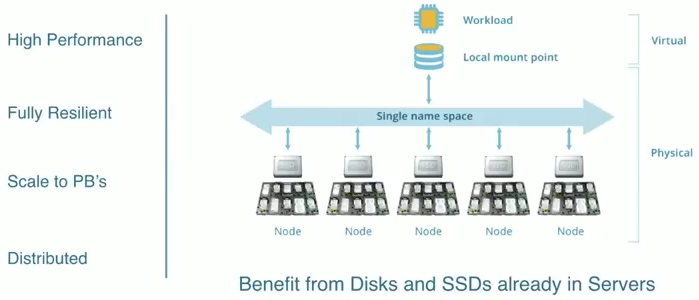 Stratoscale replicates data across multiple nodes within the cluster for safety and durability in case of disk or server failure. In case hybrid storage is used (SSD+HDDs), the cache tier serves the hot data which are placed automatically on the lowest latency devices.
*********************************************************************
Register and Download FREE trial at Runecast :
Once registered, you can download the OVA and deploy to your virtual environment running VMware vSphere.
*********************************************************************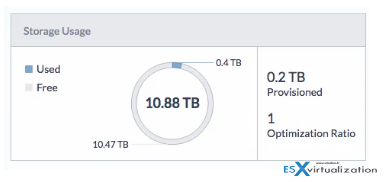 The storage is distributed, it is block storage, which distributes all I/O across each available storage device within the cluster. Storage is native to the KVM hypervisor used so the things like latency, overhead are reduced to a minimum with throughput increased to maximum.
The picture on the right shows the storage usage of the cluster, through a storage widget. You see what's free and what's used, and also how many Tb are already provisioned (VMs). The optimization ratio (on the right-hand side of the widget) shows what the user thinks that will consume and what they actually consume.
The cluster has 3 main widgets like the storage one, the other twos are for Memory usage and CPU usage. You can drag-and-drop widget to place it in a different area of your screen. You can watch the 5 min demo video  to see it in action…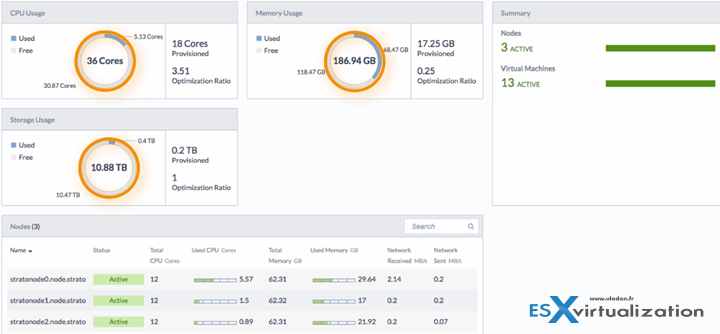 We don't have further details on which storage (SSDs, HDDs) and which exact storage controllers are supported, but I'd imagine that the same as VMware, they have an HCL or Ready Node hardware that they can recommend.
Stratoscale Symphony – VM management
A quick screenshot of the UI shows the different possibilities, like creating VM from scratch, create a network, volume or upload image or import appliance (via OVF file). Web based.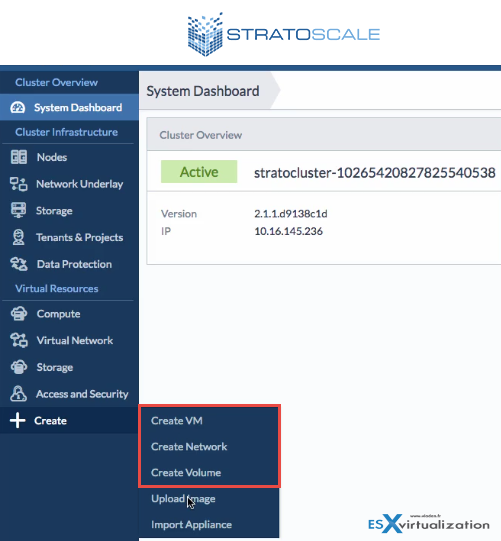 The integrated monitoring solution has options to balance workloads across the cluster in case of node failure or in case the workload cannot be executed with 100% efficiency on existing node. (Think of it as VMware DRS and vMotion). They're using term Live migration, but it's the same.
During the 5 min video, I saw, a node failure was simulated. The system has detected the failure and rebalanced the VMs which were running on a failed node (node 2 on the image below) to the other nodes within the cluster. Think of HA, vMotion …..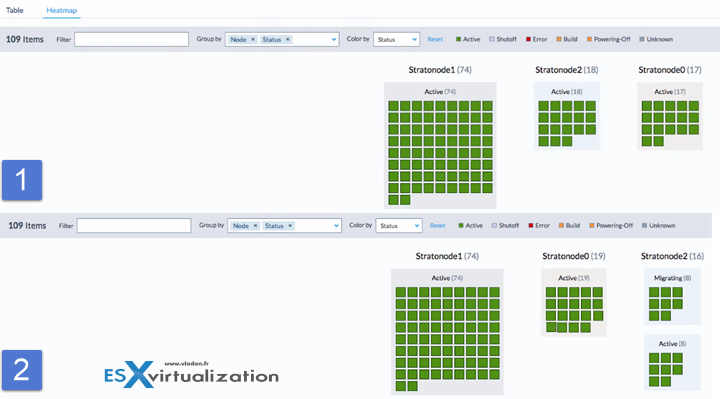 Stratoscale Data protection
There is a built-in data protection service and you can create unlimited destination sites or multiple protection policies. The data protection is at the block level.
It uses multi-site data protection – with configurable protection policies and backup and data recovery for virtual machines (VMs) and storage volumes.
Protection at the block level – to any number of destinations and configurable protection policies to define a schedule and destination ensures the cloud infrastructure, applications and data are always available.
Quote:
It has never been easier to deploy a production-ready OpenStack framework with Stratoscale Symphony. There is no need to manage a cloud distribution or deal with Puppet or Ansible configuration scripts. Minimal clusters comprised of one server are supported, scaling to hundreds of servers in a single cluster.
Pricing?
Stratoscale Symphony is available on a subscription basis, via network of partners. It is possible to minimize the initial investment through a single-server subscription with a pay-as-you-grow model based on the number of servers that are installed.
Source: Stratoscale